On November 3, 2018, the San Diego Comic Con Museum hosted several panels for Storytelling Across Media (SAM) . When I first heard about this, I zeroed in on one name: J. Michael Straczynski. I knew I had to try to go to this event.
The catch? I also had a book signing and reading the same day. This meant I had to dash from my own event to this one. No time to change or anything. Which made me look pretty nerdy in a star dress going to see a major sci-fi writer. I was dropped off a bit too far from the venue, and I was wearing those Considerable Boots from my Halloween costume (I was The Widow from Into the Badlands…see my costume here…also that's why my hair is red right now). So I'm inching my way down a precarious hill with few sidewalks to get to this talk. And cursing said heels. And really thinking, maybe I should have changed shoes from an event in which I was mostly sitting. But it was all spectacularly worth it, as you will see….
Many people, myself included, call Straczynski JMS for short. So that is what I'll do here. Let me give you the lowdown on JMS, if you don't already know. He created the sci-fi series Babylon 5, one of my all-time favorite shows. He also wrote Sense8 for Netflix, a groundbreaking sci-fi show that seemed both ahead of its time and exactly for it. And you may know him as the writer of The Changeling, starring Angelina Jolie. So he's a Big Deal in my book. And he's a big influence on my books!
JMS approached his panel with what he called "The Prince from a Distant Land" scenario. He spoke about his life journey as a writer, and I really loved this. This is a guy who got knocked down a lot in life and got back up again, and fought back with words. He's basically my hero. He figured out how to make a living writing, and had the excellent advice to have three writing gigs going at a time. Because one of them is going to go away at some point. Another sage bit of advice he gave was to expand your horizons as a writer. He talked about how he wrote plays, columns, scripts, short stories, and how he often found himself writing for things he never anticipated. This is generally good advice that I've implemented as well. I'm not just writing science fiction, I'm also a science writer. And I think I will branch into other types of writing as well. The point he made was, broaden your options in storytelling across media.
After the talk JMS engaged us with a Q&A (I had to call back to his story about Mountain Dew and beef jerky—don't ask. Wait, do ask. It's a good life lesson.). I had asked about the possibility of working in Hollywood, and JMS made the point that you really have to do the hard work to make it up there.
When we left the talk, JMS was available for signing. I was holding my copy of my own book, from my library signing, and took the chance to ask him to sign it. So here, full circle, I am holding Heliopause: The Questrison Saga: Book One, signed by J. Michael Straczynski. Thank you, Mr. Straczynski, for inspiring me in the past, the present, and into the future.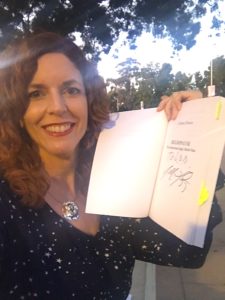 Image Credit: J. Michael Straczynski at Storytelling Across Media (SAM), photo by J. Dianne Dotson Copyright 2018.