Every day lately, I wake up and look at the news on my phone and realize how much has changed. No matter what happens going forward, we can't ever go back to what and how things were. In this era of feeling helpless, we do, however, have some choices. Not everything is beyond our control. So what do those choices look like?
Choices, Choices
First of all, the choices involve forgiving yourself for being human, for feeling unmoored at times, or even all the time. There is nothing normal about right now. It's affected every aspect of our lives, whether we like it or not. In some cases, it has led to tragedy. There is nothing about all of this that feels happy or safe. But you can choose not to add the unhappiness of guilt into the equation. You didn't do all you set out to do today? This week? You can try again.
The Folly of Planning
I was always a planner. Especially for trips; road trips in particular. I would plan far in advance, and read all the various routes, and stake out all the side trips and cafes I felt sure I shouldn't miss. Then I had kids.
If there is anything on this planet that changes your perspective in very short order, it's having children. The things you plan for must, by necessity, change. Suddenly their needs are paramount, for they rely upon us for survival and for love and support. They change constantly, so that while you grow accustomed to one stage, they move on to another. And you begin the cycle of planning anew. Right now this planning looks quite different, because we don't know what to expect in the months or years ahead. We only know it will be different. Sometimes you throw the plan out the window. And you make another plan. And that one might not work, so make another.
What I've found, in all of this, was that almost ALL of my plans were essentially wrecked, for the year, and who knows for how much longer. Conventions and literary festivals were canceled. Our much-loved trip to the East to visit our parents and grandparents was canceled. But in all of this, I stuck to the book publication plans, because I knew if I didn't, my entire writing year would be thrown off. And maybe I wanted everyone to have something to read. And maybe, once you finish reading Accretion, you will scream so loudly at me to finish Book Four that my pandemic brain will kick into gear, and I'll do just that.
Let Me Tell You a Story
I started writing a lot of short stories, such as Valentines from the Pit. I rewrote some from my endless train trips last fall, too. I've written poetry. I've been submitting them to various magazines, unusual for me. These things were not really part of my plans a year ago, but they evolved to fit the times and the mental struggles I've had during rapid change. You can channel a lot of what you're coping with into short stories and poetry. I've leaned into some nostalgia or longing with some non-fiction stories as well, such as Brown Sugar Honey Toast, or Feel It All, or Sourwood Honey Days.
Picture This
One day, I was seized, for good or ill, by the desire to make 4×6-inch watercolor cards and mail them to whoever wanted them. This led to a large list of interested folks on social media, and so I had to limit my offerings. I'm still working my way through the list, but the cards are making their way around the country. And it's been a challenging exercise, when you're used to working with paper at least 11×14 inches in size. Working on a small scale has made everything harder to do, and harder to see. I've loved it, though. In the header above, you can see one of the little cards, of Andromeda Galaxy. I have also made a TARDIS from Doctor Who, the Starship Enterprise from Star Trek, the Orion Nebula, the saucer from Forbidden Planet, and many more pieces, some with coast art, some floral, etc. There's something special about painting a tiny galaxy, however. One you can hold in your hand!
Comestibles
I've baked, too, but not the sourdough bread everyone else made. I made donuts, muffins, pies (even shared a Zoom call with someone on the East Coast; I had pie, he had coffee), cookies, cupcakes…and my friends up the lane and I started a "curbside" food exchange. We leave things for each other on our porches to pick up. Or we would give each other surplus groceries we had, that they didn't. I started getting a farm box subscription, which forced me to get creative in cooking. Because of that, I had some rhubarb. So I planned to make something with strawberries and rhubarb.
That was tempting fate, that planning. Turns out, when you have strawberries, they tend to get eaten out of hand before you get a chance to do anything else with them. At least they do in this household. So much for the strawberry rhubarb pie/crumble/whatever I was going to make. But the rhubarb was wilting. So I had to do something.
And so, last night, I made a rhubarb pudding cake, from Sarah Leah Chase's excellent New England Open House Cookbook.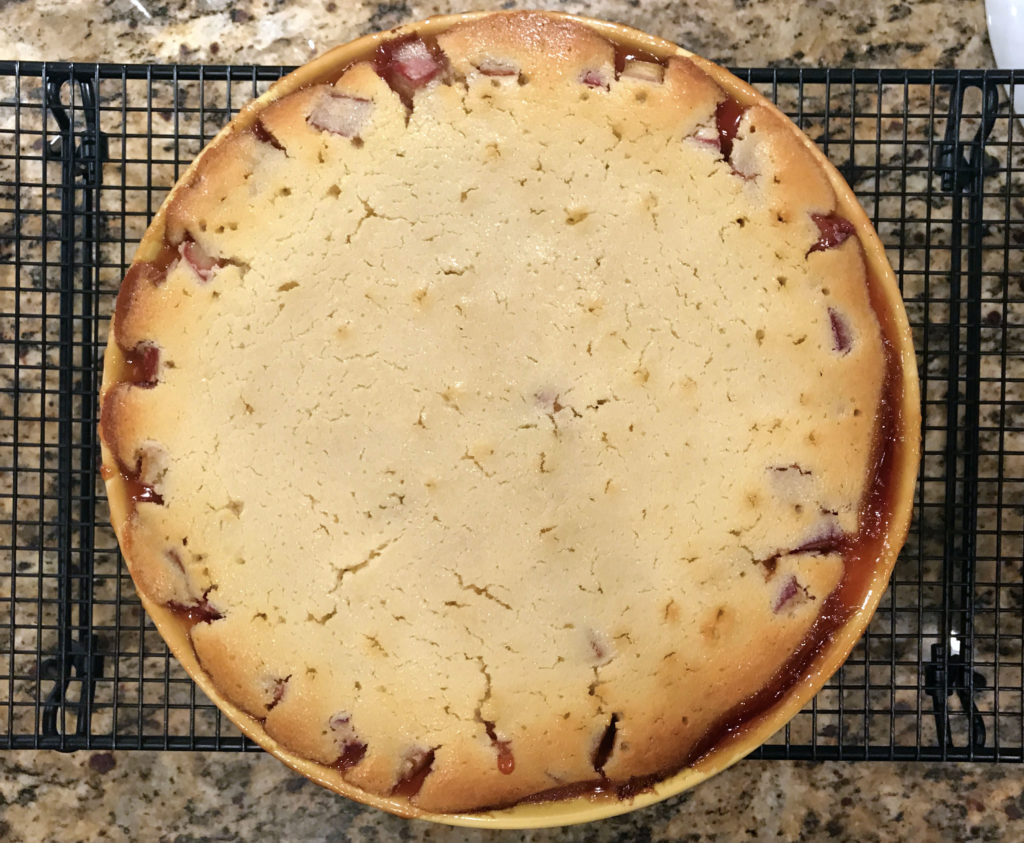 Not once in my life have I ever made anything with rhubarb in it, but I sure love eating it with strawberries. I didn't have strawberries. So, rhubarb it was. And this was a luscious and wonderful cake.
You can choose to work with what you've got. Sometimes it's delicious. Sometimes you feel terrible, or tired, or confused, or anxious. You can work with that too.
You Do Have Control
Maybe the best solution is choosing to get back to a routine. That's what I've been working on: daily exercise, getting up at the same time, trying to go to bed at the same time. It's gone a long way to–if not making me feel normal–making me feel like I have some control.
Sometimes, the best choice is just to reach out and talk to someone: text, call, Zoom, DM…it doesn't matter. And it doesn't hurt. It might help you, it might help them.
We exist between the complexity of galaxies and the simplicity of rhubarb cake. And we've made it this far. I know we'll keep going.
Wishing all of you good health, and the promise of starlight and cozy, delicious food, wherever you are, always.
Image Credit: Watercolor card of Andromeda Galaxy painted by J. Dianne Dotson Copyright 2020