We are approaching the holidays at face-rippling, high G-force speeds. How, HOW is it almost Thanksgiving? From here on out it's nothing but wonky schedules, too much food, and glittering, hazy-morning excitement and fatigue, all tied in ribbon. In many ways this time of year can be so exhausting. The expectations, the demands, the disruption of routines, and of course the various illnesses that like to spread JUST when you've got a handle on things. What to do?
I have an idea.
Before the "best of 2018" lists inundate us, why not take a moment? And take the moment to reflect on what you're proud of this year.
Did you start something? Celebrate that! Did you finish something? Pat yourself on the back! Did you hear, and were you heard? These are all good things.
Every accomplishment, not matter how small it may seem, is still something to be proud of. You put in a lot of hard work this year! Did you realize you traveled in space and time? You went around the SUN, you glorious astronaut! That's no small feat either. No doubt you had challenges. This year has been rife with those. Still the joys outweigh the hurdles. Blessings can be counted among the days you cross off on your calendar. Take a moment and congratulate yourself.
The time has come for harvests and merry-making, or maybe just curling up under a blanket with your hands around your favorite warm mug. Bask in what you've made, done, seen, read, enjoyed. You did that! And I am proud of YOU.
It is a time of gratitude. How could I have got here without continuing support? The fruits of my labor could have withered on the tree. But with my fans, my readers, my friends, my community, and my family, I am able to flourish and move forward. You've all tended my orchard and helped me grow. Thank you!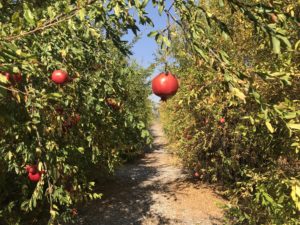 Image Credit: J. Dianne Dotson Holds a Pomegranate in Temecula, California. By J. Dianne Dotson Copyright 2018.