The journey as a science fiction and fantasy author has been long and winding, and I have produced hundreds of my own sketches and designs for my stories for many years. Now that Heliopause: The Questrison Saga: Book One is out in the world, and its sequels forthcoming, I'm letting other artists interpret my words into art as well. This has been incredibly fun! You may recall the recent post "Art for Heliopause: Forster" featuring the main character of Heliopause.
In this post I'm introducing the fascinating character Veronica, with art by Carter Allen, a comic book and graphic artist. I discovered Carter's work over our mutual love of the TV series Legion. He made some beautiful pieces for the show's characters. I really liked his aesthetic, and the Jack Kirby-esque vibe as well as the sleek, modern look he imbued. I am thrilled to showcase his work for Veronica today!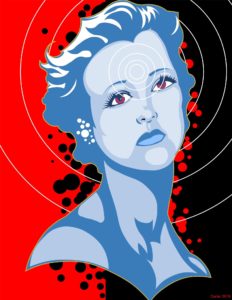 Veronica is the AI of Heliopause character Gibbons. She plays a crucial role in the novel. Carter has captured her great beauty and her violet eyes, and an intriguing mood, which is uncanny.
Seeing artists capture their unique translation of my stories has been a truly gratifying and awe-inspiring experience. And this is just the beginning! I will also use other artists for the rest of the series. I can't wait to see what they come up with.
Stay tuned for more art collaborations in the near future!
Image Credit: Veronica by Carter Allen Copyright 2019.