Of the many characters in Heliopause: The Questrison Saga: Book One, one of them anchors not only the crew of Mandira Station but also the deep emotional impact of the story. This is Meredith Brant.
Meredith is the mother of the missing telepath Ariel Brant, who may or may not be the cause of the attack on Captain Spears as well as Forster's awakening abilities. As for Meredith, in Heliopause she is the eldest of Forster's group on Mid Deck. She is 75, widowed for many years. And she has been patiently waiting for any sign of her missing daughter, for some twenty years.
Meredith serves as a matriarch in the story. Even among the not-so-young members of her team, she is looked up to and respected. But she is also loved. Meredith makes people feel at home. She makes pies, she quilts from whatever salvaged materials she can find, and she embroiders. She also grounds everyone around her, while at the same time coping with the pain of missing Ariel.
When she speaks, Meredith's accent hints at a Southern upbringing. Most striking about her are her bright green eyes, which by turns can be piercing or affectionate.
Here she is illustrated by Carter Allen, whose previous Heliopause illustrations include Forster, Veronica, and Efron. I asked Carter to give Meredith a necklace with a brant on it. A brant is a small goose. It's also Meredith and Ariel's last name. And it just so happens that Meredith's nickname for Ariel is Little Goose.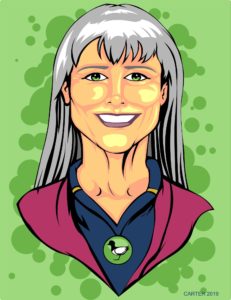 Carter really perfectly captured Meredith's open, loving nature. I love this picture so much.
Here is an earlier concept sketch of Meredith by Carter. You can see more of Carter's work on his website.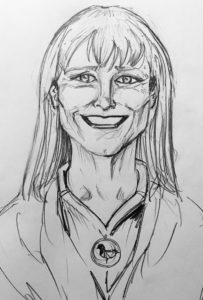 Image Credit: Meredith Brant by Carter Allen Copyright 2019.