This is your lucky week if you wanted art for Heliopause: The Questrison Saga: Book One! Yesterday's post featured beautiful art by Carter Allen, in my post "Art for Heliopause: Veronica."
Today's post features more work by William Salas, whose work you can also see in "Art for Heliopause: Forster." William provides his own interpretation of my characters, and I love it.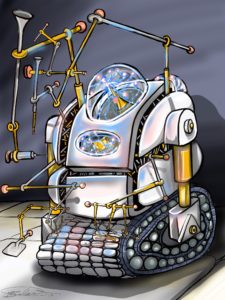 Meet Medic! Medic is one of the medical bots on board Mandira Research Station, the main location of Heliopause. The medical staff of Mandira includes both human doctors and bot assistants. Early in Heliopause, the main character Forster experiences a migraine, a rare thing in the 23rdcentury. Medic is eventually called to help him out. Medic can speak in soothing tones to its patients. Medic has many features that can assist the medical team. It is a rolling bot, and can arrange itself into a chair-like position should a patient need it to sit, or to be wheeled around.
What William has done with Medic is put his own spin on my novel's text. Check out these concept sketches. He considered Medic's surroundings: Mandira's soft floors on the Mid Deck and Top Deck sections, how Medic can position itself, and how it can maneuver in the medical bay alongside physicians. Take a look at his rolling functions and hover wheel: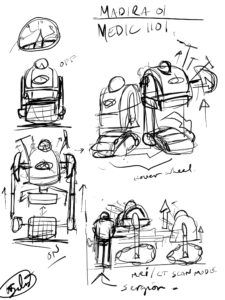 Here is what William says: "When developing any character. I give the character a simple task: imagine how it will walk in a doorway and interact with furniture or other characters in said room. Medic has a main soft conveyer wheel system, the tread is a hovercraft material so it can hover in any direction. It extends above a bed to assist with surgery. It is equipped with anything a human…and smaller bots will require in a medical emergency."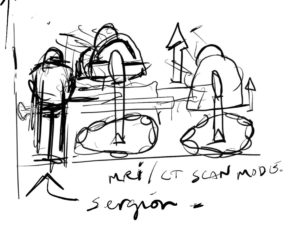 How cool is that?
What I really love about this vision of Medic is the whimsy William added. He told me that he drew upon Dr. Seuss as an inspiration. I also thought immediately of Willy Wonka's contraptions when I saw it. And look at all the useful tools at Medic's disposal! That is one well-equipped bot.
I also loved the addition of plasma ball aspects to Medic. More unique touches by William: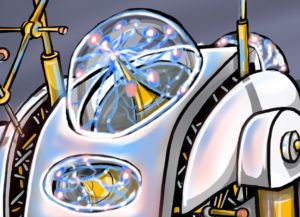 William once again adds to Heliopause by letting his imagination run wild. I'm so thrilled and pleased by this! He expanded on my book description of Medic and conceived something truly delightful.
You can see more of William's work on his website and on Instagram.
Image Credit: Medic from Heliopause: The Questrison Saga: Book One by J. Dianne Dotson, Art by William Salas Copyright 2019.