In today's post I am pleased to present another excellent work by Carter Allen! You may recall his wonderful illustrations for Veronica and Efron.
Forster is the main character of Heliopause: The Questrison Saga: Book One. He has been illustrated on the blog previously, by William Salas. I am commissioning multiple artists for my work, to get different takes on the characters. As each reader has a different perspective, each artist does as well. I will continue to showcase several artists for Ephemeris: The Questrison Saga: Book Two.
With Carter's take on Forster, he provides this quote: "I tried to convey a sense of confidence, but guarded and a bit tired in his expression."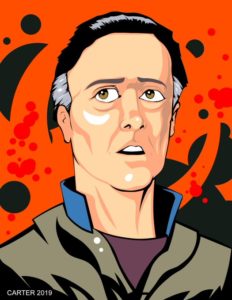 This is pretty spot-on for Forster, who certainly walks the line between confident and guarded, and occasionally wonders how the heck he got into the situation that unfolds on Mandira Research Station. So Carter has really captured Forster's mood!
Here is an earlier sketch as Carter worked on the design: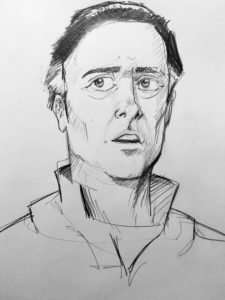 I really enjoy Carter's work on the art for my series, and I will be sharing more soon!
Image Credit: Forster by Carter Allen Copyright 2019.