Recently, I asked an artist friend, William Salas, if I could commission some concept art for Heliopause: The Questrison Saga: Book One. He agreed.
So I gave him ideas for illustrating Forster, the main character of Heliopause. Forster is a worker at Mandira Research Station, at the edge of the solar system, an area known as the heliopause. He is in his mid-40s, and is kind of an average guy. He has brown hair with some grey in it, and hazel eyes. If I were to pick an actor who looked like Forster, it would be pretty close to Alexander Siddig. You may know him from Star Trek: Deep Space Nine (as Dr. Julian Bashir), or more recently Game of Thrones (as Doran Martell). There's something haunted in his eyes, and that's the way Forster looks.
As I've said, Forster works at Mandira Research Station. The station in some ways looks like a giant Queen conch shell, so its residents nicknamed it The Conch. It has three levels: Top Deck, where most research and upper management reside; Mid Deck, the largest part of the station, a mix of blue and white collar workers, the conservatory, and the "Dome Car" observation area; and Bottom Deck, which tapers to a point, and where blue collar workers and drones work among ship bays and docks.
When Heliopause takes place, Forster is doing his normal, everyday routine. He's been there about a year. He's settled for a less than ideal situation, and he's coped with his regrets by staying on, and befriending others on his team. He thinks a good deal about how he derailed his relationship with his ex-girlfriend, Auna Kein, with whom he has in fact been on-again/off-again for several years. Now it seems final, and he's figuring out his life at this point. That's when things get weird.
Forster starts to see flashing lights outside his window, and nobody else can see them. He's menaced by terrible migraines with aura. Now, if you don't suffer from migraine aura, allow me to explain how bizarre it is. You can see flashes of light, yes. But what you sometimes see is what's called a scintillating scotoma. This is a curving, iridescent, chevron pattern that pulsates. It's one of the weirdest things ever. And it's usually accompanied by a terrible headache. Let me assure you from personal experience: if you don't suffer from these…you don't want to.
Keeping all these things in mind, I gave Will all the information. He also has a copy of Heliopause, so he could sift through for reference. And what Will gave me is just incredible! This is no mere sketch!! Look at this full image: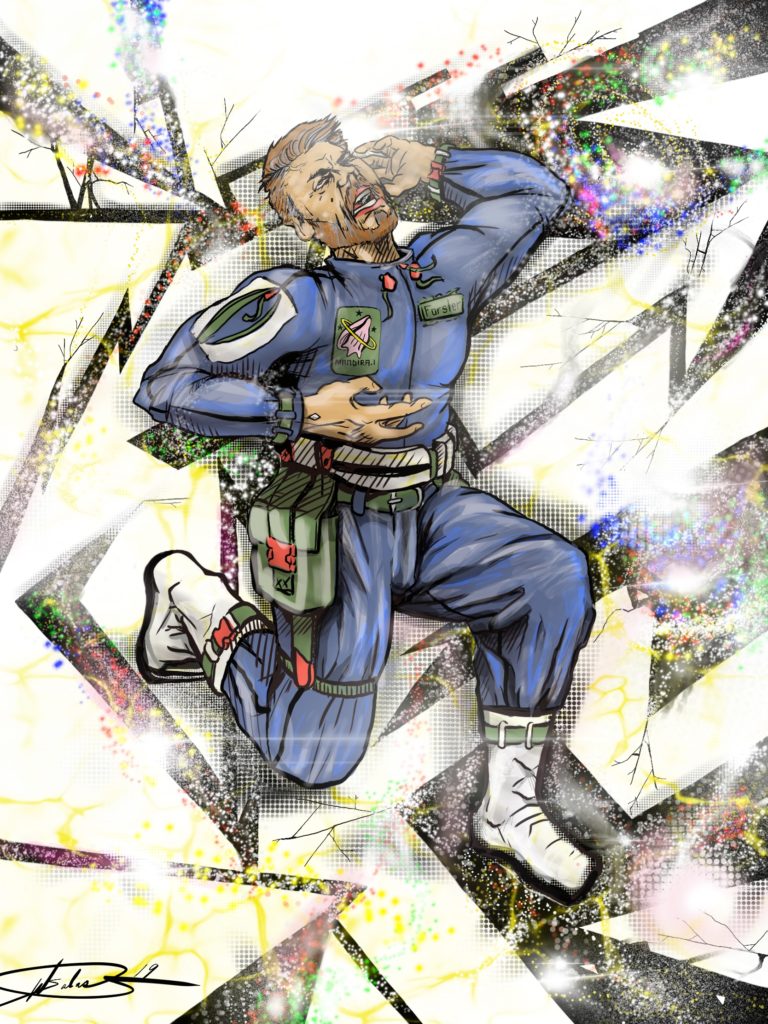 So let's break down what he did. He used Procreate for iPad software for the project. At first he had Forster in a different position, but he changed that. He said he also posed himself for Forster's agonized, knee-down stance, which involved a hilarious moment of his young son walking in on him and wondering if he was okay! The things we do for art, right?
Will made the background separate from Forster, and there you can see a splintered, jagged, multi-hued representation of his migraine with aura. I love the addition of sparkle and color, and the stark contrast. And the fracturing! Just brilliant! You can swipe on Will's Instagram post to see the work unfold HERE.
Now, things get even more amazing when you look at Forster's outfit. On Mandira, the floors are kind of soft and resilient. It makes for a strange sensation when you walk on them, and it irritates Forster; he just can't get used to it. So for his "boots" Will kept the floors in mind, making a sort of sock-like boot, because on Mid Deck where Forster works, there's no need for a hard, steel-toed boot situation. The boots were completely Will's idea, and now that actually adds to my story!
Forster is wearing a jumpsuit in this scene, a common outfit. He also sometimes wears a T-shirt and pants, like anyone would. As for this jumpsuit, there are a number of rich details that Will added. Let's zoom in.
On his hip, Forster is wearing a utility pouch (Will's addition):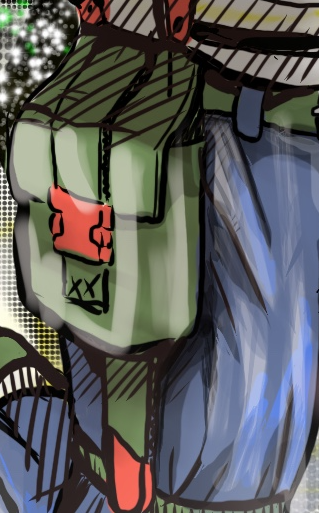 On his sleeve, you can see a zippered pocket (Will's addition):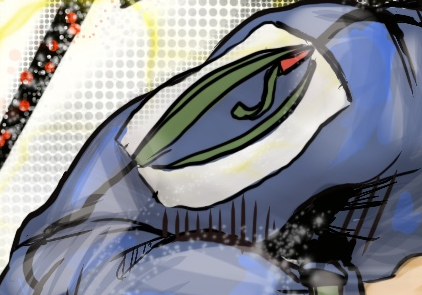 Forster bears two patches on his jumpsuit, one with a conch shell, representing Mandira Research Station (as I discussed above), and then he has his name badge. These were things I mentioned to Will that would be good to have on Forster's outfit: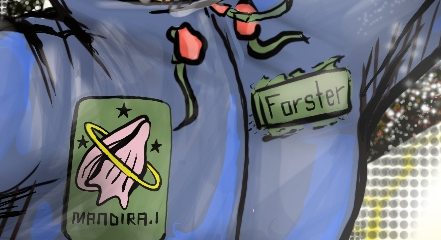 And last but DEFINITELY not least! Look at Forster's hand: there's a silver diamond on it! What does that represent? You'll have to read Heliopause: The Questrison Saga to find out!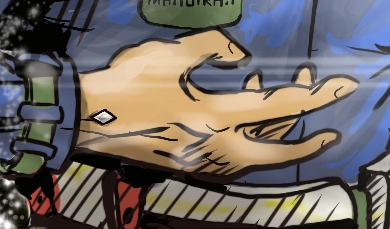 You can find several links to buy Heliopause: The Questrison Saga: Book One on my main page. It's available in paperback or eBook formats of various kinds. You can also ask your favorite bookseller to get it for you! Some California stores actually have it on shelves as well, such as Green Apple Books in San Francisco, Verbatim Books in San Diego, Books Inc. in San Francisco on Van Ness, and Flintridge Bookstore & Coffeehouse in La Cañada Flintridge near Pasadena.
It's so mesmerizing and gratifying to see someone else capture part of the universe I've made. It's surreal, enchanting, and I love it. I could not be more thrilled with Will's work!
I hope you enjoyed this breakdown of Heliopause art! Please visit William's website and give him love on Instagram!
Image Credit: Forster from Heliopause: The Questrison Saga: Book One, art by William Salas Ink & Paint 2019.