I'm so delighted to reveal the GORGEOUS cover of my upcoming traditional debut, The Shadow Galaxy: a Collection of Short Stories and Poetry, arriving March 3, 2023, from Trepidatio Publishing.
And here is the FULL, wraparound cover for THE SHADOW GALAXY!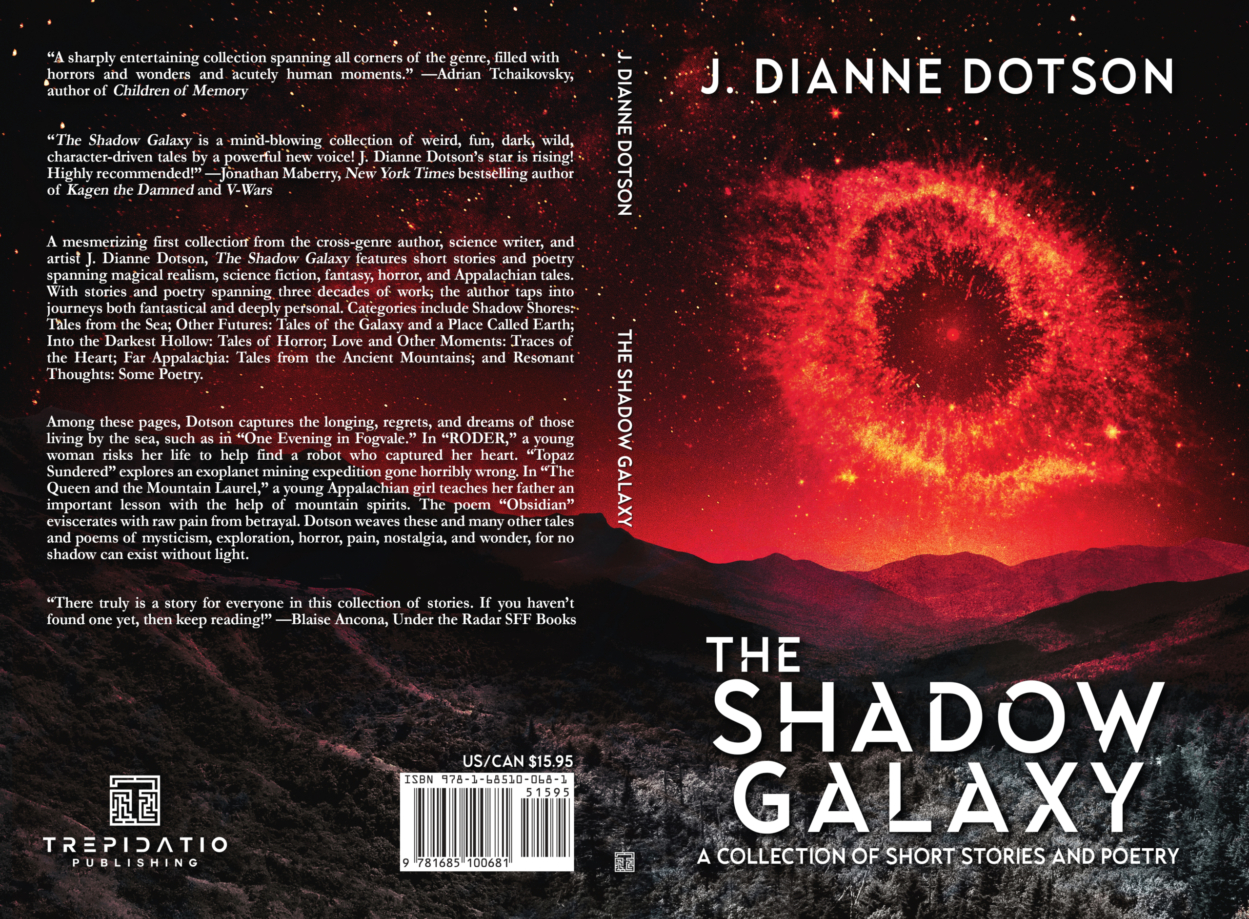 Preorders will start in the near future!
For now, let's talk about the book, the art, and its artist.
What is THE SHADOW GALAXY?
THE SHADOW GALAXY is a collection of short stories and poetry by me spanning multiple genres. Some of these are quite recent, and some go back decades. This is a very personal collection filled with raw emotions.
I am honored that Trepidatio Publishing is the publisher of this book.
Within the pages of THE SHADOW GALAXY, you will find the following sections: Shadow Shores: Tales from the Sea; Other Futures: Tales of the Galaxy and a Place Called Earth; Into the Darkest Hollow: Tales of Horror; Love and Other Moments: Traces of the Heart; Far Appalachia: Tales from the Ancient Mountains; and Resonant Thoughts: Some Poetry.
A Summation:
Among these pages, Dotson captures the longing, regrets, and dreams of those living by the sea, such as in "One Evening in Fogvale." In "RODER," a young woman risks her life to help find a robot who captured her heart. "Topaz Sundered" explores an exoplanet mining expedition gone horribly wrong. In "The Queen and the Mountain Laurel," a young Appalachian girl teaches her father an important lesson with the help of mountain spirits. The poem "Obsidian" eviscerates with raw pain from betrayal. Dotson weaves these and many other tales and poems of mysticism, exploration, horror, pain, nostalgia, and wonder, for no shadow can exist without light.
Book Reviews So Far:
"THE SHADOW GALAXY is a mind-blowing collection of weird, fun, dark, wild, character-driven tales by a powerful new voice! J. Dianne Dotson's star is rising! Highly recommended!"

-Jonathan Maberry, NY Times bestselling author of KAGEN THE DAMNED and V-WARS
"These stories are as lyrical, uplifting, otherworldly and unsettling as any faerie tale, and demonstrate Dotson's ability to write confidently across a wide range of genres, including fantasy, science fiction, and horror."

– Gareth L. Powell, author of Stars and Bones
"A deeply satisfying collection of fantasies that ranges from Americana to outer space, charming and precise in equal measure."

– Paul Cornell, author of Witches of Lychford and I Walk With Monsters
The Cover Art of THE SHADOW GALAXY
The publisher asked for my input about cover art ideas, and this was a wonderful opportunity for me to make suggestions. That is not always typical in traditional publishing.
I wanted the cover artist to capture most of the genres of the book, while also showcasing the Southern Appalachian Mountains where I grew up. I hoped the cover might evoke science fiction themes AND an unsettling horror vibe at the same time. The artist, Mikio Murakami, succeeded magnificently with everything I had in mind. And it's even got my favorite color, red. See more of Murakami's work here. Scarlett R. Algee of Trepidatio Publishing directed the cover creation, and made the font and cover layout for the full cover.
Preorders Forthcoming
Once preorders are available, I will update all social media and my website accordingly so that you can go straight to preorder.
Look for updates on my homepage and my books page.
Be sure to add THE SHADOW GALAXY to your Goodreads shelves, via this link!