I am honored to bring you my third novel Accretion: The Questrison Saga®: Book Three, sequel to Heliopause and Ephemeris! Accretion arrives May 26, 2020. The space opera charges ahead, and the stakes have never been higher…
A Gorgeous Cover
This is the beautiful cover for Accretion: The Questrison Saga®: Book Three! I am delighted to have artist Leon Tukker back with his exquisite art. And I am absolutely thrilled to have a new design team with Dash Creative, LLC, who also manage my website!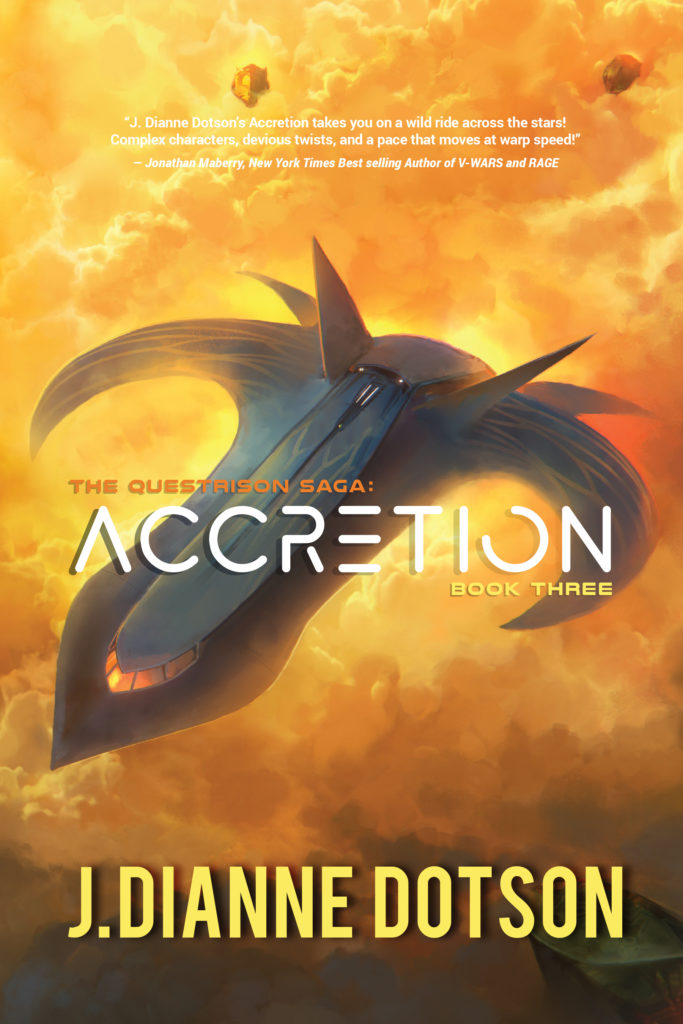 Here is a screenshot of the entire cover, including the back: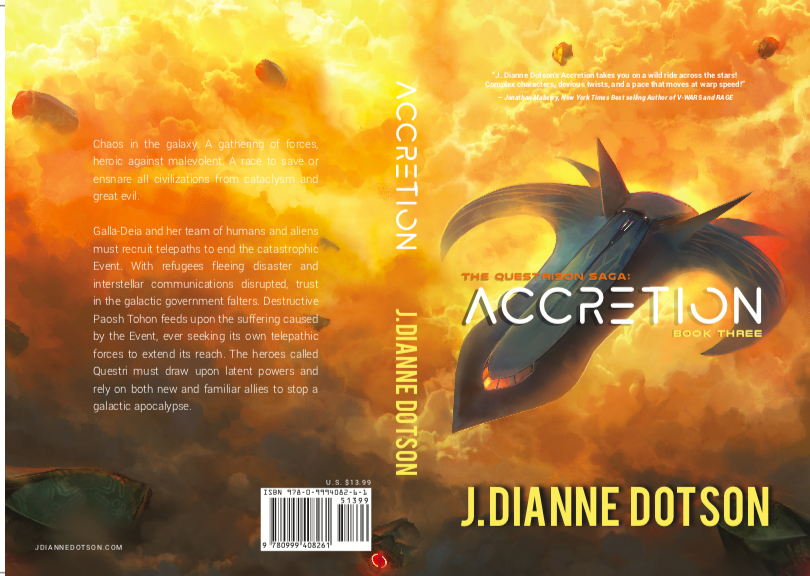 This ship is the Fithich, which was first introduced in Ephemeris. In fact, you can see it leaving Aeriod's asteroid castle on the cover of Ephemeris.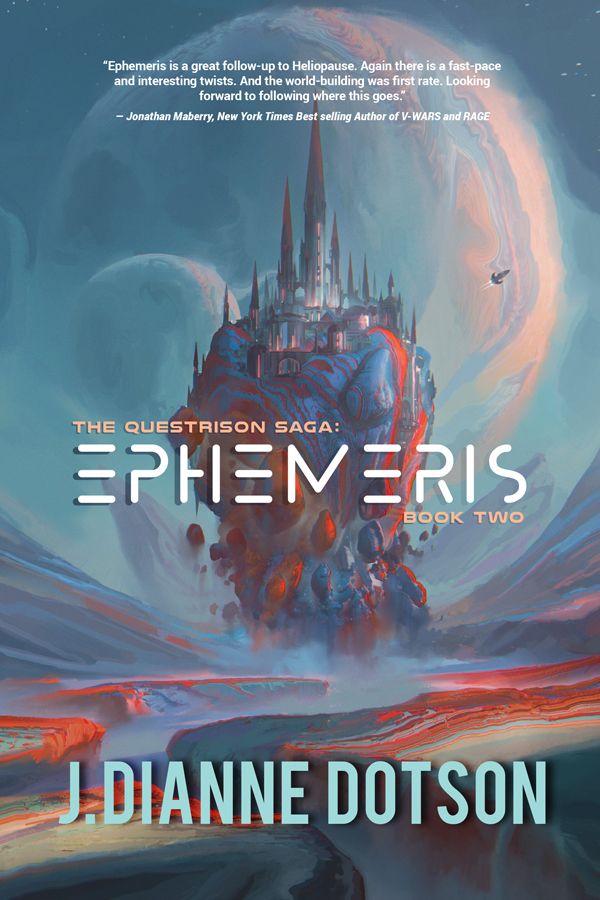 Now you can see the ship up close, which is based on my own pen and ink sketch. In a way, the Fithich is its own character. It's the scene of a lot of action in Accretion.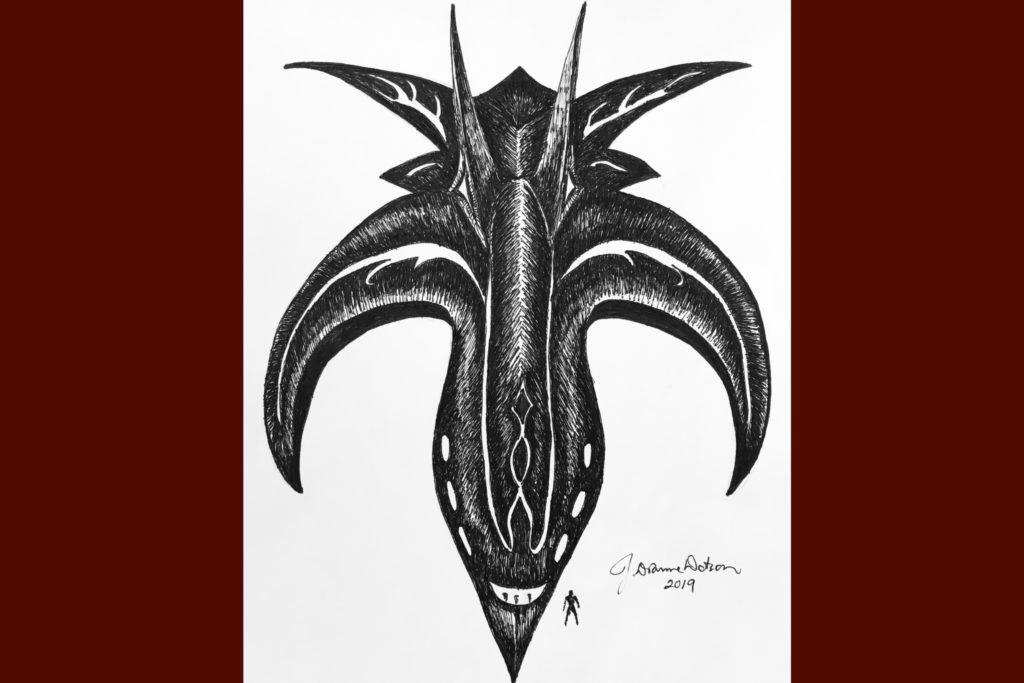 A Glimpse of Things to Come
Chaos in the galaxy. A gathering of forces, heroic against malevolent. A race to save or ensnare all civilizations from cataclysm and great evil. 
Galla-Deia and her team of humans and aliens must recruit telepaths to end the catastrophic Event. With refugees fleeing disaster and interstellar communications disrupted, trust in the galactic government falters. Destructive Paosh Tohon feeds upon the suffering caused by the Event, ever seeking its own telepathic forces to extend its reach. The heroes called Questri must draw upon latent powers and rely on both new and familiar allies to stop a galactic apocalypse. 
An Early Review for Accretion
I am delighted to share the review blurb for Accretion from New York Times bestselling author Jonathan Maberry!
"J. Dianne Dotson's Accretiontakes you on a wild ride across the stars! Complex characters, devious twists, and a pace that moves at warp speed!" —Jonathan Maberry, New York Times Bestselling Author of V-WARS and RAGE
Pre-Orders Coming Soon
Pre-orders for Accretion are coming soon, and I will have them on the future page for Book Three. You can find links to buy Heliopause and Ephemeris on their respective sites, linked from my books page.
New Editions Coming for the Series
You may have noticed the new design of the font and other features for Accretion. I am thrilled to report that Dash Creative has revamped each of my books to match the newest one. These new editions are presently rolling out, and will soon be available for ordering. Here is the series with its new covers: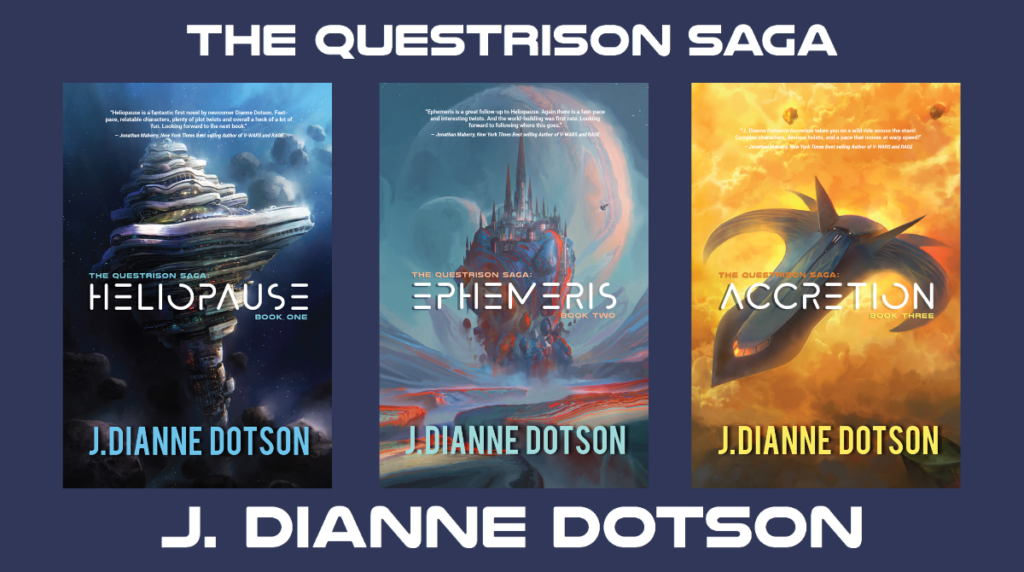 Cover Design: Dash Creative LLC – Instagram: @dashcg
Cover Art: Leon Tukker – Instagram: @leon.tukker
Accretion Arrives May 26, 2020!
Accretion: The Questrison Saga®: Book Three arrives May 26, 2020, in both paperback and eBook formats. Thank you for following me and supporting my work! I can't wait to share Accretion with all of you! Ad astra!
Image Credit: Cover Reveal for Accretion: The Questrison Saga®: Book Three by J. Dianne Dotson Copyright 2020. Book Cover Art by Leon Tukker Copyright 2020; Cover Design by Dash Creative, LLC, Copyright 2020.
Image Credit: