Hello! How is it holiday time already? We've whirled right around the sun, and here we are, with rapidly shortening days and many cookies. It can't be denied: the holidays are here!
I have several fun updates for you!
First off, Book Two of The Questrison Saga™ is now in the hands of my editor! I'm trying not to check my email constantly to see if she has any input as she does her first read-through. Obviously I'm pretty excited!
Second, I have a new interview! The folks at magazine SDVoyager reached out as part of a local business showcase. You can read the article here, "Meet J. Dianne Dotson".
Next up, there is a GIVEAWAY! That's right: my first giveaway. In fact, I'm partnering with Michael Dinich of Your Money Geek, who you may recall interviewed me a few months ago HERE. Michael is hosting a giveaway of Heliopause: The Questrison Saga™: Book One on his site! There are five copies signed by me, and you can enter to win! Head to this post for all the details. Good luck!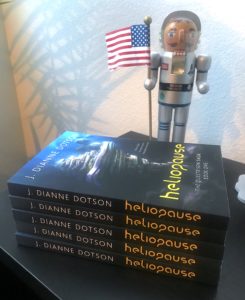 On Sunday, December 2, I had the opportunity to be part of Traci's Paws 3rdAnnual Unleash the Holiday Cheer festival event! This was a great way to support local charities and our military families. I was delighted to share a table with the FABULOUS Mya Duong, fantasy and YA author of Mindful Things and A Time of Witches. We had a great day! Many thanks to everyone for coming out. And check out those darling dogs! Honestly the whole day was full of adorable dogs, and I was right in my wheelhouse of interacting with both people and pets. What could be better than that? Oh, and of COURSE I had my brownies on hand. An added incentive!Opportunities to be in festivals are priceless for authors. There are many venues where you can showcase your work, and it's truly worth it to seek them out. It's a great way to hone your skills of pitching your books, interacting with the public, and maybe even gaining some new readers AND new friends!
Now, I have something super fun coming later this week for you! A holiday gift guide! Stay tuned for that as part of another blog post.
Remember to stay hydrated, moisturized, fed with things that are not all cookies (commence whining on my part), check in on your neighbors and elderly friends, and remember to have fun!
Image Credit: J. Dianne Dotson at Traci's Paws 3rd Annual Unleash the Holiday Cheer event. Photo by J. Dianne Dotson Copyright 2018.[/vc_column_text][vc_gallery type="image_grid" images="1014,1012,1016,1015″][/vc_column][/vc_row][vc_row][vc_column][/vc_column][/vc_row]