I just celebrated my forty-eighth birthday this past weekend. So this is 48! It feels much the same as 47 in one regard, and quite different in another.
Quite a Year
From February 2021 to February 2022, a number of quite remarkable things happened in my life. I moved BACK to California after a year in Tennessee and established myself and my family in Pasadena. I endured some traumatic health ordeals, some of which I talked about publicly, others which I did not. While some of those issues are improved or resolving, they definitely represented a wake-up call and how and where I wanted to receive medical care.
As many of you may know, 2021 brought about, after years of online friendship, my finally meeting Gareth L. Powell in ENGLAND! And this epic meeting led to a fantastic love story that I didn't anticipate, but which has been better than anything I could ever have imagined. And I imagined quite a bit…but still, read each of the England posts all the way to the end so you'll know what happened!
LUMINIFEROUS Lands: The Questrison Saga® Ends
I did it! I achieved my dream goal for the stories I worked on for decades. I finished writing the four-book series The Questrison Saga®, with my final release, LUMINIFEROUS, arriving in June 2021. I talk about how much this book means to me on Medium HERE. And I'm thrilled that readers love the book!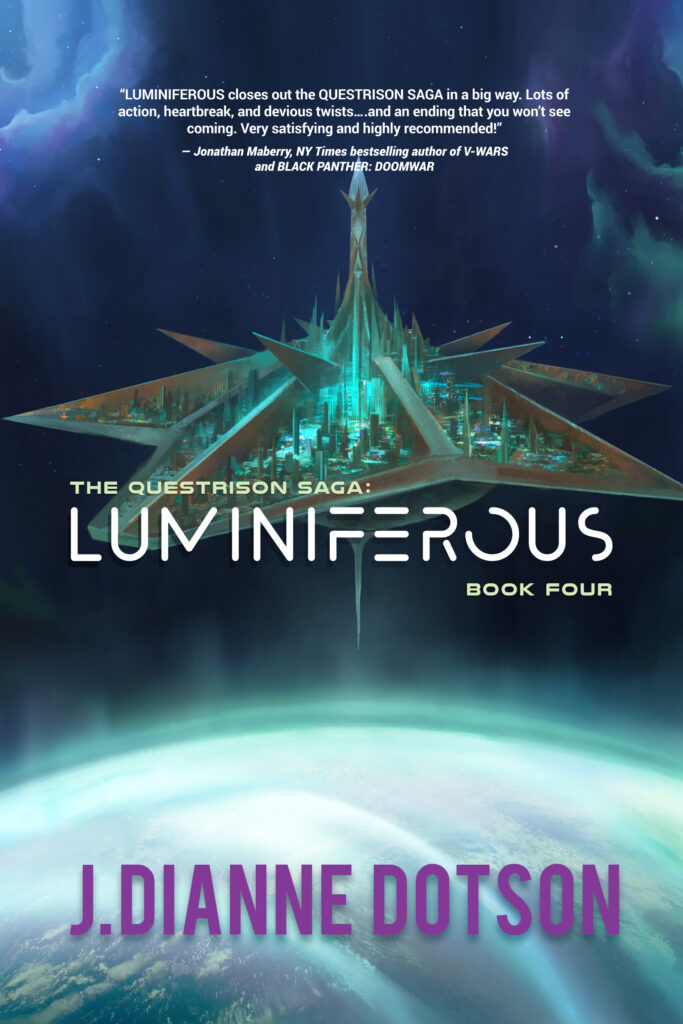 Interviews, Articles, and Stories
Throughout the past year, I was interviewed and I also interviewed other authors. You can find links to my interviews, articles, and short stories on my press page. You can find my Sci-Fi Author Chat video interviews on my YouTube channel.
My Birthday 2022
As a result of all the romantic moments with Gareth, and the fact I had visited him around his birthday in 2021, he returned the favor and flew to America for the first time to spend my birthday with me! And here are some things we did on my big 48: we drove from Pasadena down to San Diego, where I had spent several years, and we met with friends both for lunch and dinner. We also stopped by Mysterious Galaxy Books and I signed some stock of my books there! It was a truly glorious day.
A Busy Year Ahead
My birthday is something I treat like a rolling event, and I carry all the goodwill and joy from it into the months ahead. We've all had a difficult time, so celebrating good things seems more important than ever.
I'm reaching a different phase in my career across the board. Actually, make that careers. I am now both a Senior Content Manager and a Vice President of Public Relations for two different companies, both of which are related to biotech, and both are poised for growth.
On the author side of things, I've moved from being an indie author to becoming a hybrid author, as a contributor to anthologies published by others. This year I am writing multiple manuscripts with the intention of jumping into a traditional publishing house contract. I hope to find the right agent to help me navigate these exciting avenues!
I'll be appearing on panels and helming workshops at several conventions in 2022. Some are listed on my home page, others are forthcoming once details are determined.
I'm now a member of BFSA and Horror Writers of America, and very pleased to be part of both.
I'm also returning somewhat to making artwork again. I'm not sure where that will lead, but I do have a commission set up for those interested.
Oh, and I'm planning a wedding…but if you read my England blog posts, you knew that!
Turning a Corner
After a great deal of personal tragedy and loneliness, I feel that things have improved in so many ways. I still have other goals in mind: financial security, publishing goals, and also personal fitness and health goals. I have travel plans as well. And I also need to remember to stop and take the time to appreciate the many wonderful blessings in my life.
Thank you all for following me on this journey!
Ad Astra,
Dianne