I am honored to bring you my fourth novel, Luminiferous: The Questrison Saga®: Book Four, sequel to Heliopause, Ephemeris, and Accretion!
Luminiferous is the final installment of The Questrison Saga® and it arrives June 1, 2021. The space opera follows on the heels of the horrible events of Accretion. Time has passed, and much has been lost…
A Spectacular Cover
This is the beautiful cover for Luminiferous: The Questrison Saga®: Book Four! The incredibly talented artist Leon Tukker is back with his exquisite art, rounding out the series with my favorite cover of them all. My cover designers (and web design team) Dash Creative, LLC have provided sleek cover design, layout, and fonts. I am over the moon and stars in love with this cover.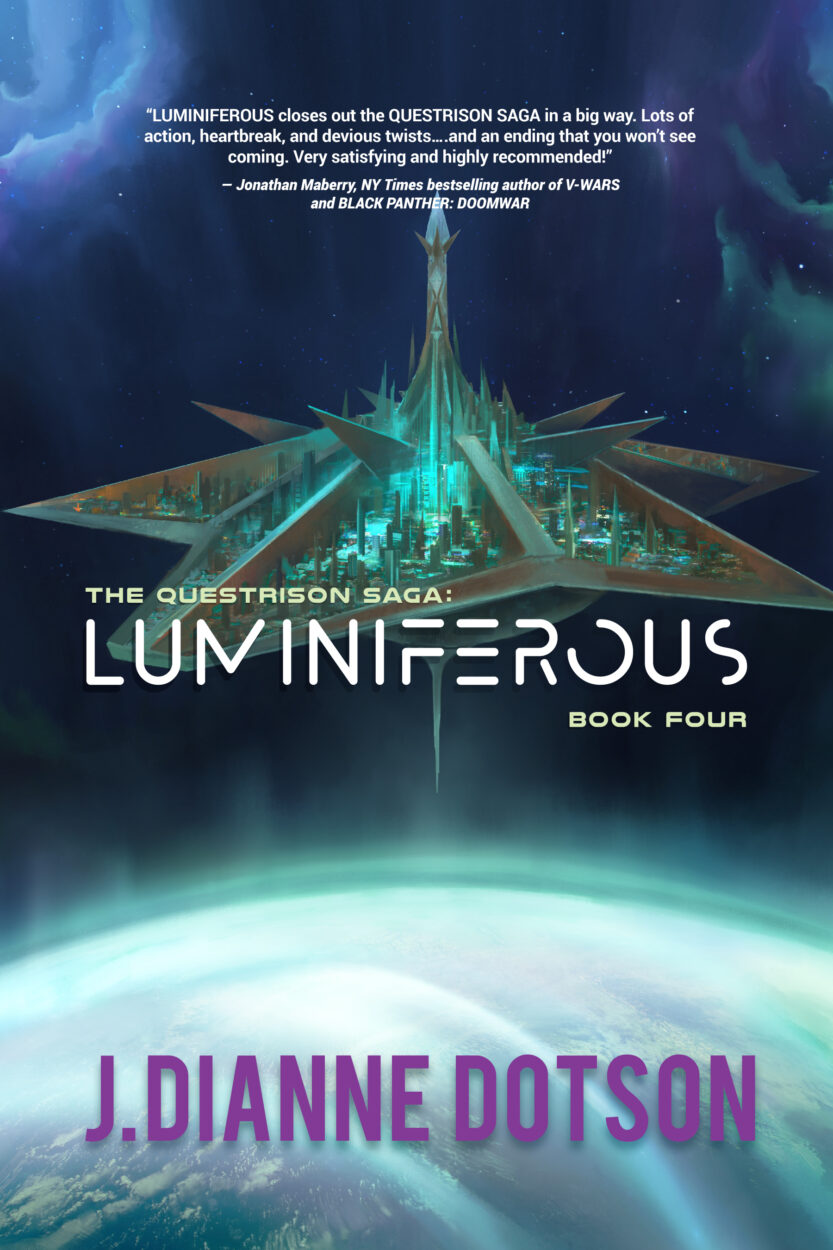 Here is a screenshot of the entire cover, including the back, which you will find on the paperback edition: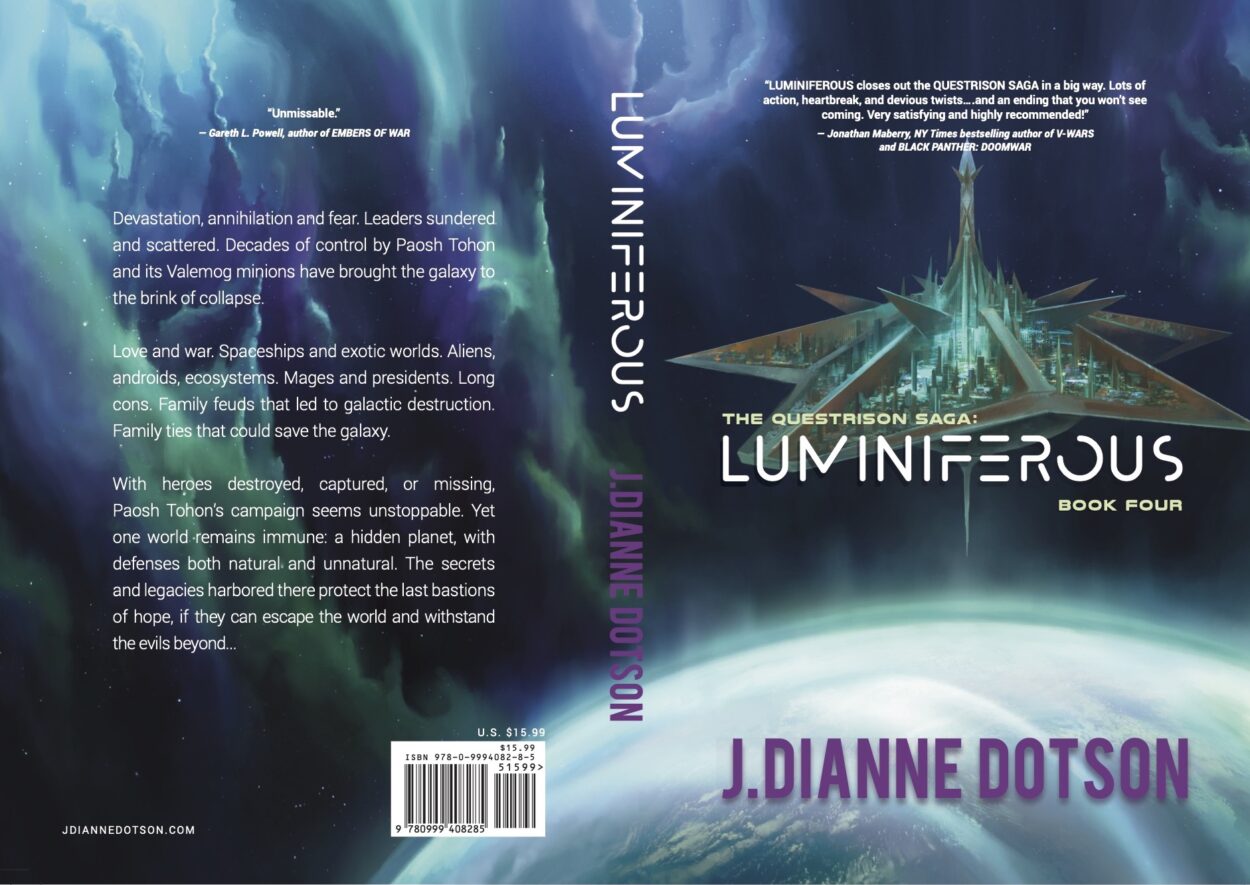 Thank you, Gareth L. Powell, for the back of the book blurb!
The Final Chapter: Love, War, Spaceships, Mages, and a Hidden World
The stunning conclusion to The Questrison Saga®. In it you will find revelations, history, extraordinary passion (VERY steamy scenes), adventure, terror, and faces both new and familiar.
Devastation, annihilation and fear. Leaders sundered and scattered. Decades of control by Paosh Tohon and its Valemog minions have brought the galaxy to the brink of collapse.
Love and war. Spaceships and exotic worlds. Aliens, androids, ecosystems. Mages and presidents. Long cons. Family feuds that led to galactic destruction. Family ties that could save the galaxy.
With heroes destroyed, captured, or missing, Paosh Tohon's campaign seems unstoppable. Yet one world remains immune: a hidden planet, with defenses both natural and unnatural. The secrets and legacies harbored there protect the last bastions of hope, if they can escape the world and withstand the evils beyond…
An Early Review for Luminiferous
I am delighted to share the review blurb for Luminiferous from New York Times bestselling author Jonathan Maberry!
"LUMINIFEROUS closes out the QUESTRISON SAGA in a big way. Lots of action, heartbreak, and devious twists….and an ending that you won't see coming. Very satisfying and highly recommended!" —Jonathan Maberry, New York Times bestselling author of V-WARS and BLACK PANTHER: DOOMWAR
Pre-Orders Rolling Out!
Pre-orders for Luminiferous are rolling out, and I will update them on the Book Four page. Currently you can preorder most if not all formats of ebook; Kindle, Kobo, Nook, etc. Paperback links are forthcoming for independent sellers and some chains. The whole series is also on the main book page, and from there you can visit each book's individual pages.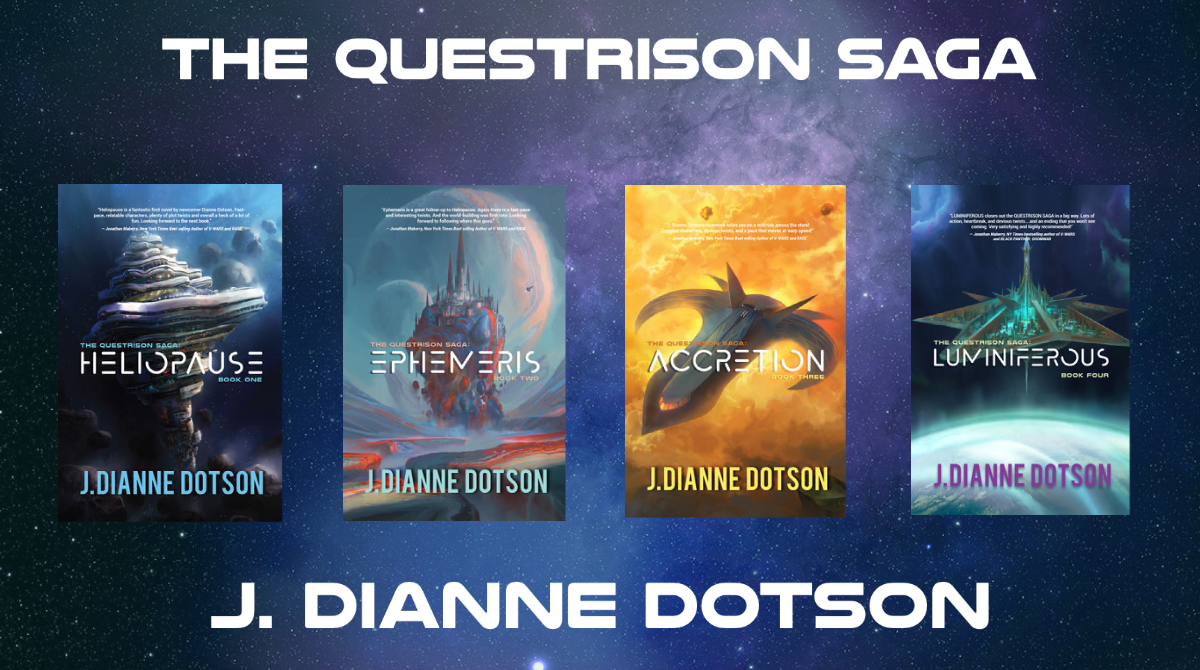 Cover Design: Dash Creative LLC – Instagram: @dashcg
Cover Art: Leon Tukker – Instagram: @leon.tukker
Luminiferous Arrives June 1, 2021!
Luminiferous: The Questrison Saga®: Book Four arrives June 1, 2021, in both paperback and eBook formats. It took decades, maturity, evolution, great love and heartbreak, but here they all are at last, together. Luminiferous is by far the largest of the four books, over 400 pages. It is both the most epic and intimate novel. I can't wait to share it with all of you! 
Ad astra,
Dianne