On the hidden planet Quopeia (quo-PAY-a), along the northwestern edge of the continent Orboaanya (or-bo-AHN-ya), many wild pockets exist where animals are free to roam. In fact, four of the continents, the "Quo" continents, are considered completely uncivilized, and no one who enters them ever returns. And no machines can operate properly within them, either.
You can see Quopeia on the cover of Luminiferous: The Questrison Saga®: Book Four.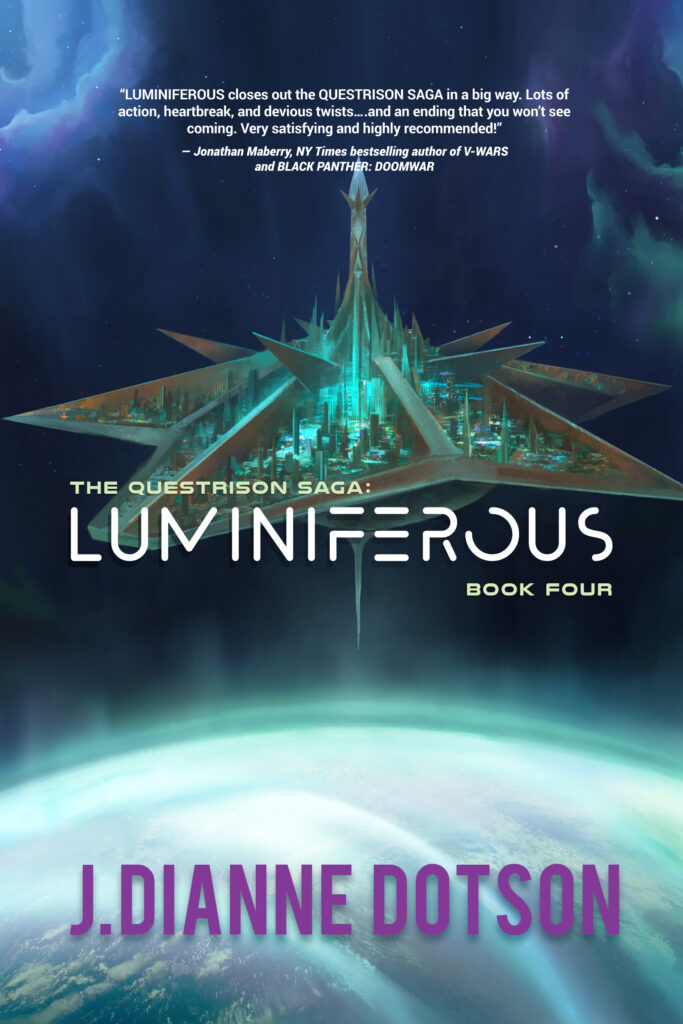 An Uncivilized Land
It is along this boundary between Orboaanya and Quo continent Quepahi that a peculiar species extends its range. They are the deengynes (DEEN-gyns – the "g" is hard). To us, they might look like large foxes with longer ears and spectacular tails. And if you thought that, they would wonder what a fox is. Because deengynes are telepathic.
Meet Nalag
Enter Nalag, the telepathic beast that features throughout Luminiferous. Nalag is a precocious deengyne whose pack likes to mingle with the Ildion settlement at the edge of the continent, near the split in the planet's mantle called the Rift. I will post about one of the Ildion people soon. While Ildions are not telepathic, the deengynes can tell them things with directed thoughts. And Nalag is rather chatty.
Nalag meets a familiar character in the book and may or may not save the life of another. It is a patient creature, but also quite playful and perhaps a little too adventurous. This gets Nalag into considerable trouble at times.
Of all the new characters in Luminiferous, two repeatedly stood out among early readers as being favorites. I'll feature the second soon…for his story has been building for a long time. For now, have a look at dear Nalag, painted splendidly by Merlyn Griffiths: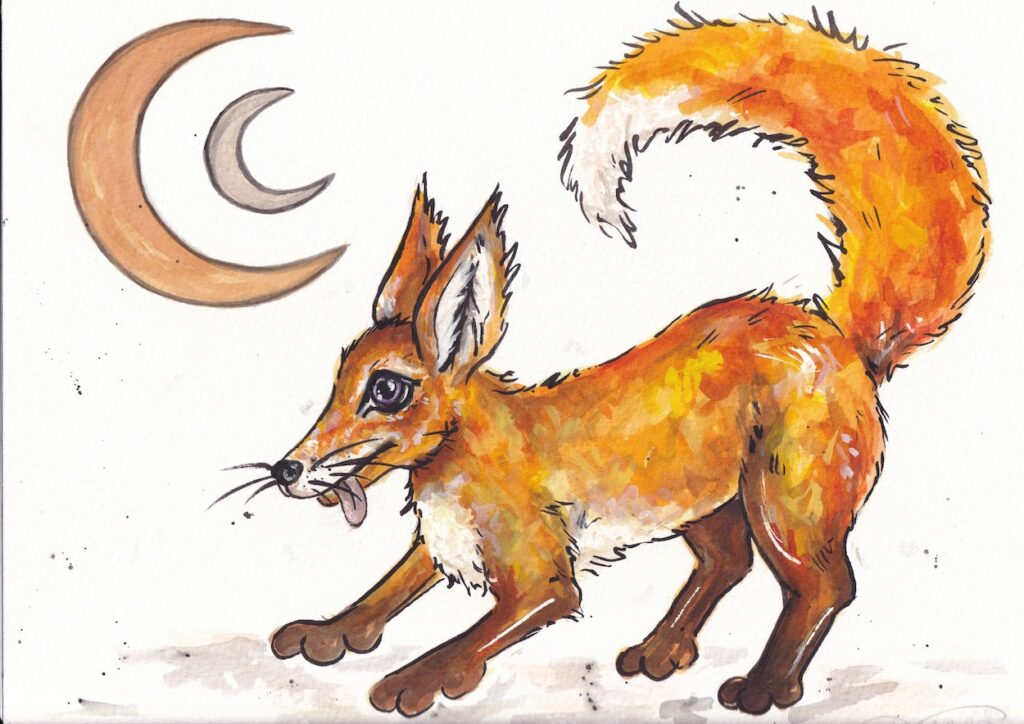 Note the violet eyes, large tail, and tall ears. Nalag is performing what in animal behavior is called a "play bow" and you may have seen Earth dogs do this. It's an invitation to play. And look at that tongue blep! Nalag has a sense of humor.
There are two moons orbiting Quopeia: the copper-hued larger moon, Lume, and the smaller, creamy moon, Cadymar. So they are both shown in crescent above Nalag.
About the Artist
I got to know Merlyn Griffiths, aka The Littlest Falcon, via Instagram and another artist who does fantastic linocut art, Sam Marshall. I had approached Sam to ask her if she or anyone she knew would be available for commission for an alien animal in my book series. She kindly referred me to Merlyn, and this is the print that made me realize she would be perfect for the job.
Lucky for me, Merlyn also happens to be fabulous and witty and a COMPLETE delight to work with. We had a blast going back and forth over the illustrations for Nalag. I gave her my own concept art and text from the books. She perfectly captured the playful, feisty Nalag I love so much.
Here are the concepts: a sketch, a digital version, and you saw the gorgeous final watercolor above, that was shipped all the way from the UK to me here in the US. (She also included some lovely little prints, including that of an Earth fox!)
Here is a photo of the artist Merlyn Griffiths at work: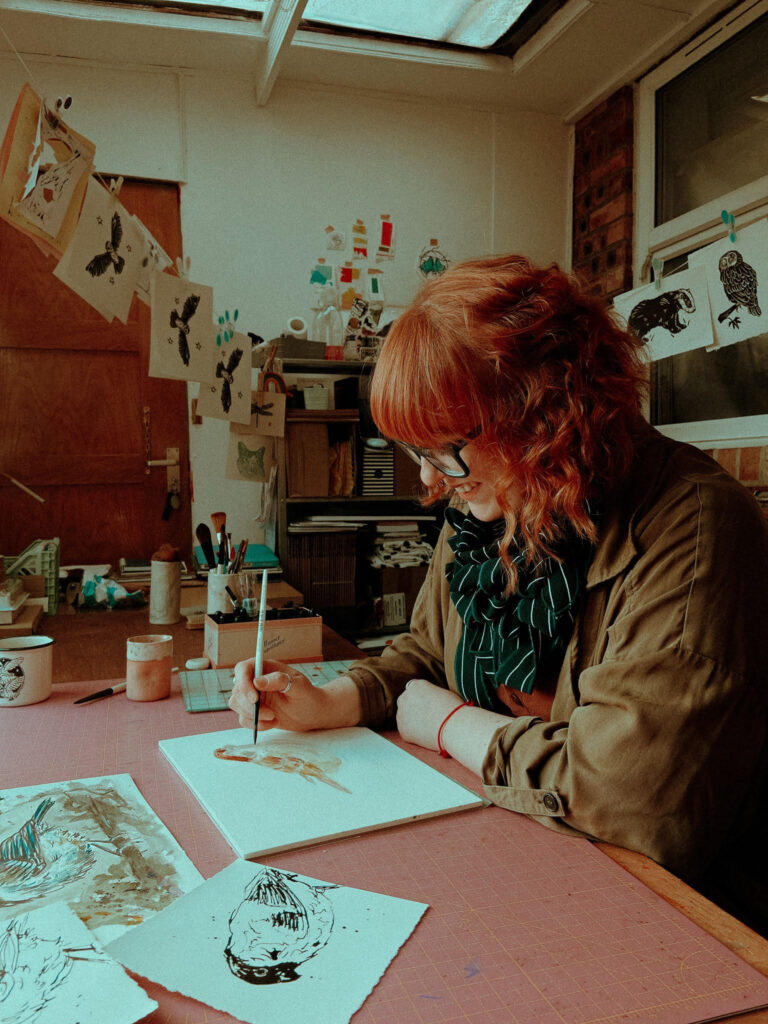 In her own words:
The Littlest Falcon was founded by animal artist and printmaker Merlyn Griffiths in 2018. Focusing primarily on linocut and watercolour pet portraits, Merlyn creates all of her work from her garden studio in the rural North East of England. When she isn't creating, Merlyn works as a Stained Glass Conservator for a company who particularly specialise in the conservation of the medieval stained glass windows of York Minster and beyond.
Find the art of Merlyn Griffiths on her website, for sale in her Etsy shop, on her Instagram, and on Facebook.
Read More About Nalag
You can read all about the adventures of Nalag in Luminiferous: The Questrison Saga®: Book Four, out today and available in paperback or ebook.