On the planet Quopeia, featured on the cover of Luminiferous: The Questrison Saga: Book Four®, the gleaming capital Allurulla of the continent Orboaanya rests to the east of the Talonii Mountains. It is a city of forests, lakes, sparkling towers of cerulean and coral hues, and it is the one pocket of this strange planet that "allows" electricity and technology to work. Among the glistening skyscrapers, tucked away in a cul-de-sac and forgotten, Gindoo's Boardinghouse sits oblivious to the outside world, as it has for centuries.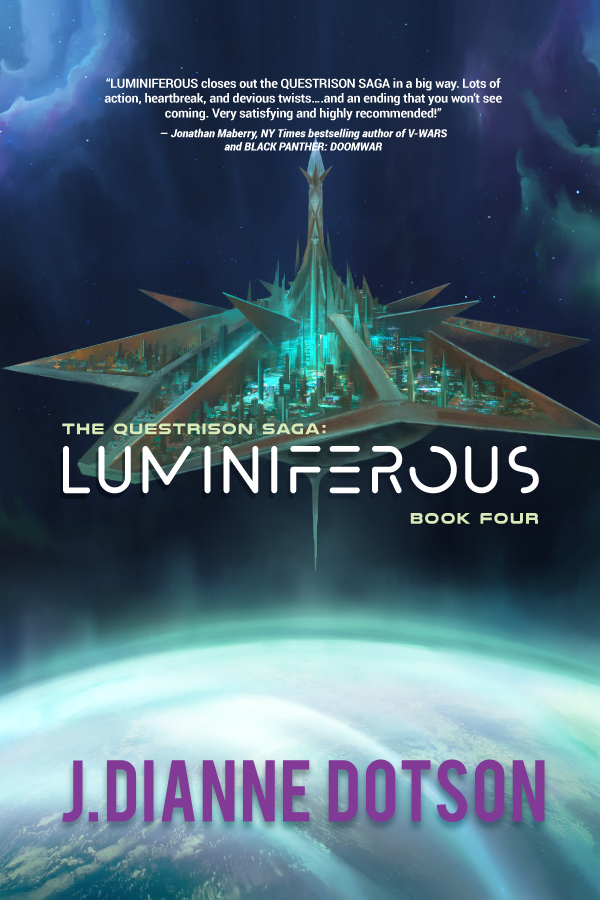 A Mysterious Person
Deming has lived here almost all of his life, and Gindoo raised him to be diligent and patient. But who is Gindoo? Ah, there's a mystery…
Note: Gindoo is pronounced with a hard "G" just like "good."
Gindoo is the keeper of the boardinghouse and has lived a long time…before humans arrived and settled in Allurulla several decades prior to the events of Luminiferous. No one knows just how old Gindoo is. But he has kept to himself, making potions in the basement of the round, ancient stone boardinghouse. He taught Deming how to make them and sent him off on many journeys for plants and other objects. Gindoo is a mage, as are Aeriod and Prince Hazkinaut. These three are markedly different from each other, however.
A Pivotal Scene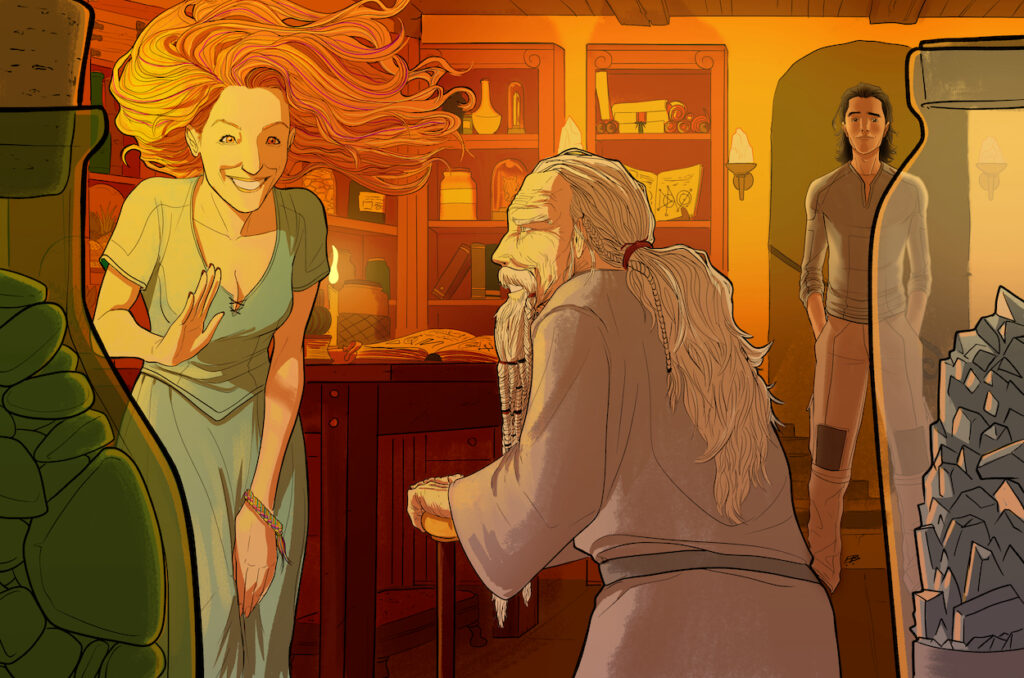 This illustration marks the day Galla-Deia finally meets Gindoo. It is a scene in which Deming describes it as seeming unreal to him: his new friend Galla, and his lifelong mentor and guardian Gindoo. They seem to him like a fairy tale brought to life. He can only stand back and admire the moment, feeling many things.
Gindoo knows more than he lets on. This is one of his basic traits, to a fault. He has his reasons, however. He is the guardian of the boardinghouse, but also of the city of Allurulla, and writ large, the entire planet Quopeia. Quopeia, in turn, has its own peculiar defense mechanisms. It will either let you in, or it won't, and the price is steep. Many ships perish making the attempt. Prilanna Optison's people have in fact made a memorial of fallen starships that stretches a fair distance in their lands.
In this scene, Gindoo will reveal secrets he has kept for decades, which will change the course of Galla and Deming's lives forever.
Now, here is something you might not know. Gindoo, along with Galla, Prilanna Optison, Aeriod, Oni-Odi, Ariel, Dagovaby, and Rob Idin, is one of the oldest characters I invented, way back in 1987 when I was 13. They all seem quite real to me. And Gindoo's Boardinghouse, which I detail at length in Luminiferous, seems to me a very real place. I've even made architectural designs for it! I hope it will seem real for you too, when you read the book. I want to stay there! 
Gindoo is a quirky person, holding his cards tightly, doling out information only as he sees fit, for good or ill. But he is old enough to be wise in many ways. And he has often come to aid those in great need.
Concept Art by Ell Balson
In this scene, Ell came up with concepts for scale based on my own sketches and text: Gindoo is quite short, Galla is average, and Deming is tall. I really love this picture. We talked about different perspectives, always with Deming watching from a distance. The only change I had for Deming was to give him slightly longer hair, which he did in the final image. Also the bracelet on Galla's wrist switched over to her left wrist. I REALLY love this concept image!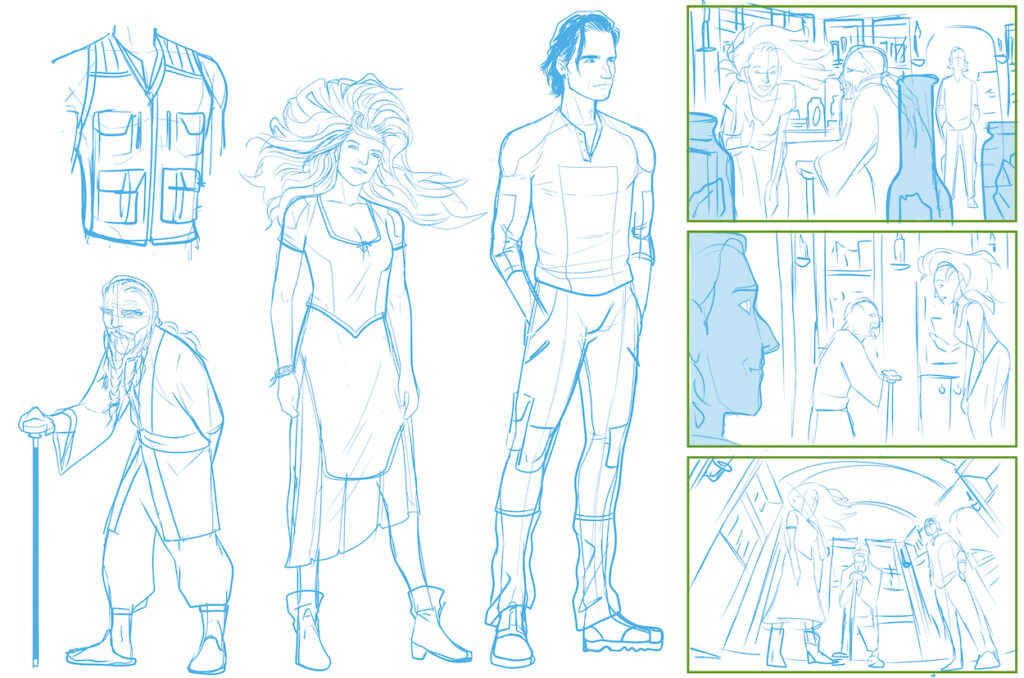 The crystals you see in the sconces are phyron; they are unique to Quopeia, and they provide light and heat. You will learn more about them in Luminiferous.
Elliot Balson has now illustrated several characters and scenes for me for The Questrison Saga®. View Ariel and Veronica, Sumond, Trent Korba, Coniuratus and Galla, Galla and Jana in a "haunted" Device, Prince Hazkinaut, and Prilanna Optison. He has also illustrated another scene with new aliens that I will debut in the near future.
Learn more about Balson and his work on his website.
Read More About Gindoo in Luminiferous, available everywhere in paperback or ebook!