It is hard to believe that it is now time for my second annual Gallant Galactic Geeky Gift Guide! This year, I have several gift ideas for you to peruse.
ART:
Art of Sara Richard: You may recognize the ethereal style of Ms. Richard from her work on Jem and the Holograms, My Little Pony, and many other genre favorites. Buy her phenomenal art, pins, and more on her site.
CLOTHING and ACCESSORIES:
Geometric Backpack, which I used for San Diego Comic-Con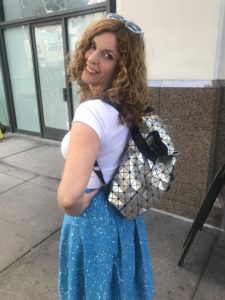 Silver Combat Boots: Circus by Sam Edelman Women's Dacey Fashion Boot (I also wore these at SDCC)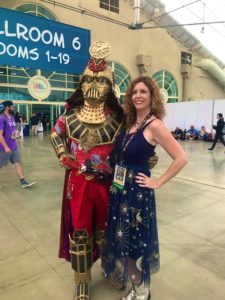 JEWELRY:
BOARD GAMES:
Ticket to Ride (because you can't go wrong with a classic!)
V-Wars: Blood and Fire Board Game
HOUSEHOLD GOODS:
Penn Chemists candles, which are vibrant and come in so many fabulous scents. See their holiday gift guide for ideas:
Le Creuset Star Wars Collection – Splurge on your favorite geeky food lover, with these fabulous Star Wars items!
GIVING/MEMBERSHIP:
Hero Nation Ypsllanti: UNDERPRIVILEGED YOUTH NEED TO KNOW THEY'RE POWERFUL, TOO. Hero Nation Ypsilanti is on a mission to help them with specialized comic book and video game-based programming.
The Planetary Society: "Support The Planetary Fund and help advance space exploration, defend our planet, and search for life." Enough said! Head here and support space exploration and education!
DOCTOR WHO GIFTS:
TARDIS Cabinets: gorgeous, custom-made, hand-crafted in America! Head HERE to behold the beautiful items available.
GEAR:
Brother Compact Monochrome Laser Printer, HLL2395DW, Flatbed Copy & Scan, Wireless Printing, NFC, Cloud-Based Printing & Scanning – My new printer is a real workhouse, and I'm pleased with it!
Anker PowerCore 5000, Ultra-Compact 5000mAh External Battery with High-Speed Charging Technology, Power Bank for iPhone, iPad, Samsung Galaxy and More. This charger really saved me conventions! About the size of a roll of quarters! Find it HERE . Note, some people buy a lightning cable to go with it.
BOOKS:
Cookbooks, because geeks gotta eat:
For pie stans, like me: The Perfect Pie: Your Ultimate Guide to Classic and Modern Pies, Tarts, Galettes, and More Hardcover by America's Test Kitchen
Back this year, because it's that good—every recipe of hers I've ever made is delicious: What's Gaby Cooking: Everyday California Food by Gaby Dalkin
Science Books: 
Falling Felines and Fundamental Physics by Gregory J. Gbur, a man of sharp wit and knowledge!
The Dialogues: Conversations about the Nature of the Universe by Clifford V. Johnson, who has consulted on some blockbuster movies! I met him at SDCC this year: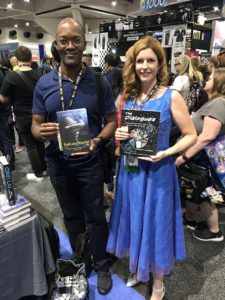 Humor:
Strange Planet by Nathan W. Pyle (touching, humorous comics told from the perspective of aliens on Earth)
Effin' Birds: A Field Guide to Identification by Aaron Reynolds (A profane, irreverent, and hilarious tome for Bird Nerds or anyone else!)
Children's Books: 
See Emily Lakdawalla's Wonderful List of Space Books for kids HERE.
Mid Grade Sci-Fi & Fantasy Books:
His Dark Materials Trilogy by Philip Pullman This worlds-bending series is now an HBO/BBC show, which is fabulous; but you need to read these books!
So You Want to be a Wizard: The First Book in the Young Wizards Series by Diane Duane 
Kiranmala and The Kingdom Beyond Series by Sayantani DasGupta 
Fantasy Books:
The Book of Dust Volume One: Le Belle Sauvage by Philip Pullman which tells the tale of Lyra from His Dark Materials (mentioned above) as a baby, and two children who are swept up in her fate as well as a horrific flood.   
The Book of Dust Volume Two: The Secret Commonwealth by Philip Pullman, in whichLyra of His Dark Materialsis now an adult, and she and her daemon Pantalimon face challenges they never thought possible. 
Science Fiction Books:
Shameless plug by me! My own books first…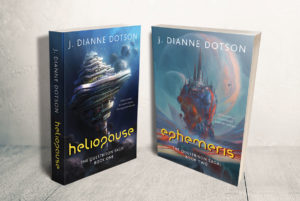 Heliopause: The Questrison Saga®: Book One by J. Dianne Dotson. First in a sci-fi & fantasy epic saga, read what Kirkus Reviews calls "…a fast-moving adventure that involves aliens, telepathy and more than a couple of surprises." 
Ephemeris: The Questrison Saga®: Book Two by J. Dianne Dotson: the sequel to Heliopause and the jumping-off point for a galactic epic. The New York Times Best-selling Author Jonathan Maberry (V-WARS, RAGE) says: "Ephemeris is a great follow-up to Heliopause. Again there is a fast-pace and interesting twists. And the world-building was first rate. Looking forward to following where this goes."
Book Three of The Questrison Saga® arrives in 2020, so catch up now!
Other Sci-Fi Authors…
V-Wars by Jonathan Maberry (coming to Netflix as a show this December!)…a non-stop thrill ride of action, horror and suspense!
Fleet of Knives: An Embers of War Novel by Gareth L. Powell: From award-winning author Gareth L. Powell, the second book in the critically acclaimed Embers of War space opera series.
Thrawn: Treason (Star Wars) (Star Wars: Thrawn) By Timothy Zahn 
Thriller Books:
Rage by Jonathan Maberry: The latest in the Joe Ledger series of thriller novels!
Happy shopping, and may your days be merry and bright! Ad astra!
Image Credit: Gallant Galactic Geeky Gift Guide Header by J. Dianne Dotson Copyright 2019.