The rest of my first week in England flashed by. Gareth and I lived in a happy haze over our engagement, and we started to talk about the future. 
The questions bubbled up: When would our wedding be? Where would it be, America or England? How many people would we invite? Where would we end up living? And so on.
New Adventures
The day before my trip, I needed to take a COVID test for my plane departure. So we headed into the heart of Bristol and dodged raindrops to sort that out. Dashing inside a cafe, we pondered our new lives. And we came up with something very fun.
We decided to try our hand at starting a podcast together. We named it Gareth and Dianne's Sci-Fi Roadshow, and you can learn all about it here and pitch in to help it along if you like. Our goal is to talk about the nerdy films and shows and influences we love, and when we can, incorporate it with travel. We would eventually have our first podcast live in front of an audience at BristolCon, but that is a tale for another time.
The Final Night
We spent the final evening meeting Gareth's brother, Huw Powell, author of the SPACE JACKERS children's books, and fellow author Jonathan L. Howard. Jonathan kindly gave me a signed copy of his novel KYTH THE TAKER. We enjoyed delicious pub fare and beer before bidding the two farewell.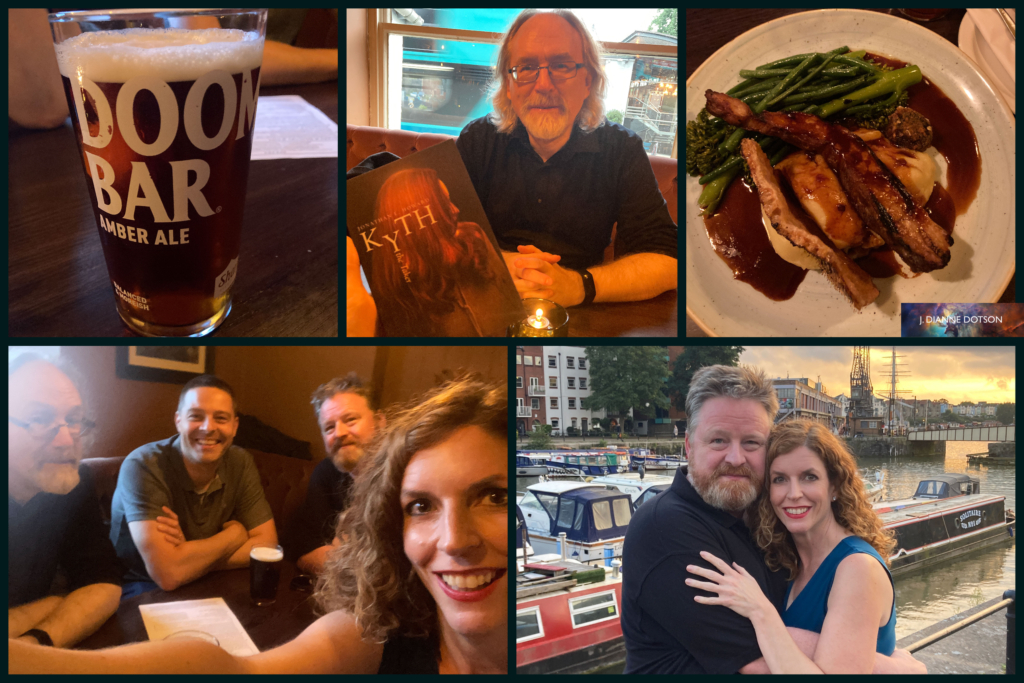 And as the sun set on that final day, my soul ached, knowing the next day I would get on a plane and fly away from Gareth. But we were starting a future together, across space and time and many challenges: one that is written in love. Stay tuned for many adventures ahead as we navigate this new future.