It is hard to believe that Ephemeris: The Questrison Saga®: Book Two has been out almost six months!
And WHAT a six months this has been, with the book launch at Mysterious Galaxy Bookstore, a San Francisco book reading and signing at Green Apple Books, an L.A. signing, and several panels, signings, and other events here in the Golden State.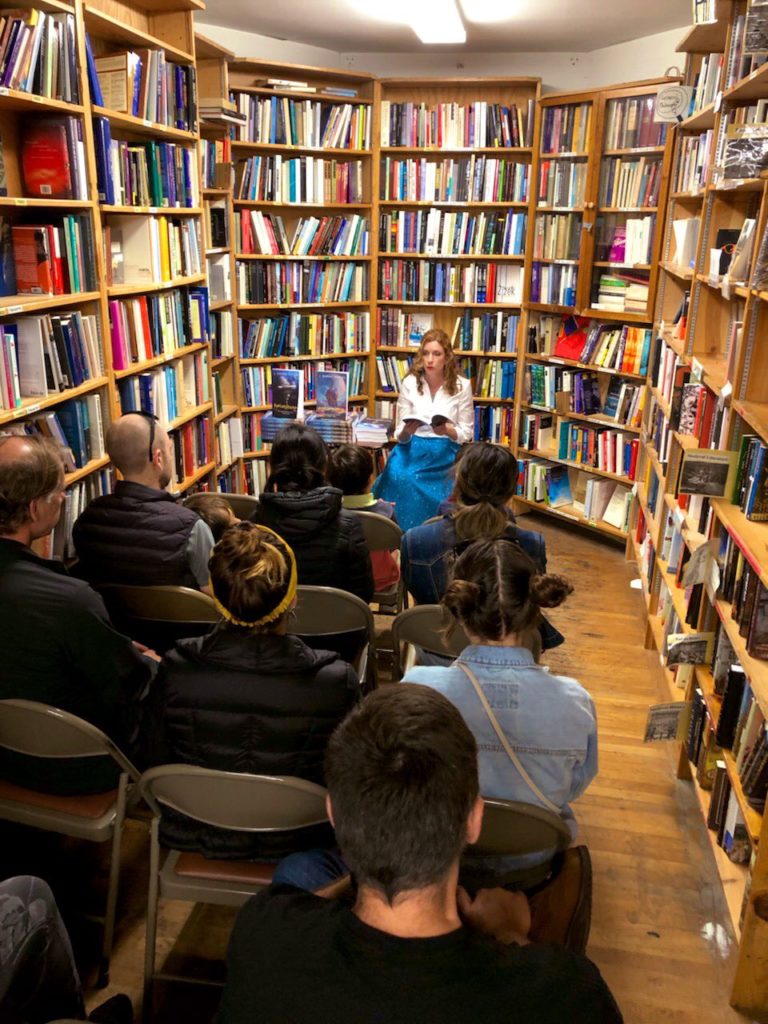 So, how is the second book in my series? It would seem the agreement is unanimous: readers love Ephemeris. I'm going to share reviews for you from Goodreads and Amazon, as well as from a New York Times bestselling author.
What Is Ephemeris About?
Let me give you the back of the book blurb to give you a sense of what happens in this second of the planned four-book series:
Visions of doom. A growing evil. A new hero emerges as old alliances unravel.
Plucked from space and raised in a star-city of androids, impetuous Galla-Deia looks human but is not. Chosen to stop the dual threats of a galactic natural disaster and a malevolent alien entity, she must grow as a commander and gain the trust of both humans and non-humans alike. Unknown to her, the entity draws zealots to its cause, destabilizing interstellar order, and threatening all life in the galaxy.
Ephemeris takes place before, during, and after Heliopause: The Questrison Saga: Book One®, and hosts several new characters and locations as well as some familiar faces. The scale is galactic, but the characters keep it grounded.
Reviews
The New York Times bestselling author Jonathan Maberry  (V-WARS (now a Netflix show!) and RAGE) says:
 "Ephemeris is a great follow-up to Helliopause. Again there is a fast-pace and interesting twists. And the world-building was first rate. Looking forward to following where this goes."
An incredible set of reviews from Goodreads follows:
"Heroes come in many forms. Some wear capes. Some come into the world fully-formed. Others need to find their place and discover their powers. And Galla-Deia isn't your typical heroine. Part Princess in the Tower, part Chosen One, part Coming of Age Story woman, she inhabits a fresh, new center to the Hero Monomyth Venn Diagram.
While "Ephemeris" is technically the second book in the Questrison Saga, chronologically it's the first… at least part of it is. It's also infinitely readable as a stand-alone novel. This story of Light and Dark (and Gray) / Good and Evil (and True Neutral) will take you on a journey across time and space, to worlds both unique yet strangly familiar. A diverse cast of characters (both great and small) drawn from the best and worst of Humanity(ish) accompanies us on that journey. But at the end, it's all about Galla and HER journey. She loses the only family she's ever known yet finds another, stronger one… with just a few speed bumps on the way. And just when you think you have the arc of the story figured out, it swerves in a direction you didn't expect, but leaves you satisfied at the same time. Galla isnt perfect (her hair would never allow that misconception), but that's what makes her endearing, engaging, and exciting.
Come for the Space Opera, stay for the characters. Especially the Coleopteran one!"
And also:
"The Questrison Saga just got a whole lot more epic!
In J. Dianne Dotson's second book, she takes readers mind-first into the expanse of the universe we only got a small glimpse of in Heliopause. However, in Ephemeris, we follow along with a new humanoid protagonist Galla-Deia, along her quest to stop the rising evil and malevolence of Paosh Tohon; which is causing cosmic destabilization and destruction.
Moreover, Like any great mythic story, Galla must face her fears, choose between destiny and love, leave the comforts of one planet to explore into the vast unknowns of many worlds (some quite dangerous) to find answers. There, amongst the stars, she is faced with her most significant trials and tribulations. Each one is more vital than the last. Also, each one a building block into molding her into becoming the leader she was meant to be. And along her journey, we meet others, some new and old faces, and piece by piece; she begins to understand her purpose.
Dotson does an excellent job forming her story with those hints of ancient myths and setting up the grueling journey of Galla-Deia. And as Galla finds her crew, Dotson nails down the feelings of home and friendship beautifully. For this is not just a space story, it's much more than that. It's a story about growth, death and rebirth, friendship, love, teamwork, diversity, betrayal, and the old age question of sacrifice for destiny and good vs. evil. It has many fantasy elements too, from telepaths, empaths, strange Devices, and floating fortresses. It will make you daydream (especially about all the fantastic and exotic planets and moon Dotson creates), laugh, cry, scream, and be left wanting more.
There is a whole host of new characters, and I would recommend (if haven't already) reading Heliopause before venturing into Ephemeris.
An excellent book and I can't wait for book 3 of the Questrison Saga."
Here's another from Goodreads:
"This is the second book in this series and unusually it is both a sequel and prequel to the first. The main character Galla-Deia, is introduced as a somewhat mysterious character. As the novel progresses she becomes more mature as a character and as a strong leader in the quest set before her. The book contains a variety of interesting characters and greatly emphasizes strong female role models of different ages. One can hope the author will continue the series as soon as possible."
And here are great reviews from Amazon:
For Paperback:
"OK this book surpassed the first one!! I love Galla Deia and her stubborn nature in the beginning and by the end she was a bona fid leader. I liked how she matured throughout the book and came into her own. I also loved how the author dangled the Event throughout the book. I can't wait to read the next one!!"
For Kindle:
"A young woman born from a diamethyst geode, raised by robots (mostly Oni-Odi and Pliip), trained by Aeriod, tortured by Bitikk, socialized by Kein and Rez, wrapped in a quilt made for her by Meredith, and assigned a mission by the Associates (who manage the known galaxy) whether she wants to or not.
This book is the second in The Questrison Saga (and we actually get our first clue as to what "Questrison" means near the end of it).
The first book was stand alone. This book is not. It leads directly into the third book as a sequel. This became obvious about 80% of the way through the book when she and her crew had only been to a handful of the "device planets".
I lost momentum a bit during her training but, overall, the story is interesting and compelling with sympathetic characters (Ariel, Dagovaby, Rob, Trent, Jana, Beetle, and Meredith as well as the mostly human telepathic addition late in the book, Paul) and evil villains (Veronica, Derry, and Paosh Tahon)…
The third book can't become available quick enough."
I'm thrilled readers are loving Ephemeris. If you've read it, I would love a review! You can start the series with Heliopause: The Questrison Saga: Book One® and then dive into Ephemeris before Book Three arrives in 2020.
Art for Ephemeris
While Ephemeris is not illustrated, I hired several illustrators for promotional images for the book. Here is a collage of some of them: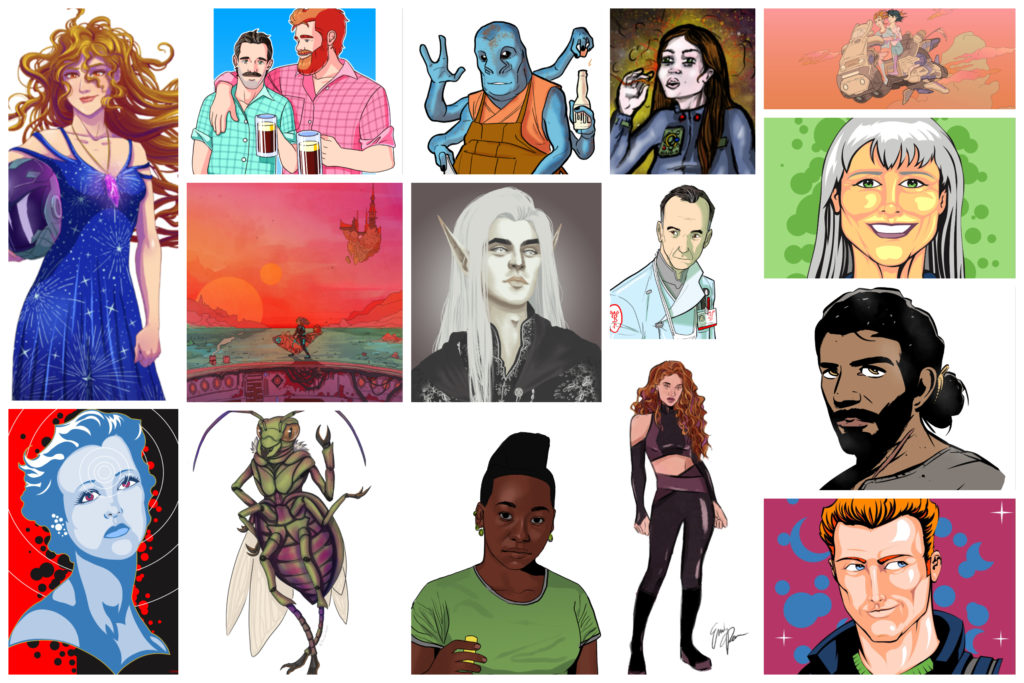 If you'd like to see the individual artwork of the characters and scenes of Ephemeris, featuring artists from around the world, here are several links:
Galla-Deia
Galla in Training
Oni-Odi
Aeriod
Sumond
Kein and Rez
Ariel Brant
Galla and Ariel
Dagovaby Ambrono
Meredith Brant
Veronica
Jana Okoro
Trent Korba
Rob Idin
Beetle
The Device
Get Heliopause and Ephemeris from your favorite bookseller in paperback or eBook!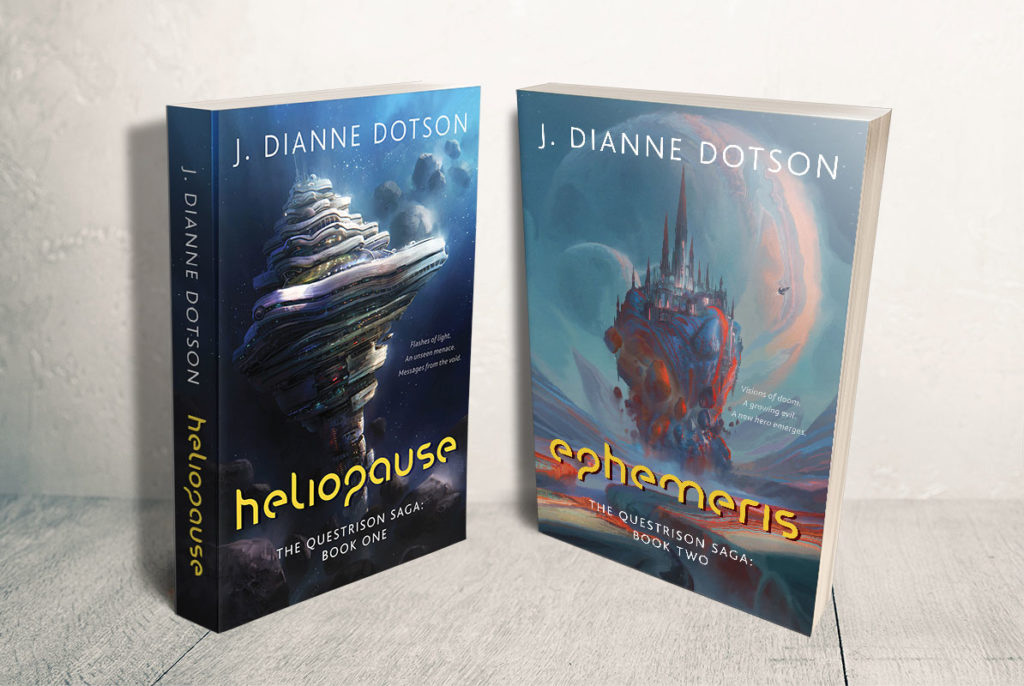 Thank you to my readers! I love sharing this galactic adventure with you!
Image Credit: Banner for "Ephemeris Review Roundup" by J. Dianne Dotson Copyright 2019.