At long last, I made it to San Diego Comic-Con (SDCC)!  And as an attendee, I was able to explore it fully and attend as many panels as I wanted for the full run of the con. Accordingly, I've made my largest-ever blog post, packed with details and photos from the whole event.
And because it's SDCC and there is plenty of cosplay, I decided to give a nod to the nerditry with my own version of space fashion each day. You can see those outfits in photos below.
I plan on writing about fashion in a separate blog post soon. Every single day, people commented on some aspect of my outfits. I made sure I was well prepared with a backpack containing snacks, water, phone, toiletries, wallet, the con program, and a portable charger.

Here's how it went for me. I attended Thursday through Sunday, hitching rides in the morning with fellow authors
Tone Milazzo
 and
Melissa Milazzo
.  Note, there are free shuttles in downtown San Diego that can take you to the con. After parking in a garage, that's what we did. These are nice shuttle buses, holding plenty of folks, with AC and viewing screens for movies.
THURSDAY
This is the day I busted out the glitter
Chucks
and the custom constellation skirt made by
Tailor Love
.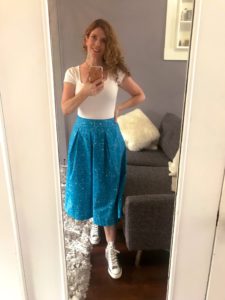 On Thursday, I mainly got the lay of the land. And I shopped on this day, visiting the delightful
Sara Richard
 first. If you've not seen her art prints, you must. Note she also illustrates the covers of some comic books from
IDW Publishing
.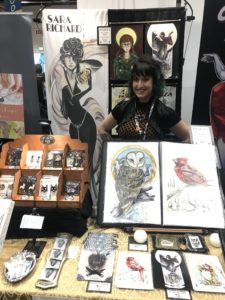 I was able to see a reveal of one of those covers at IDW's panel later. That panel, hosted by
John Barber
, gave us all a sense of what's ahead for IDW…and it's hard not to be excited about their lineup!
Just down from her,
Eric Shanower
 was available to sign Oz books! I couldn't believe I would finally meet someone who truly honored the legacy of L. Frank Baum's Oz books. Shanower has written and illustrated a number of Oz graphic novels. You may also know him from his excellent
Age of Bronze
series. He is a kind and generous person, and he also illustrates your book when he signs it.
Crazy-talented artist
Joe Phillips
 was on hand, and I picked up some of his fabulous superhero posters with a twist. I was also lucky enough to have
Seanan McGuire
 sign her latest,
Middle-Game.
I ran into friends, fellow authors like
Jim Pascoe
(
Cottons: The Secret of the Wind
), and reunited with Dude Vader!
The
NASA
booth was wonderful and educational, and perfectly timed to celebrate the 50
th
Anniversary of the Apollo 11 moon landing. The space nerd in me thrilled at being given a NASA patch.
Later in the day I met up with the Writers Coffeehouse panel, with
Henry Herz
(
Alices' Magic Garden, How the Squid Got Two Long Arms
),
Jonathan Maberry
 (
V-Wars, Joe Ledger
),
Delilah S. Dawson
 (
Galaxy's Edge: Black Spire, No Country for Old Gnomes
),
Peter Clines
 (
Paradox Bound, Dead Moon
), and
Scott Sigler
 (
Earthcore,
Generations Trilogy
),. This was a supersized session of the
Writers Coffeehouse
, which meets regularly on the first Sunday of the month at various location such as
Mysterious Galaxy Bookstore 
in San Diego and
Dark Delicacies
in Burbank. The panel provided lively discussion of publishing traditionally, independently, and in hybrid scenarios. Each author was delightful and informative in a different way.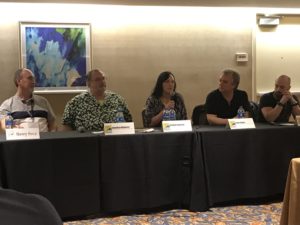 FRIDAY
Day Two and I was READY. Silver combat boots, check. Sparkly space skirt, check.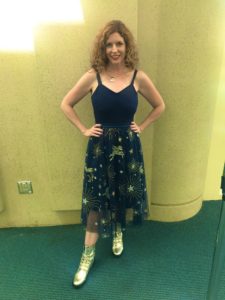 I stopped by the Mysterious Galaxy booth and found copies of both
Heliopause
 and
Ephemeris
 for sale, so I signed them!
Dude Vader sighting!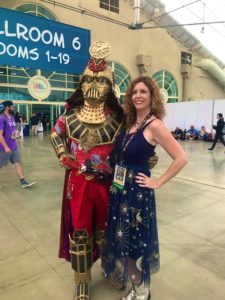 Then I flitted off to go to various panels, and to meet more artists and writers.
First, I attended the "
Berger Books
 and the Writers' Room: Stories Come First panel", hosted by
Vertigo
 founder Karen Berger. It featured comic book writers and artists like
Nnedi Okorafor
(co-creator of
LaGuardia
),
Jeff Lemire
(
Black Hammer
) ,
Christopher Cantwell
(co-creator of
She Could Fly
), and
Jody Houser
(writer for
Stranger Things 
and
Critical Role
). These folks were truly spectacular panelists, and Karen Berger was not only a terrific moderator, but obviously quite enthusiastic about each panelist. It was a great showcase of masters in their genre and what it takes to write comic books.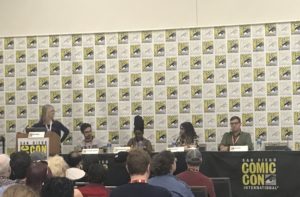 One of my favorite panels was "
Entertaining Science: The Real, Fake, and Sometimes Ridiculous Ways Science Is Used in Film and TV
" hosted by
Rick Lovard
 (
National Academy of Sciences
,
The Science and Entertainment Exchange
). The scientific advisors from
Breaking Bad
(
Dr Donna J. Nelson
, chemist and author of
The Science of Breaking Bad
),
Avengers: Endgame
(Dr. Clifford Johnson
, physicist, science advisor for
Marvel
and author of
The Dialogues
), and
Game of Thrones
 (
Dr. Rebecca Thompson
, physicist and author of
Fire, Ice and Physics: The Science of Game of
Thrones) were there to answer questions.
Fun bits included the debate over blue meth on
Breaking Bad
(hint, it's not possible), and what kind of force The Mountain on
Game of Thrones
would need to crush a skull (sorry, Oberyn). One take-home message is that a showrunner is going to want things a certain way, and a scientific advisor is there to advise how to make things more realistic. However, advisers try not to step on the creator's vision by doing so. Afterward I spoke to some of the panelists, and struck up a conversation with Clifford Johnson. He had his own book out, and would be on hand the next day to sign it.
I quite enjoyed the panel "The First Geeks: Ray Bradbury and the
L.A. Science Fiction League"
, which discussed
Ray Bradbury
,
Ray Harryhausen
, and
Forry Ackerman
. These eventual genre giants formed the science fiction legacy of Los Angeles, and influenced many writers and artists for generations to come. Host Orty Ortwein (
Ray Bradbury Experience Museum
) spoke about the friendship of the three and how they changed geek culture.
Another author panel I attended was the
Science Fiction and Fantasy Writers of America (SFWA)
  panel "Writers Reveal the One Big Secret That Got Them Published". This was a nice mix of both indie authors and traditionally published, including
Jeffe Kennedy
 (
The Orchid Throne
), 
Marie Andreas
(
The Diamond Sphinx
), 
Greg van Eekhou
t
(
Voyage of the Dogs
), 
Greg Bear
 (
Take Back the Sky;
 Comic-Con special guest), 
Jonathan Brazee
 (
Fire Ant
), and 
Kyle Aisteach
 (
Little Dystopias
). Each author talked about the tips that got them published. As an indie author myself, I appreciated the insight Andreas and Brazee gave into their success (hint: publish even more books!).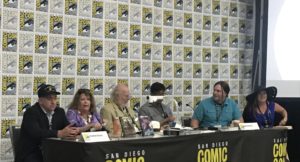 Here I am with author
S. G. Browne
(
Fated
), and we bought each other's books!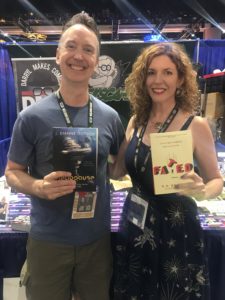 I got to meet
Gail Simone
 at long last! And get this: I didn't have anything for her to sign, but a super sweet lady in line behind me had two copies of Batgirl. She GAVE me one so Gail could sign it! Comic-Con is a delight! Oh, and Gail is, of course, terrific.
And I met
Lalo Alcarez
, cartoonist for the
Los Angeles Times
and other venues. I love his work and really enjoyed speaking with him.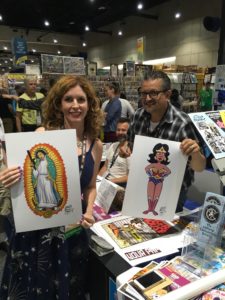 SATURDAY
This was the day I went full Space Princess.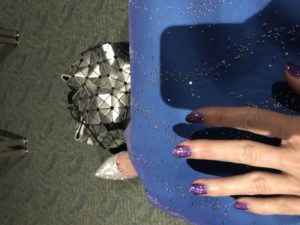 I got my hair done and wore my
Ephemeris
 launch
dress
and glittery silver heels. While each day my outfits drew some reaction, the
Ephemeris 
dress was a huge hit. Several people asked, "Who are you supposed to be?" which opened up a dialog for me to give them my business card or show them my books.
On Saturday, I reunited with Mars geologist Danny Krysak, who you can read more about in
my interview with him
from last year. I also met up with fellow writer Bruce Mohler, who kindly took photos for me.
Saturday's panels included the panel "
Image Comics
: The Inside Scoop on Comic Book Storytelling". Writers 
David F. Walker
(
Bitter Root
), 
Skottie Young
 (
Middlewest
), 
Joe Casey
 (
JesusFreak
), 
Cullen Bunn
 (
Unearth
), 
Ed Laroche
(
The Warning
), 
Charles Soule
 and 
Scott Snyder
(new joint project, 
Undiscovered Country
–which sounds incredible) talked about their projects and methods.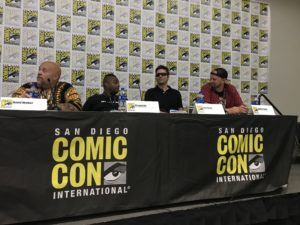 What I caught of the
Jack Kirby
 panel was terrific, and a slideshow revealed both classic comics and some of his non-comics related work, which was surreal and fabulous. You can learn more about Kirby at the Jack Kirby Museum & Research Center website
here
.
SUNDAY
The last day of the con arrived, and I wore my final custom skirt, and kept things simple, with the silver combat boots and silver backpack the only real standouts.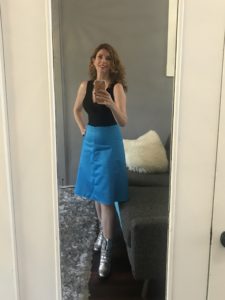 Tone Milazzo and I decided to check out the exhibits (Melissa, thank you for letting your husband part the crowd with his great height. Missed you that day.) and one final panel, on pitching.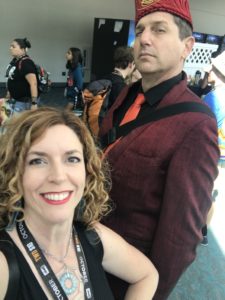 This pitching panel, by the charismatic
Bryan "Kaiser" Tillman
,
 brought some things I hadn't thought of. There are resources, particularly for comic book writers, at the con that aren't obvious. He gave us some tips, and his advice for pitching was great. He also hilariously shamed latecomers by having us all shout, "YOU'RE LATE!" anytime they straggled in after the start of his talk.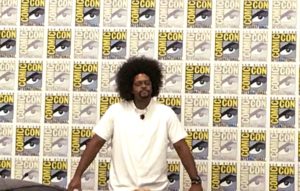 I took in the heady buzz of the con, the exquisite cosplay, got one final piece of art for a friend, and then said farewell to Comic-Con 2019. I had far fewer business cards than when it all began, I made new friends, I learned many things, and got potential job leads. I had a blast. It was fabulous.
Thank you, San Diego Comic-Con. I loved every second.