On May 28, Ephemeris: The Questrison Saga: Book Two arrived on the scene! After a whirlwind week of getting the word out and seeing people's pics of the book in the world, it was time for the book launch party.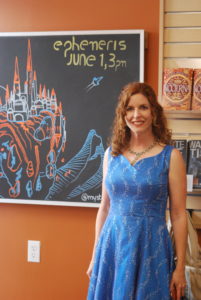 This year, on June 1, I held my first book signing for Ephemeris at Mysterious Galaxy Bookstore in San Diego. I feel a strong connection to this bookstore, which has played host to past events for me as well. It's one of the best bookstores I've ever experienced.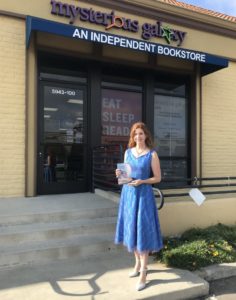 And that's what it is: an experience. There are so many wonderful genre books from science fiction, to fantasy, to horror, mystery, young adult, and books for younger readers. But Mysterious Galaxy also has great programs for readers and writers, such as Writers Coffeehouse, hosted usually by Jonathan Maberry. It's a great community store, and it celebrates authors whether traditionally published or independent like me.
So I was happy to have the Ephemeris launch party take place there. As usual, I brought my book signing brownies!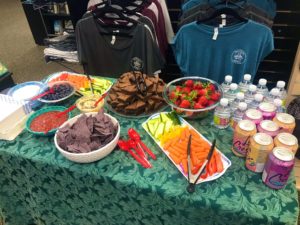 I wore a dress I designed and had made beautifully by Tailor Love. They've written their own blog post about the dress, to show the steps involved in making it. It's the perfect space dress! I wore silver shoes honoring Dorothy Gale from L. Frank Baum's Oz books, because they were never ruby slippers! They were silver! So I give that a nod whenever I can, as a diehard Oz book fan. Yep, I nerd hard.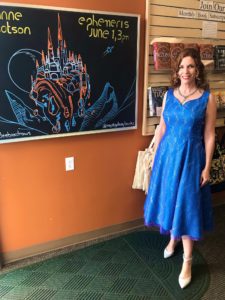 At the signing, I read from various excerpts of Ephemeris, and talked about the connections to Heliopause: The Questrison Saga: Book One and why I chose to tell its sequel as not-quite-a-sequel. As one reader told me, Ephemeris is more a wraparound of Heliopause. It takes before, during, and after. There are familiar faces as well. And so I was able to give my signing audience a sense of the scale and the stakes in The Questrison Saga. Then I answered questions.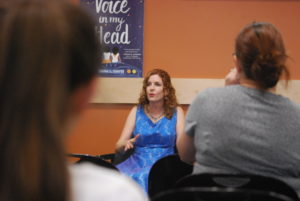 Fellow author Mya Duong (Mindful Things; A Time of Witches) asked how I came up with the book names for the series. I explained that both "heliopause" and "ephemeris" are astronomical terms, and I wanted to carry on that tradition as best I can in the series. I also mentioned that I tend to have a lot of fun with my chapter names, which often have double or subtle meanings.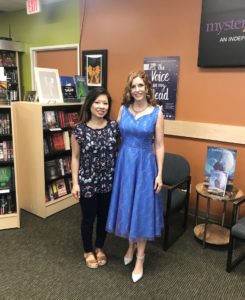 One of my favorite questions was what readers can do to help writers. I recommended sharing our posts about our work. I also encouraged readers to leave book reviews as well. This helps other readers decide whether or not to read a book. 
I want to thank all my readers for coming to buy Ephemeris and Heliopause this past Saturday. Your support means everything to me, and I'm deeply humbled. Thank you to Mysterious Galaxy for hosting the event and promoting it as well.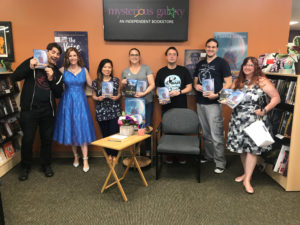 There are more Ephemeris events coming soon, including a signing in San Francisco at Green Apple Books on June 22! Stay tuned! Ad astra!
Image Credit: J. Dianne Dotson at the Ephemeris Book Launch, June 1, 2019. Photo by J. Dianne Dotson Copyright 2019.[vc_row][vc_column][vc_gallery type="image_grid" images="1729,1747,1726,1730,1731,1717,1732,1716,1710,1722,1711″][/vc_column][/vc_row][vc_row][vc_column][vc_gallery type="image_grid" images="1728,1727,1719,1718,1720,1734,1709″][/vc_column][/vc_row]