As you can see from the header photo of this post, I had QUITE the weekend! San Diego Comic Fest ran from March 7-10, and it was just crazy fun. I also sold out of my books!
Like at ConDor Con, I shared a table with fellow authors Tone Milazzo and Melissa Milazzo.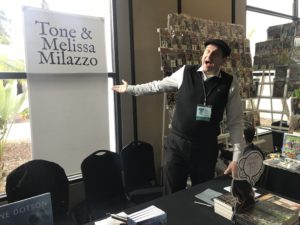 To our left, Jeff Young offered some pretty amazing vintage comics for sale, and wisdom and humor for free. To our right, Frederick Packard and Joshua Valliere, writers of Charon Comics, sold their fabulous Sky Lin and Sol Survivor comics, among other items.
Further down, Keithan Jones of Kid Comics offered his comics as well as gorgeous special commissions. Between all of us, we kept things jolly and traded all kinds of great stories.
San Diego Comic Fest has been around since 2012, and was founded by Mike Towry and others. Matt Dunford, whose energy knows no bounds, kept the entire thing running smoothly. I am so grateful to Matt for his introducing me to the con. SD Comic Fest offers what San Diego Comic-Con (SDCC) once did: a great experience with artists, vendors, panels, special guests, and a smooth flow that never seemed overwhelming. There was a great turnout, and several local news outlets showed up. At least two people arrived after one broadcast on Sunday, saying they had seen us on the news. Also some of my older child's friends showed up as well, their parents having learned about it from my Facebook page.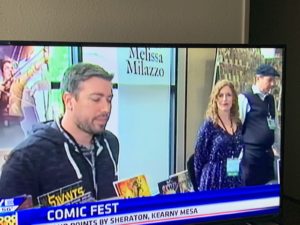 There are so many great highlights from this con. One that stood out was a young fan that had bought my book online, and came to SD Comic Fest deliberately so I could sign it. I made sure he got some exclusive con swag. That was just a priceless, wonderful moment!
The cosplay was fabulous. In the header, that is Dude Vader.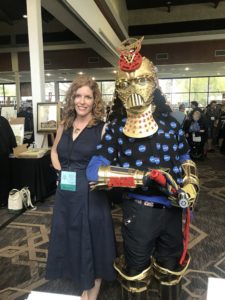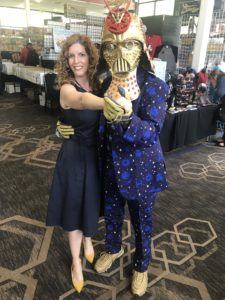 I met the inimitable Goat Vs. Fish, surely forged from the same fires as Monty Python and Douglas Adams.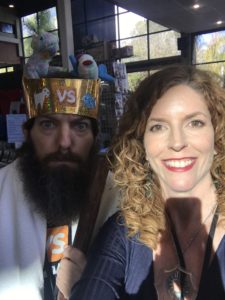 The Joker showed up from Brazil, and she put me in a compromising position for sure!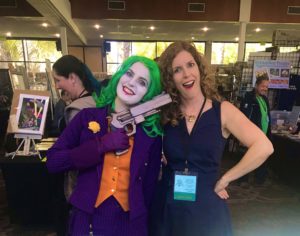 I met Sergio Aragonés, cartoonist of such works as Mad Magazine and Groo the Wanderer. He said at my table that he was impressed by my self-publishing. I also met Greg Bear, legendary writer of science fiction novels such as City at the End of Time and War Dogs, among many others. I saw Buzz Dixon again as well, he's such a gentleman!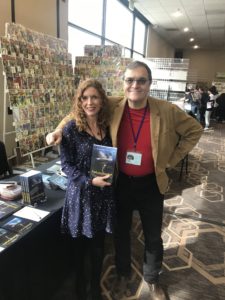 Author Jonathan Maberry stopped by and gave me some lovely praise for my work. You need to read everything he writes!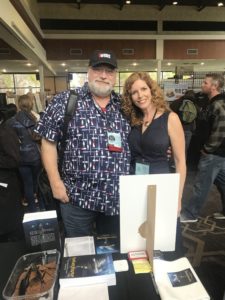 Mars geologist Danny Krysak stopped by to say hello! You may remember him from my "Ask a Mars Geologist" interview.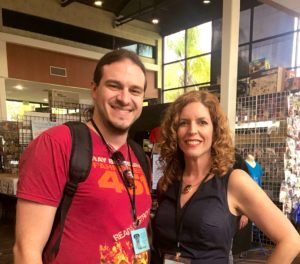 There was a hilarious moment when several people thought I looked like the person on the cover of a Gothic romance magazine and novel. Then the next day, I was gifted the novel! Too funny, and also awesome.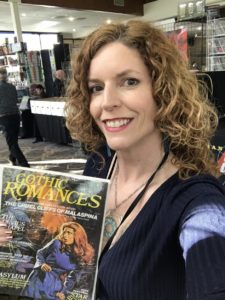 I also attended a charming time travel stand-up comedy show hosted by Gideon Marcus of Galactic Journey, which put the audience back in 1964 with trivia and laughs.
In Artist Alley, where I would happily have stayed for days to chat, I met artists and creators Jay Fabares, Dean LeCrone (a cartoonist who also showcases amazing Steampunk cosplay), Mark Kistler, and artist Lee Kohse. There were some incredibly talented artists, and I'll be following their careers and maybe commissioning some of them at some point!
The set decoration at SD Comic Fest was delightful, especially in the Lunar Café. This was in honor of the 50th anniversary of the Moon landing.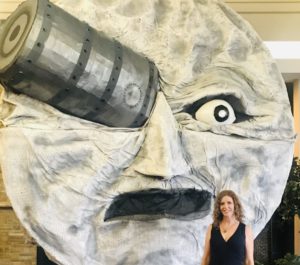 I'm just so impressed by all the creativity, charm, great organization, and just good plain fun that SD Comic Fest had to offer to fans of all ages. You absolutely have to go next year! Thank you, San Diego Comic Fest, for a fantastic con!
Next stop, WonderCon!
Image Credit: J. Dianne Dotson with Dude Vader. Copyright J. Dianne Dotson 2019.