When I first visited San Francisco in 1992, I dug my toes into the cold sand in sight of the carnelian Golden Gate Bridge. I said, "I'll return," and thus began a long love affair with a city, for I kept my promise.
San Francisco has ever since been a sort of gravity well for me, pulling me back again and again. It's been a place I've found myself during tumult, and therefore it is for me a sanctuary. Whenever it is time to leave, I weep. But I still keep my promise.
My 1992 trip was a declaration of independence. I was 18, and given the gift of airline tickets from a travel agent friend. I had never flown alone, much less across the country from East Tennessee to California. One of my brothers lived in the Bay Area at the time, so I would visit him.
I had never once taken public transit or taxis, and yet I found myself exploring the city alone. And since it was August, I was shocked at the cool, breezy weather, coming from sticky-hot Tennessee. Everything dazzled me: the vibrant bridge, the tall city spires, the curling fog, the cobalt ocean, the aquamarine Bay. Pastel houses. Cafes. Art everywhere. New smells. Delicious foods. I instantly, unabashedly fell in rapturous love with the City.
I'll never forget the agony of leaving it, going back to a situation in which I was quite miserable and could not see the way out of. But the City gave me the hope I needed, and since I had promised to return, I knew I had to fulfill that promise.
I would return briefly once I moved West to Seattle (which I never loved) in 2000. A quick stop, and yet there it all was in its glory. And in my mind I thought, "I'll come back again."
I would put my foot down and put all my energy toward that goal. I moved there in 2005, accomplishing the dream to live there. While that time was brief, I loved it so much. I would lean on my windowsill in my closet-bedroom (seriously—it was a tiny but beautiful studio) every evening, and watch the fog billow over the great red-and-white fork that is Sutro Tower. On weekend mornings, I would slip through the Panhandle to Golden Gate Park, practically next door, and walk through the gardens. Other mornings I would go to Ocean Beach, a colloidal fog dreamland, where I watched the silhouettes of surf-casters wading into the sea.
And when it was time to return to Seattle, I wept again. But I whispered my promise to San Francisco again. And so I would visit my friends from time to time, now with kids in tow, and watch them marvel at the beloved City.
After Heliopause came out, I realized I needed to try and get a signing in San Francisco. The obvious choice for a venue was Green Apple Books, which I visited when I could. I loved its seasoned atmosphere, its two-story layout, and its charming staff. I decided it might make more sense to wait until Ephemeris arrived. So I approached the store about a signing. We set it up, and I felt this deep glee: I was coming back to the City, and having a book signing! What pure magic was this!
So on June 22, 2019, I left early in the morning from San Diego and drove northward, all day, to my friends' home where I would be staying. I of course brought my double chocolate brownies. I did not know my friends had an entire spread of wine, cheese, fruit, charcuterie, chocolates and other snacks ready to bring to the signing. There was even a bottle of Champagne to pop open. They had in turn invited their friends, and some of my author and social media friends came as well.
VIDEO: J. Dianne Dotson Book Signing at Green Apple Books
The store was a complete delight. I walked in my silver glitter shoes, my steps echoing up the creaking, sagging wooden steps, met the lovely staff, and we set everything up. When guests arrived, I realized the upper floor back room would fill up. What a glorious moment, looking at these people, adults and kids, who had come to hear me read and sign my books!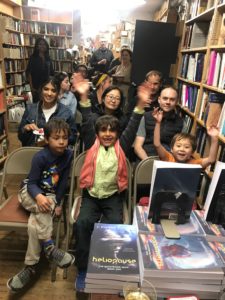 I read from Ephemeris, and noticed two of the staff lingered to listen, repeatedly paged by the store yet they stood still. The audience asked insightful questions, and something aligned in me: a rightness. A feeling that all of those years had led to this moment. I sat in a constellation skirt made just for me, in my beloved City, with my own writing being shared with readers.
Indescribable.
Green Apple Books is an independent bookstore, and my signing was held at the Clement Street location. Thank you to the store and the brilliant, witty, resourceful staff. I adore you. Thank you to dear friends Sapna, Christopher, and Omi for setting up a lovely spread and helping me. I will never forget that wonderful night.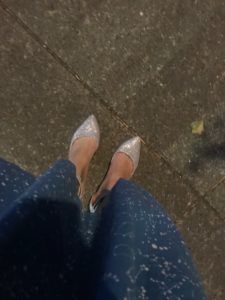 And while I did weep again the next morning when I left, once again in a shift in my life, I found this set of stairs as I drove away. I can only climb now. Always forward, never back.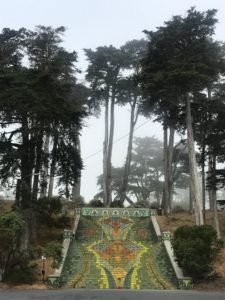 Image Credit: J. Dianne Dotson poses with Heliopause and Ephemeris at Green Apple Books, June 22, 2019. Photo Copyright J. Dianne Dotson 2019.[vc_row][vc_column][vc_gallery type="image_grid" images="1826,1824,1822,1821,1820,1819,1823″ img_size="medium"][/vc_column][/vc_row][vc_row][vc_column][vc_gallery type="image_grid" images="1825,1818,1815,1813,1812,1811,1831,1829″ img_size="medium"][/vc_column][/vc_row]