This past weekend, I had the fabulous opportunity to be part of the Indie Creators Book Signing at Emerald Knights Comics and Games in Burbank, Los Angeles, California. This was my first event in Los Angeles as a sci-fi author, and hopefully the first of many.
I learned about Emerald Knights from a social media friend. I had asked for a good place to have a book singing in LA, and this was recommended. A few months ago, I contacted the store to gauge interest. They mentioned late September might work, and I thought that was perfect, as it was timed for after my move. Even better, they wanted to make this a group event, something they'd been thinking of already. It would be an Indie Creator Signing, celebrating indie authors and comic book writers!
Prior to this event, I visited the store. It's located in Burbank, and close to freeways. It has two floors, the first being dedicated to comics, miniatures, board games, toys, and art supplies for painting miniatures. If you want it, they probably have it! The second floor is for games. And I have to say, the staff at Emerald Knights are the nicest I've ever encountered at pretty much ANY kind of store, anywhere.
The day comes, and I have my double chocolate brownies in tow. I entered the store and found a great setup of author tables. I assembled my table area, and got to know the other authors.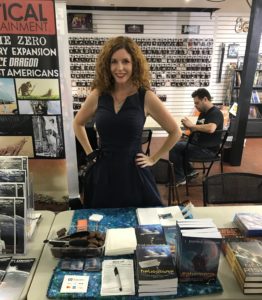 To my left, C.Courtney Joyner displayed his book Nemo Rising, his sequel to the Captain Nemo adventures made famous by Jules Verne's 20,000 Leagues Under the Sea. Joyner is an author, film script writer, director, and occasional actor. He has also made a fabulous tabletop game based on his book. He made for a jolly signing partner!
To my right, comic book and graphic novel writer Christopher Reda offered some exquisite comics and graphic novels such as Planetary Expansion: Volume One, The First Americans, and Space Dragon. He also had great feedback about various local conventions and how to strategize for those.
Around the corner, comic book writer Johsua Dysart showcased Goodnight Paradise. Joshua has worked for DC Comics, IDW Publishing, and many other publications.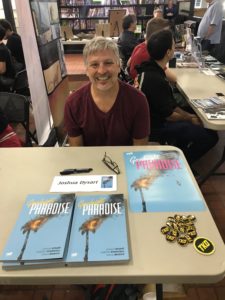 And writer, director, and comic book creator Stephan Franck of Dark Planet Comics displayed his beautifully illustrated Silver comics as well as the graphic novel Rosalynd. His works can be seen at the Dark Planet Comics table below: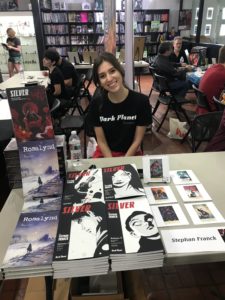 Norm Harper was also on hand with several books seen below, including The Sequels. The lovely folks at Fanbase Press were on hand to help promote, and they were just so friendly.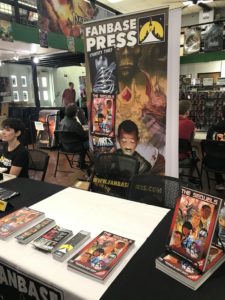 I'm happy to report the signing was a success. I sold several books, and I made new readers and friends.
Thank you so much, Emerald Knights Comics and Games! This was a wonderful event, and I'm so happy it was my first in Los Angeles!
Image Credit: J. Dianne Dotson at Emerald Knights Comics and Games on September 21, 2019. Photo Copyright J. Dianne Dotson 2019.