The writing grew with the art. I was the geeky kid Who Drew Things and Wrote All the Time Too. The two would interlink or diverge, but they were always present. Then science naturally seeped in, due to my endless curiosity and desire to be outside as often as possible, collect every mineral, identify every leaf and bird and paw print. Outside was where the interdimensional gateways were, you know? And the dragons, to be fought with wooden sticks (that part didn't go so well).
Crayons and Markers: the Gateway Tools
I lived for a new box of crayons…that nostalgic smell, the many candy colors, the hues of possibility. Eventually I graduated to markers, and after that color pencils. I went a bit crazy with the markers. And it was the 80s, so markers really underwent an explosion in choice of color and tip and even scent! Not that I was sniffing markers, mind you.
It so happened that a relative worked at a paper company, and would give me reams of paper. I blew through them as soon as I got them. There was never enough. Drawing would consume me, and only when I ran out of drawing paper would I switch over to writing. And there, I could draw with my thoughts the things I wasn't skilled enough to illustrate. It became apparent to me the writing would always be stronger than the art. But both could be called upon when I needed them. And I often did.
Books and TV Influences
When it came to drawing people, I started by drawing from Laura Ingalls Wilder's family in her Little House books (today is her birthday!), which I adored. I also illustrated L. Frank Baum's Oz book characters, with Dorothy and Ozma and Polychrome (the Rainbow's daughter) featuring heavily. Then He-Man and the Masters of the Universe showed up. Talk about obsession. I was all in. I wanted to draw THOSE characters, but felt a sort of timidity about it. First I chose to focus on Teela, the strong-willed warrior woman. And that opened up my realization that I wanted my own strong women characters, like Teela, the Sorceress, She-Ra, and in other properties, Jem and the Holograms, Princess Leia from Star Wars and the female autobots from Transformers (I even came up with some of my own).
And so stories began percolating in my mind, and with them, I made the characters that would eventually become part of The Questrison Saga®. But I didn't stop there. I also drew nature pictures, and expanded the outfits of my characters, and experimented with marker shading and poses. Then I entered high school.
High School Recognition
There was an immediate and overwhelming interest in my artwork. Suddenly I was surrounded by BOYS, who had never known I existed before then, with rare exception. It became a challenge for me, especially with boys who could draw as well, to see what I could make. But the greatest influence of that time? Art classes. You could take classes in artwork! It seemed too good to be true. And that's when things took off.
As a high school freshman, I remember I had to work on a line drawing of Jonesborough, Tennessee, and I had been sick, so I was behind. I finally buckled down and drew that sucker, every little line and detail and branch, all in pencil. It drove me a bit batty. Then I turned it in, and shrugged it off, and hoped it would be good enough.
The next day, one of the seniors in the hallway saw me and yelled at the top of his lungs, "it's the Mistress of Art! Bow down!" and I must have given him quite the look.
The story got back to me that the teacher had taken my drawing and held it up in front of his senior class and said, "Do you see this? This was done by a FRESHMAN. THIS is what you're supposed to be doing."
You could have lit a fire from my face.
But I became giddy and confident, and realized, wow: I could really do something to stand out! And it kind of fueled my friends to do the same. Art became a fun challenge for us all.
I started to win awards for some of my work, which propelled me even more. Then I transferred high schools. This was around the time things began to slide for me. I've talked about that in "Before." But I had an art teacher at the new high school—which had individual classes in watercolor! among many other specialties—who really believed in me: Sandra Corum.
You see, I have a natural tremor. This is one reason I'm not a neurosurgeon (the other being I didn't have the patience or brilliance for that work; kind of important too). So when I hold my hands out, they tremble. This makes my line work a little wobbly no matter what I do. Mrs. Corum reassured me that didn't matter, that I did great. She challenged me to go further. Watercolor changed my life. It was gentle and flowing, and it was quick. I liked all these aspects. So that's where I began to focus my skills.
It paid off. I won art awards each year. I received the Winning Senior Art Portfolio at my school—and my imposter syndrome seethed, because so many other students had work far more lovely and evocative than mine. But I was delighted. And then I won two scholarships: one from my hometown, the Kingsport Art Guild Scholarship, and one from Mrs. Corum herself. I was even featured in the city newspaper: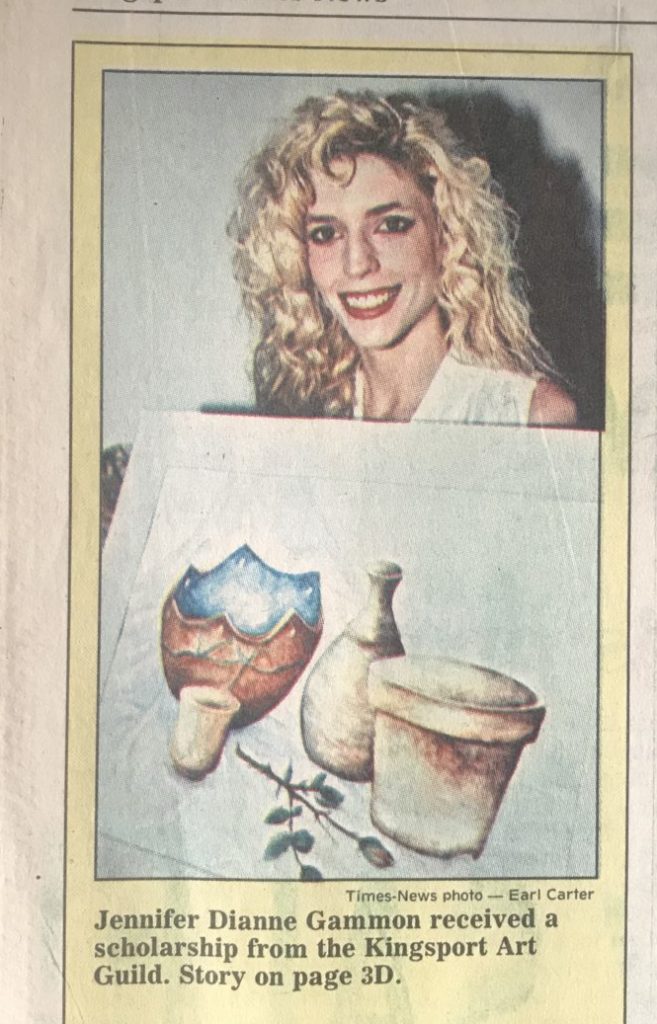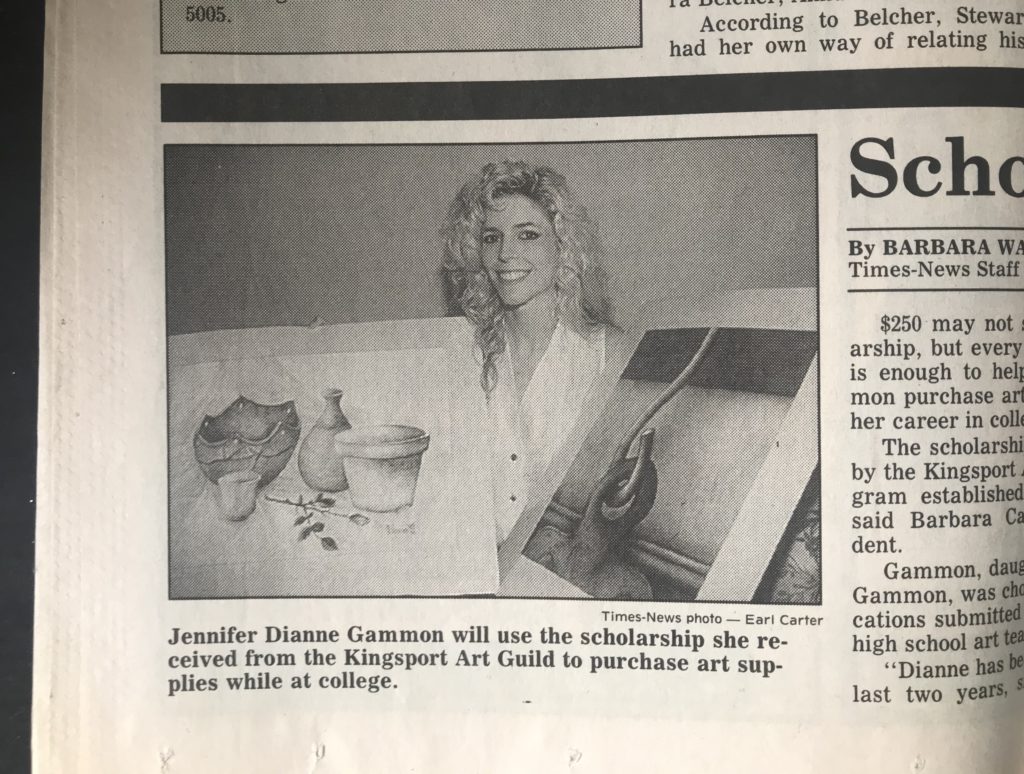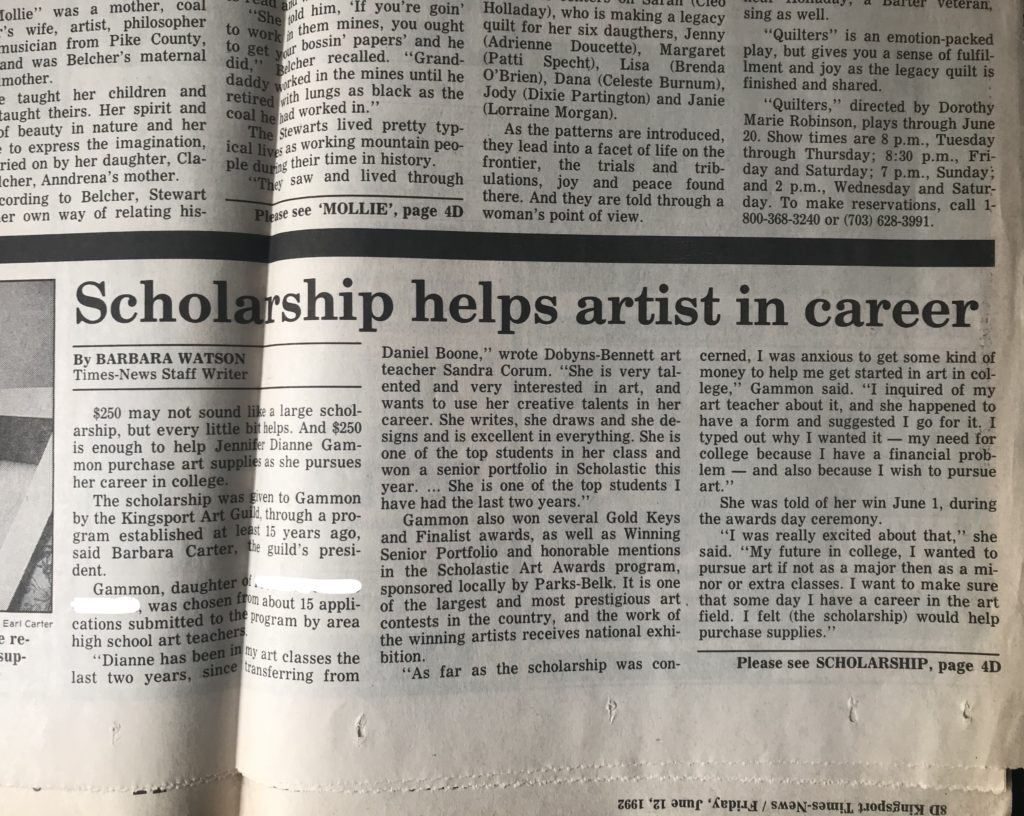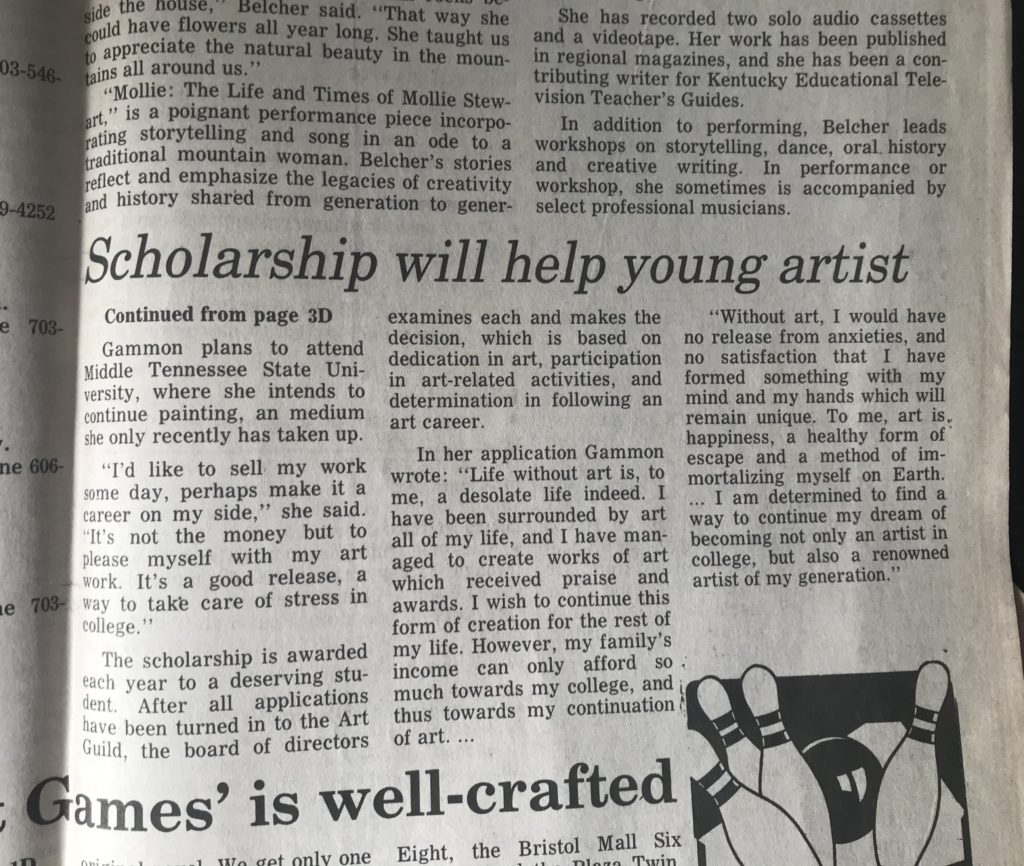 College: a Different Path
All the while I was mastering English, and writing when I could. Everyone assumed at I would pursue writing and art in college. But my love for science won out. There was an overwhelming desire to be challenged. I had reached a point that I wanted something difficult, I wanted to change my thinking, I wanted to be more analytical and I wanted to help discover things that could save lives or environments. Again, as in my creative life, my science life took on a duality: genetic and clinical research, and ecological research. Writing was placed on the back burner.
But even in college, word got around that I could draw. I designed t-shirts, I made posters for sororities, and I made an enormous banner for the football stadium. My roommate coveted this one cabin watercolor I had painted, so I gave it to her.
Art Gifts and My First Sale
I started giving art away as gifts, and never sold it. Until I started drawing The Lord of the Rings characters. I actually became enthralled by The Silmarillion, and wanted to draw Lúthien Tinúviel dancing in the moonlight. I've drawn her many times over the years. But on one occasion, I made a version in pastel. Someone in the LOTR fan community wanted it, and offered to buy it. So I made my first sale, appropriately, to fandom.
Oftentimes I did trades. One elderly gentleman I worked with at a restaurant brought me a picture of his father on horseback, in black and white. I painted a larger version in watercolor in sepia tone, and he paid me in tomato plants. Which is a pretty dang good payment, if you ask me. Another coworker wanted me to make a huge watercolor poster of a Grateful Dead album cover. That just about drove me insane, because of all the details. But it was vibrant and fun, and he loved it, so it was worth it.
While I worked in cancer research in the 2000s, I continued to make little pieces of art as gifts. I also learned to decoupage, and made picture frames and other fun things. Another time, I designed party invitations. I restored furniture and generally tried to carve out artwork as a release, not as a career.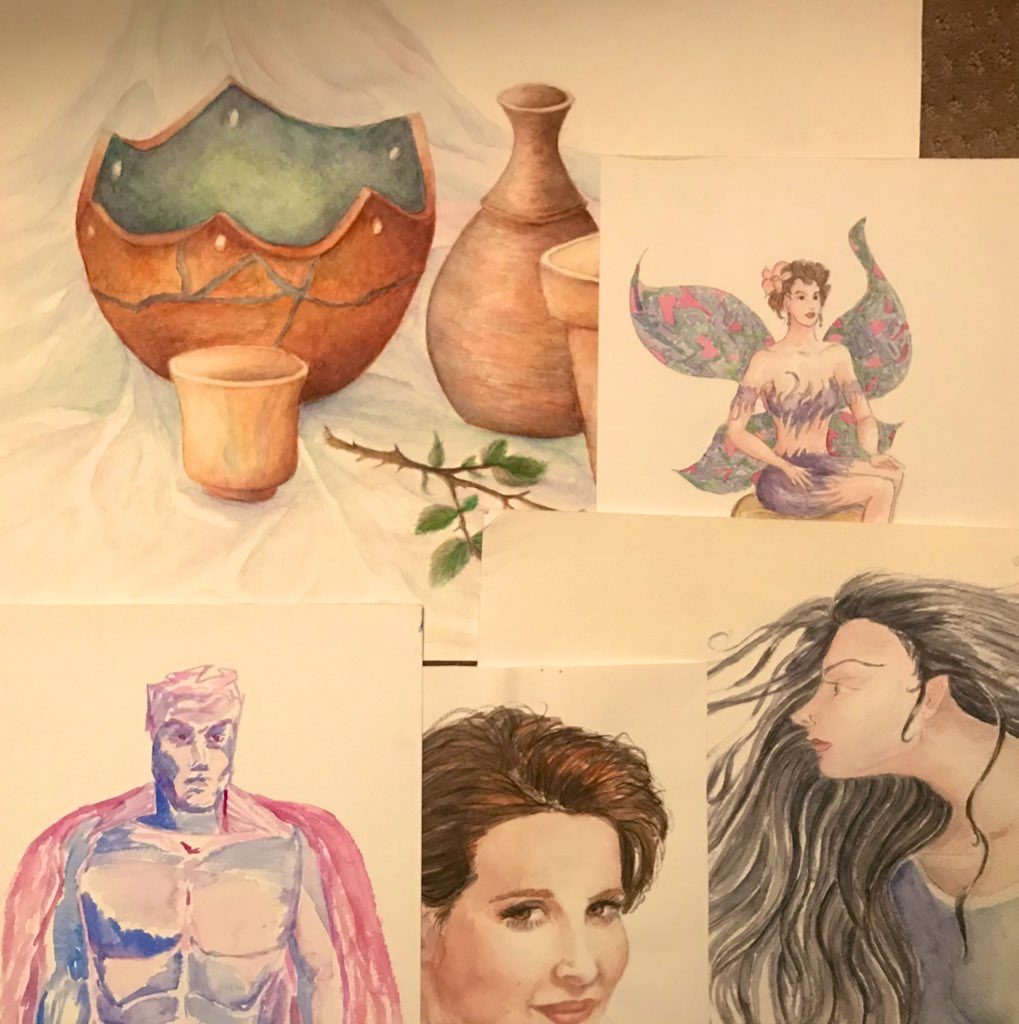 A Return to Story Art
I found my way back to my science fiction and fantasy stories when I lived briefly in San Francisco. I began making a comic storyboard for them. The following decade brought along child rearing, and art again took the back burner. But I looped back around to my stories, and finally got them out in the world.
A New Horizon
Which brings me to now. In the last couple of years, I returned to watercolor, having invested a science writing check into professional grade paints, good paper, and brushes. It felt like returning to an old friend.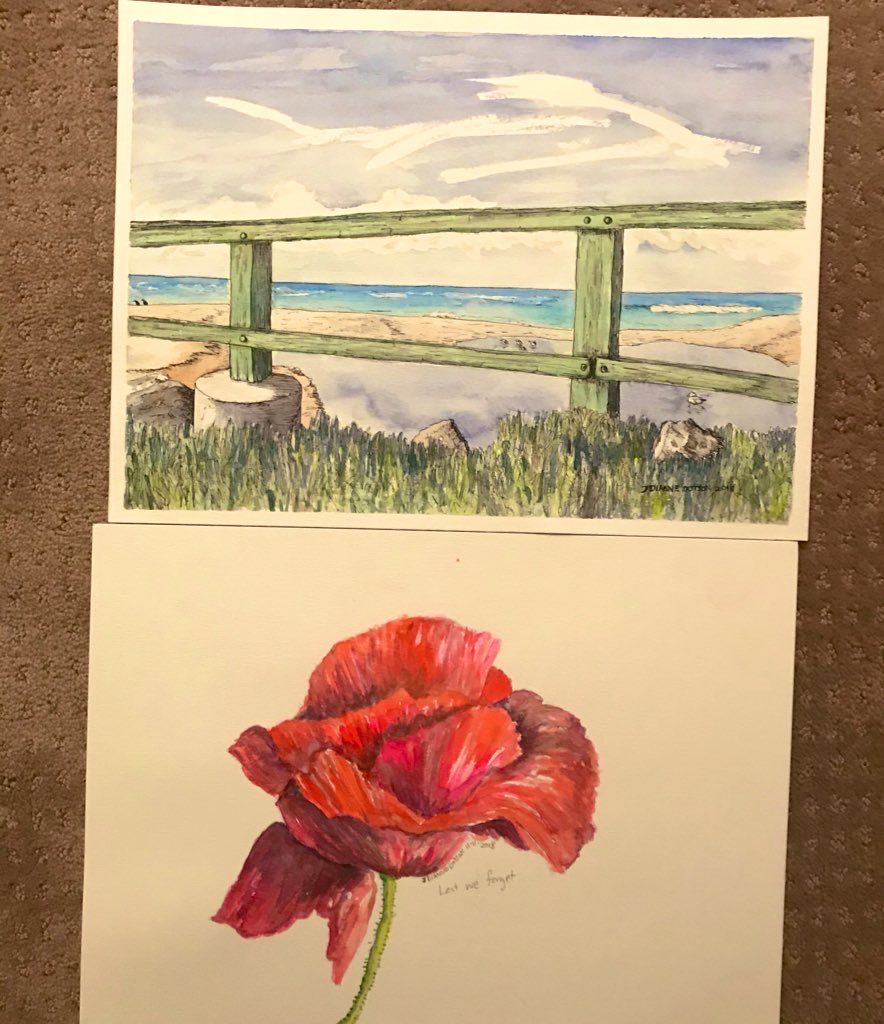 I quickly dashed out some promotional art for a project related to The Questrison Saga®, and that got me back in the swing.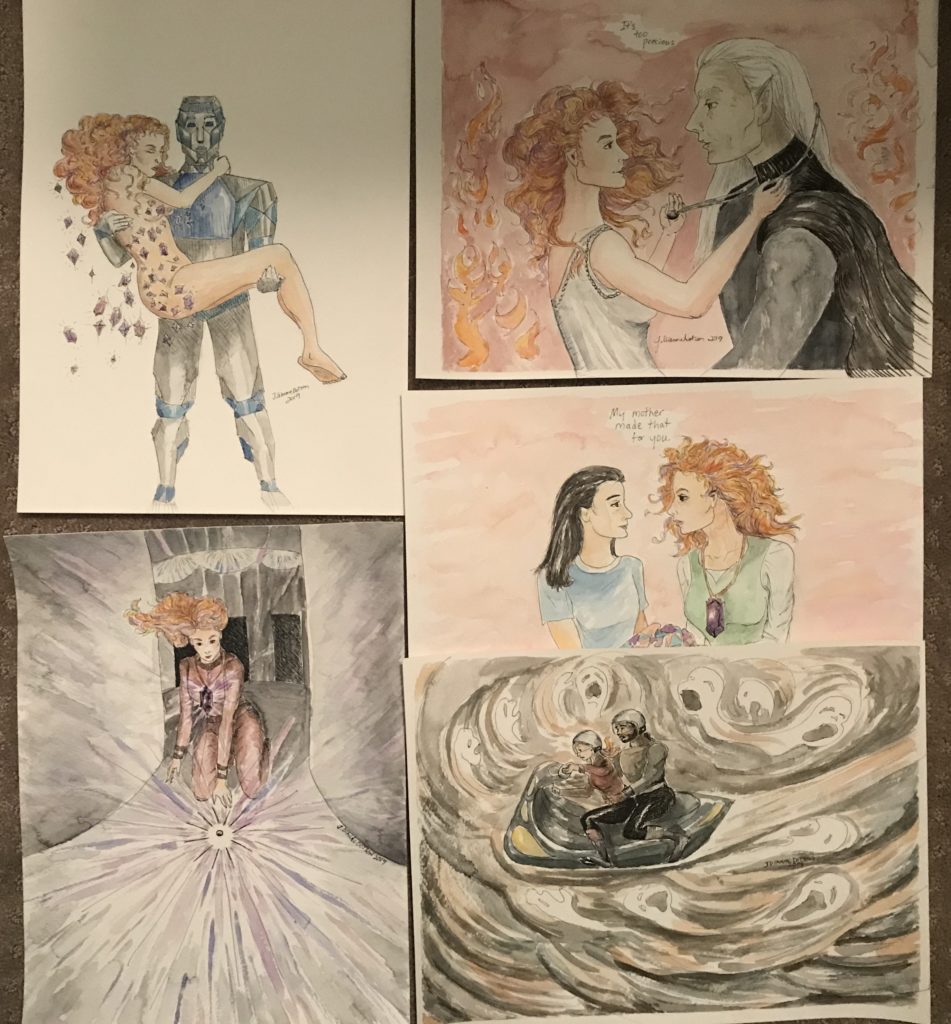 I made a Yule stag, and someone on Twitter fell in love with him and offered to buy him.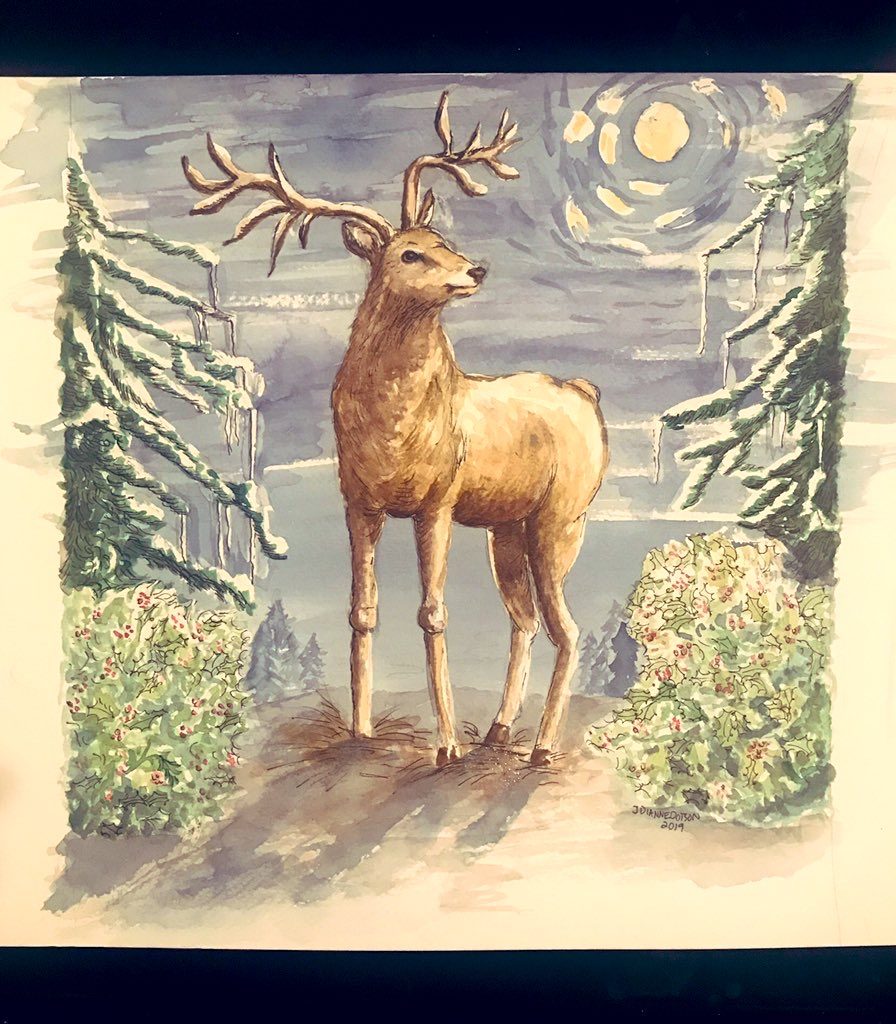 Then I illustrated more versions of my characters Galla-Deia (seen with her bot, Pliip, on the Star-City Demetraan) from Ephemeris: The Questrison Saga®: Book Two and Forster from Heliopause: The Questrison Saga®: Book One.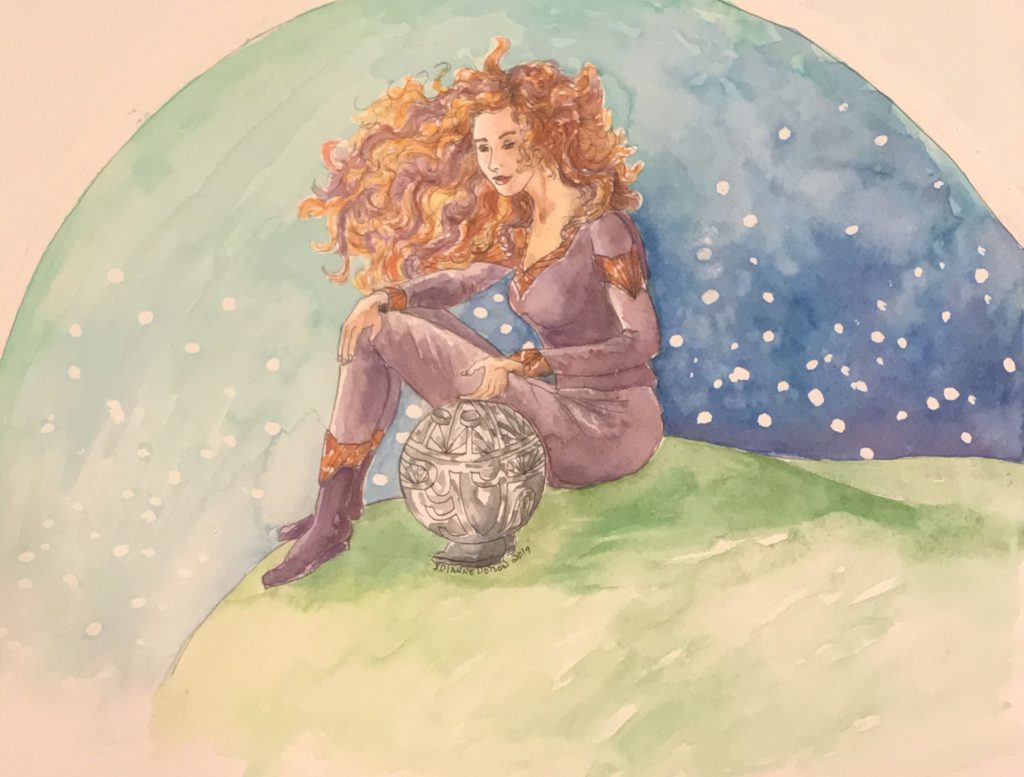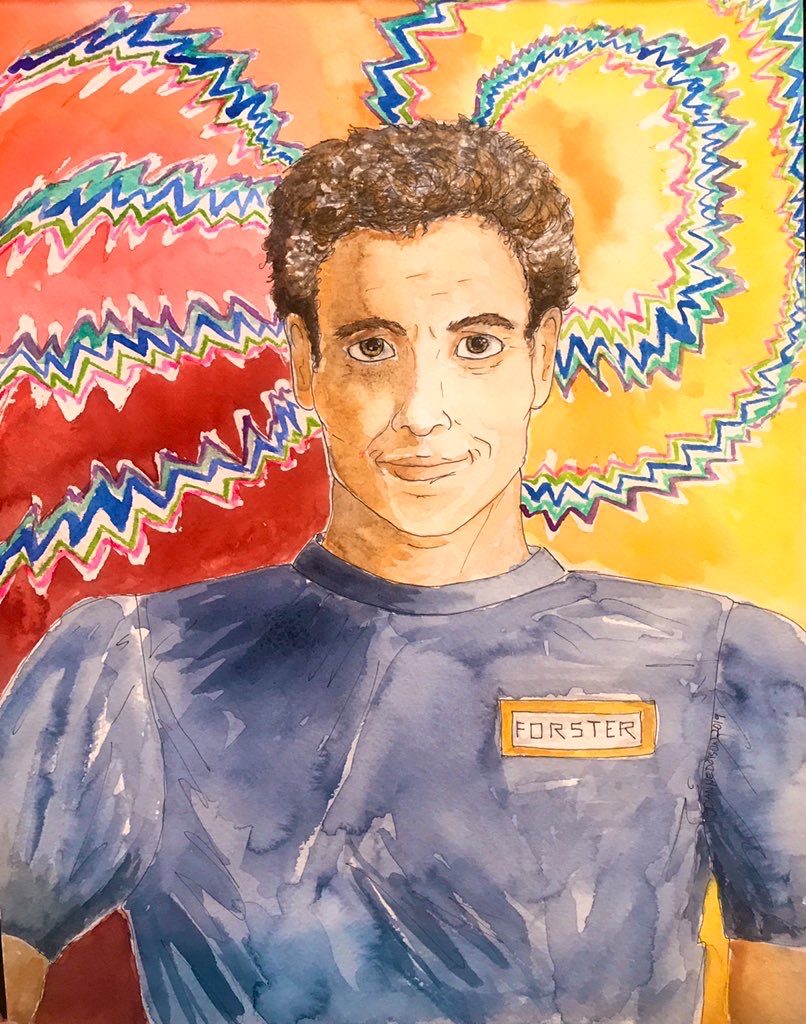 Now my goal is to keep the art going, when time permits. I am going to make more, and sell prints at conventions alongside my books. I also want to offer prints on my website eventually.
It's been a long journey, and I thought the art had hit a dead end. But it turns out people are still encouraging what I do. That's the best gift you can give to a person, no matter what medium you use.
Image Credit: Clips from the Kingsport Times-News featuring J. Dianne Dotson (née Gammon), copyright 1992. Collage copyright J. Dianne Dotson 2020.