After the events of Heliopause, the leadership of Mandira Research Station allowed its denizens the choice to stay on board the station, or to work on the surface of the planet Ika Nui. Many chose to explore the tropical environs of the world, performing new research.
Aeriod accommodated as many humans as he could in new roles as well. As part of this, he recruited various individuals for patrolling the system itself. With Paosh Tohon on the rise, Aeriod's protections of the system would be strained. He needed eyes at the perimeters.
In Ephemeris, some of these individuals make their appearance. On one particular ship of Aeriod's, the nurse Trent Korba signed up as a volunteer crewmember. He joined Meredith Brant, Jana Okoro, and Rob Idin.
As the only medical personnel on board, Trent's position is invaluable to the crew. He learns the medical monitoring systems of the alien ship so he can be ready for anything.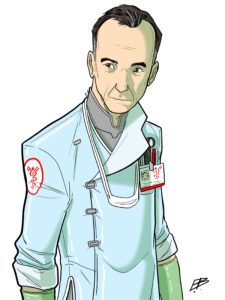 But he carries with him great sadness. He joined the crew so he could be away from Ika Nui, where a tragic incident killed his wife, Phoebe.
As he moves forward in his new life, he confronts new situations that help him draw upon his medical and scientific background. This helps him cope with his unimaginable loss. He is glad to be part of a new era, and is pleased by the addition of Galla-Deia, Ariel Brant, and Dagovaby Ambrono to the crew.
Trent is illustrated with great care by Elliot (Ell) Balson, who also illustrated Sumond. Ell is a comic artist based in Scotland and is available for commissions. He can be contacted at elliotbalson@gmail.com and his portfolio is available HERE. You can also visit his website. You can follow Ell on Instagram and Facebook.
Image Credit: by Elliot Balson Copyright 2019. From Ephemeris: The Questrison Saga: Book Two by J. Dianne Dotson Copyright 2019.