The Questri heroes are on a mission. Led by Galla-Deia on the starship Fithich, this mix of humans and aliens seeks out Device worlds in twenty-one systems. The stars of these systems form the "Horseshoe" constellation seen on the back cover of Ephemeris: The Questrison Saga®: Book Two. Galla must deliver parts of her diamethyst geode deep in the bowels of each Device. These will be activated by telepathic recruits. The challenge is getting those stones where they belong…and the risk that entails.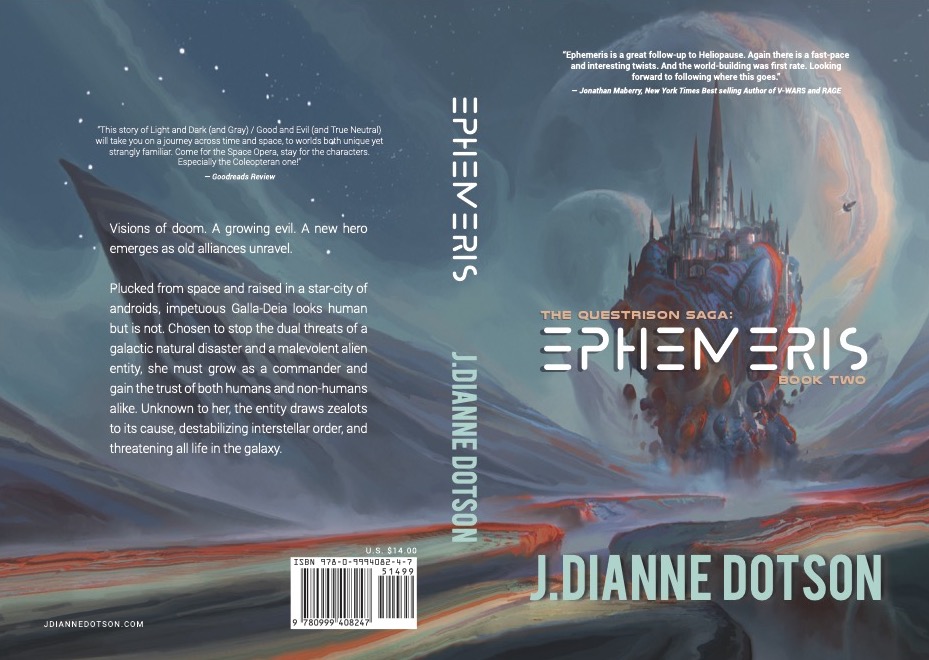 Devices: Strange, Ancient Mechanisms
Below, you can see one Device on the planet Rikiloi (also featured on the cover of Ephemeris above). It is illustrated gorgeously by Christian Herman. Read more about this particular Device in a dedicated post.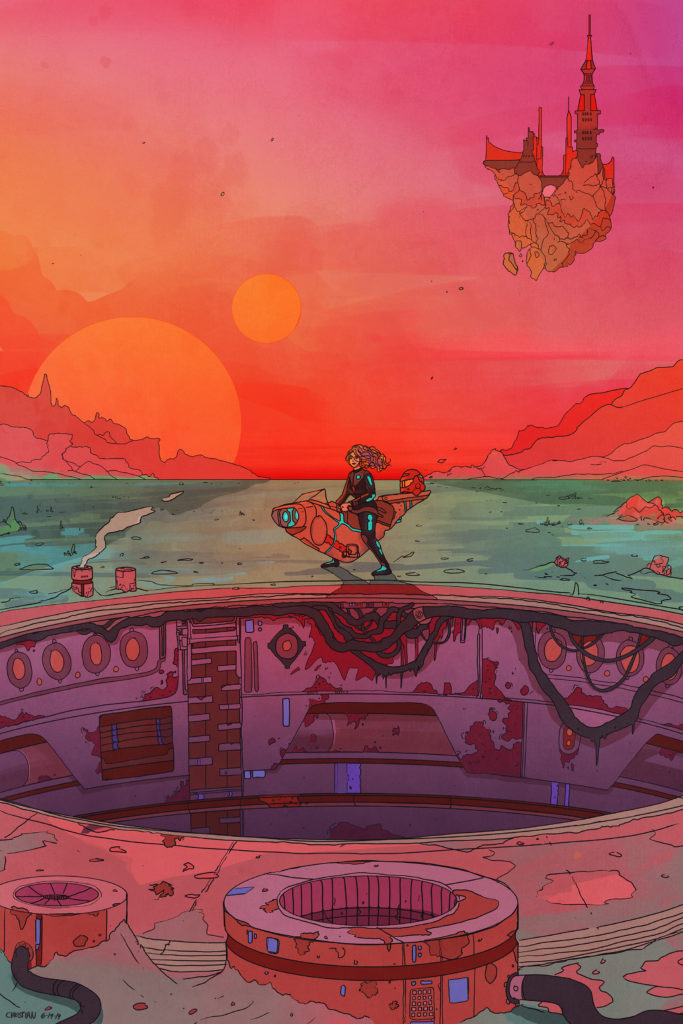 Introduced in Ephemeris, Devices are immense subterranean structures built eons ago by an advanced civilization. Their origin beyond that remains a mystery, as does their precise mode of operation. Galla has been given a Task, and she is ready for anything. However, her crew might not be.
Here is a watercolor by me, illustrating Galla's delivery of a small diamethyst inside a Device.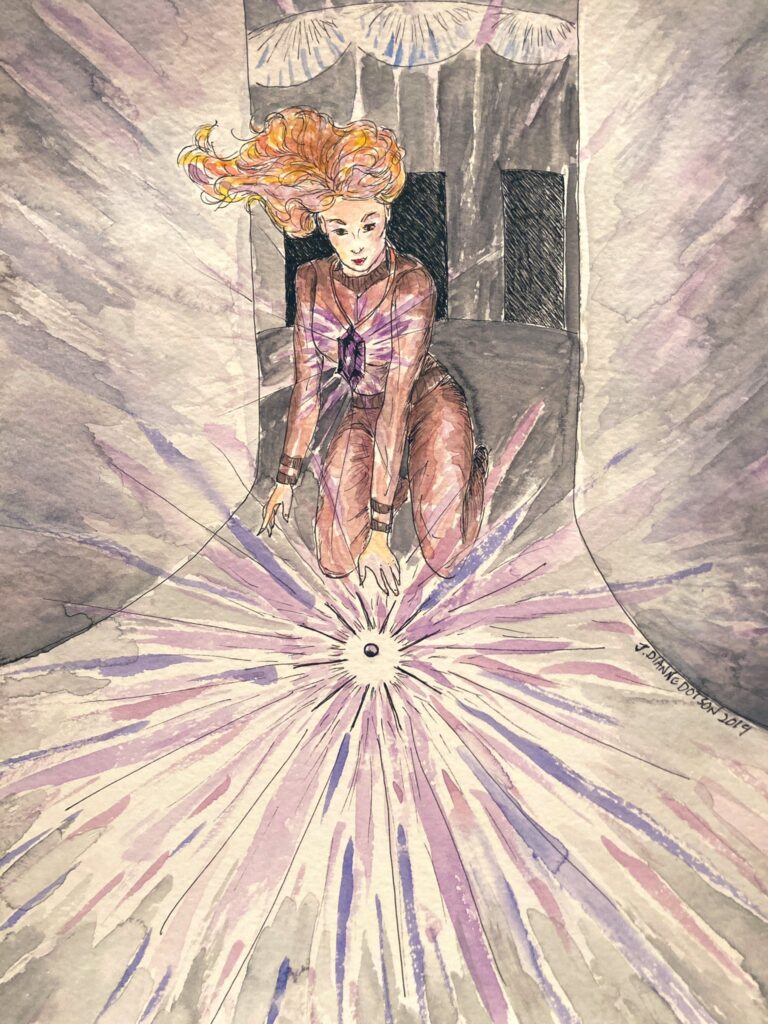 Each Device world offers different environments. Some exist on harsh, contaminated, or frozen worlds. Some Devices reside underwater. Enemies guard other Devices. Other Devices contain mysteries no one understands.
A "Haunted" Device
Welcome to the Seyvelk system, where one Device world comes with a warning. Here follows an excerpt from Accretion: The Questrison Saga®: Book Three:
"Associate warning zero-five-nine-two-seven-seven-zero-eight-four. You are entering the Seyvelk system. All operations are offline. Avoid the sixth planet from Seyvelk, which is under quarantine. The Associates release all responsibility should you proceed. No assistance will be granted. This message will repeat. Associate warning…"
Galla asks her savvy cremate Jana Okoro for her take on this ominous message.
Jana walked into the cockpit and said, "From what I can tell, this is one of several thousand locations the Associates quarantined in this sector of the galaxy. There may be millions, on asteroids and other planets, but I have a broken data set, so I can't be sure. This one is not listed as having a pathogen like we might understand it, though. I'm not sure why it's quarantined. But I did read something about it that made it sound—for lack of a better word—haunted. Shrieking voices, stuff like that."
Jana ultimately agrees to her first Device adventure alongside Galla. Jana makes it clear she will not stay if the rumors bear fruit.
Wonder Within
Galla and Jana initially experience typically strange Device encounters. Their visions might represent the past or the future, or that seemingly mean nothing. After Galla places her stone deep inside a Device corridor, something wondrous happens to her and Jana.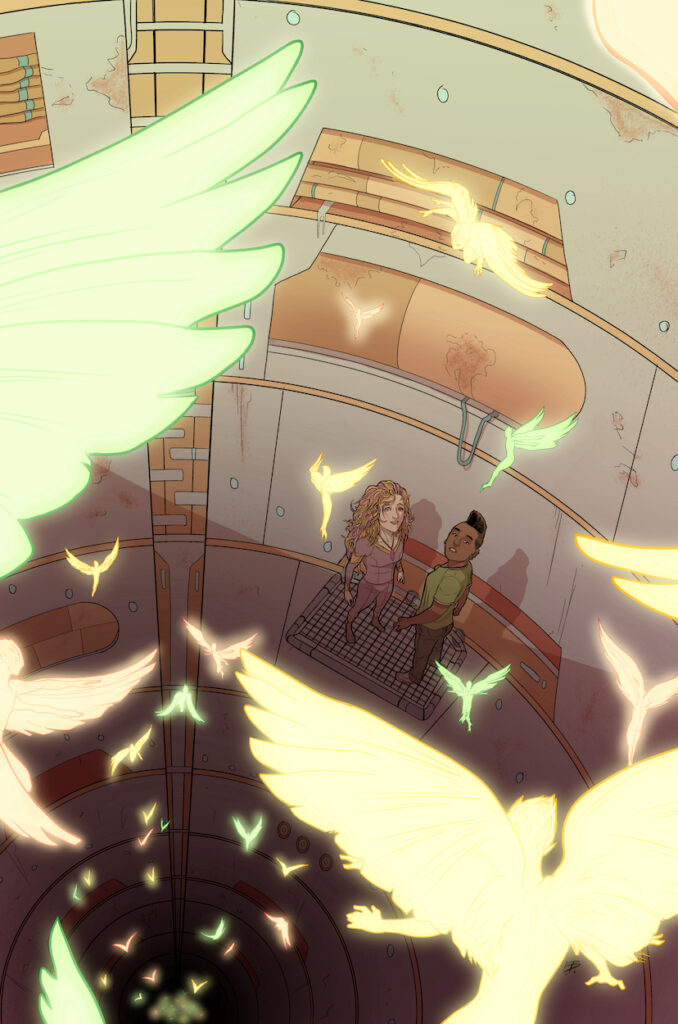 Sometimes things aren't what they seem.
Read More
Thank you to Ell Balson for illustrating this wonderful moment shared by Galla and Jana. You can see more of Ell's work in my posts dedicated to the medic Trent Korba and the alien Sumond. He will also be featured on another blog soon, featuring new art from a pivotal scene in Accretion.
You can read more of the adventures in the other installments of The Questrison Saga. Start the journey with Heliopause: The Questrison Saga®: Book One, and continue with Ephemeris and Accretion. The final book, Luminiferous: The Questrison Saga®: Book Four, arrives June 1, 2021.