The latest Art of The Questrison Saga post is dedicated to the Device, illustrated gorgeously by Christian Herman.
The planet Rikiloi, home to mage-governor Aeriod, harbors a secret. An ancient piece of technology burrows down to unimaginable depths below its surface. Aeriod calls it the Device.
When Aeriod chose his home on Rikiloi (a rather long story that shall not be recounted here, nor in Ephemeris), he became fascinated with this Device. Aeriod, despite his acumen in many realms of magecraft, cannot decipher who made the Device or why. He spent time exploring the one on Rikiloi, finding it abandoned yet with some basic functions.
The Device is only partially lit, making for an unsettling descent into black depths via a small platform. Aeriod has never reached its bottom, due to the distraction of passageways he has found along the way. There are other Devices as well, on other worlds in the galaxy. But as for the one on Rikiloi, Aeriod's student Galla-Deia is charged with exploring this Device.
Here she is perched at the edge, ready to climb down the footholds. A platform will eventually rise to meet her, and then she will drop into the dark pit to see what she finds. As it happens, there is indeed more to the abyss than Aeriod could have guessed, and his pupil may not be ready for what happens next….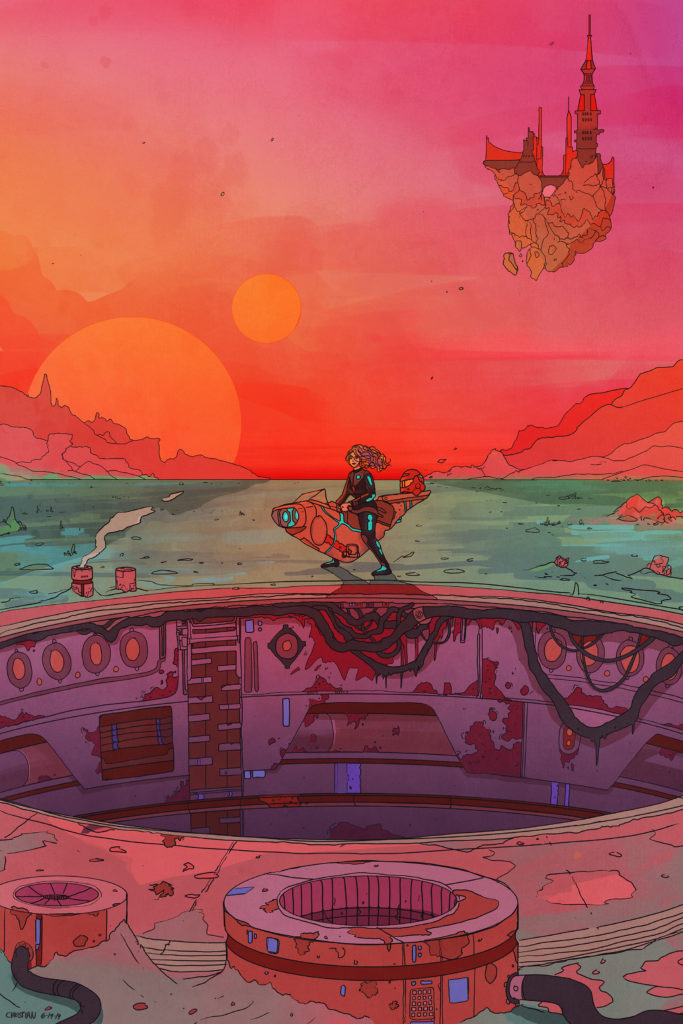 You can read about the Device in Ephemeris.
Christian Herman made the outstanding art showing Aeriod's asteroid castle, the two moons of Rikiloi, and Galla on her sky bike next to the Device.
About Christian Herman:
"I'm heading into my senior year of college in the fall. I draw inspiration all types of art: animation, comics, video games, film, music and more. The biggest influences probably being art from the 70's and 80's. I love Ridely Scott's older films like Alien and Blade Runner, I'm a huge fan of Otomo's work in Akira both the manga and anime, as well as his other animation collaborations. Love Miyazaki, HR Giger, Ralph McQuarrie, Syd Mead, and of course Moebius, but those are just the bigger influences. I'm also crazy about Bowie. I'm a bit stuck in the past as an artist, I guess!" 
Thank you to Christian for your marvelous work on the Device! You can follow Christian on Twitter and Instagram, and visit his website HERE.
Image Credit: The Device art by Christian Herman Copyright 2019. From Ephemeris: The Questrison Saga: Book Two by J. Dianne Dotson Copyright 2019.