It's easy to befriend someone who gives you fresh tarts and all sorts of treats when you come to talk to him. Today's Art of The Questrison Saga showcases just that sort of friend, illustrated by Elliot (Ell) Balson.
Meet Sumond, the chef of Aeriod's asteroid castle on the planet Rikiloi (seen on the cover of Ephemeris: The Questrison Saga: Book Two). Sumond has been mage-governor Aeriod's chef for many years, and is one of his few trusted friends.
Sumond is one of the first beings Galla-Deia makes contact with on Rikiloi. He becomes an invaluable resource to Galla, allowing her freedom and companionship whenever Aeriod is offworld. Sumond realizes Galla needs to find independences and learn more about herself and the humans she represents.
Chefs are some of the most sought-after artisans in the galaxy. Sumond is one of the very best. His many limbs make him efficient at his craft. His several nostrils give him extraordinary olfactory skills which help his cooking. Sumond is esteemed not only for his culinary ability. His long, acute memory, deep sympathy, and sense of humor make him a valuable friend.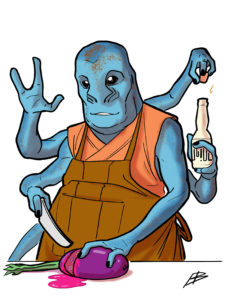 Elliot (Ell) Balson has brought Sumond to life with his fabulous illustration. Ell is a comic artist based in Scotland and is available for commissions. He can be contacted at elliotbalson@gmail.com and his Portfolio is available here: https://www.artstation.com/ellbalson. You can also visit his website. You can follow Ell on Instagram and Facebook.
 Thank you, Ell, for wonderful work!
Image Credit: Sumond art by Elliot Balson Copyright 2019. From Ephemeris: The Questrison Saga: Book Two by J. Dianne Dotson Copyright 2019.