In Ephemeris: The Questrison Saga: Book Two, Galla-Deia begins a new chapter in her life when she encounters humans. After a rendezvous on the planet Fael'Kar, she finds herself aboard one of Aeriod's ships. But this time, it's piloted by a human: Rob Idin.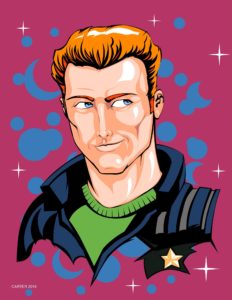 Rob Idin hails from Mandira Research Station, the chief setting of Heliopause: The Questrison Saga: Book One. After the events of that story, Aeriod realized not everyone would either want to leave Mandira or settle the planet Ika Nui. In light of the recent expansion of the malevolent Paosh Tohon, Aeriod offered the chance for some settlers to help patrol the system. This was a tactic to boost morale and help his own increased workload.
Rob worked on Bottom Deck on Mandira, where drones, bots, and a handful of humans managed the shipping docks, maintenance, and steerage. He always had a knack with vehicles, so when the opportunity to pilot an alien vessel came, he signed up at once.
What Rob did not know was that his entire worldview and spirit would be shaken the moment he set eyes on Galla. Despite his surprising feelings, he keeps up his cocky bravado, shamelessly going head to head with her as she assumes command of the ship. She, in turn, finds that Rob is more than meets the eye, and he challenges her to think about the issues at hand. Yet he offers her a sounding board, which she needs as she learns the ropes as Captain.
Rob is a wisecracking smartass, a good dancer, an insightful fellow, and an essential part of Galla's crew. Now if only they could stop arguing long enough to do their work!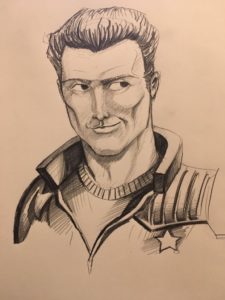 Once again, Carter Allen knocks it out of the park with his representation of Rob. Rob's fiery hair and roguish attitude shine through. It's easy to see why Galla would be unsettled by him, in more ways than one.
You can find many others characters from The Questrison Saga HERE; load more posts to keep going.
Image Credit: Rob Idin art by Carter Allen Copyright 2019. From Ephemeris: The Questrison Saga: Book Two by J. Dianne Dotson Copyright 2019.