"Plucked from space and raised in a star-city of androids…" So reads the back of my new book Ephemeris: The Questrison Saga®: Book Two, referring to Galla-Deia. So who helped this unusual person, who looks human but is not?
Meet Oni-Odi, leader of the star-city Demetraan. Oni-Odi preserves the legacy of the Seltra race from the distant past. They provided him with his star-city as a time capsule of sorts, protecting their history and some of the organisms from their worlds.
Demetraan is a vast city traveling through space, and its leader impassively directs all the androids within it to continue their operations. Oni-Odi occasionally works with the governing body of the galaxy, the Associates, and their affiliates. One of these affiliates is Aeriod. The Associates refer to Oni-Odi as Elder, the oldest android in the galaxy, the last remnant of the Seltra beings.
Oni-Odi is willing to assist the Associates, but his mission is to continue the operation and preservation of Demetraan. When he finds Galla, he assumes she will eventually be useful to the Associates and their goals.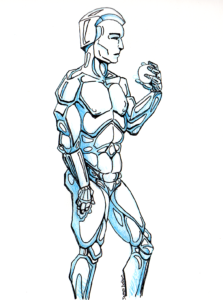 He aligns himself into humanoid form for Galla's sake. What surprises Oni-Odi is that Galla, while fully adult physically, is a vivid, volatile, rather feral, childlike person, having never been around the humans she resembles.
Oni-Odi unwittingly becomes a father figure to Galla. When she erupts into tantrums, he soothes her by brushing her wild hair. He attempts to keep her occupied, and allows her to practice various skills he thinks might be useful for life beyond Demetraan.
He begins to understand that one day Galla should leave his tireless, floating city, to have a life of her own. It is a realization that unsettles Oni-Odi, though he does not know why.
James Dotson illustrated his take on Oni-Odi. While quite different in style to my art for the android, I'm really happy with his outstanding work. I love seeing what other artists imagine when they read my words.
Image Credit: Oni-Odi by James Dotson Copyright 2019. From Ephemeris: The Questrison Saga®: Book Two by J. Dianne Dotson Copyright 2019