Meet Jana Okoro, illustrated fabulously by Jermaine Dickerson! Jana makes her debut in Ephemeris: The Questrison Saga: Book Two.
Jana is a crewmember of a patrol ship of Aeriod's that scans the far reaches of a distant star system. Prior to this, she worked in various technical positions at Mandira Research Station from Heliopause: The Questrison Saga: Book One. 
If there is a tech problem that needs solving, Jana is the woman to do it. She is a tech genius, tirelessly working on projects to help her team.
While content to stay at Mandira, Jana did miss interacting with her aunt in the Earth's solar system. Despite this, when the offer came to be part of a patrol crew, she jumped at the chance.
In addition to tech acumen, Jana makes a fine occasional co-pilot on the ship. Her many skills, dry humor, and loyalty prove to be essential for her crew as it faces both a galactic catastrophe and the growing menace of Paosh Tohon. Jana is also not afraid to give her blunt opinions, something Galla appreciates.
Jana keeps things casual so that she can focus on her work. She carries with her a data cylinder, which can store vast amounts of information. Jana enjoys emeralds, hence her several earrings.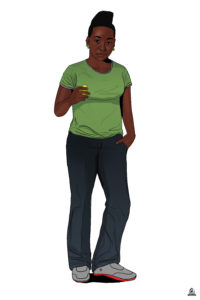 Jana is perfectly captured here by illustrator and graphic designer Jermaine Dickerson, whose art has been commissioned by Netflix and Marvel. Jermaine also helms Hero Nation –Ypsilanti, which helps "everyone discover the hero within through events and programs based in nerd culture that foster empowering, creative, and educational experiences for underrepresented and marginalized communities — including people of color, LGBTQ people, people with disabilities, women, and people with low socioeconomic status."
You can learn more about Jermaine on his website, and you can follow him on Twitter and Instagram.
Image Credit: Jana Okoro Art by Jermaine Dickerson Copyright 2019. From Ephemeris: The Questrison Saga: Book Two by J. Dianne Dotson Copyright 2019.