When you're flung out to the far reaches of the solar system, as in Heliopause: The Questrison Saga®: Book One, it's good to have a place to unwind. Even better if the person who steers the place is savvy, a good listener, and brilliant in multiple ways. That person is Guru.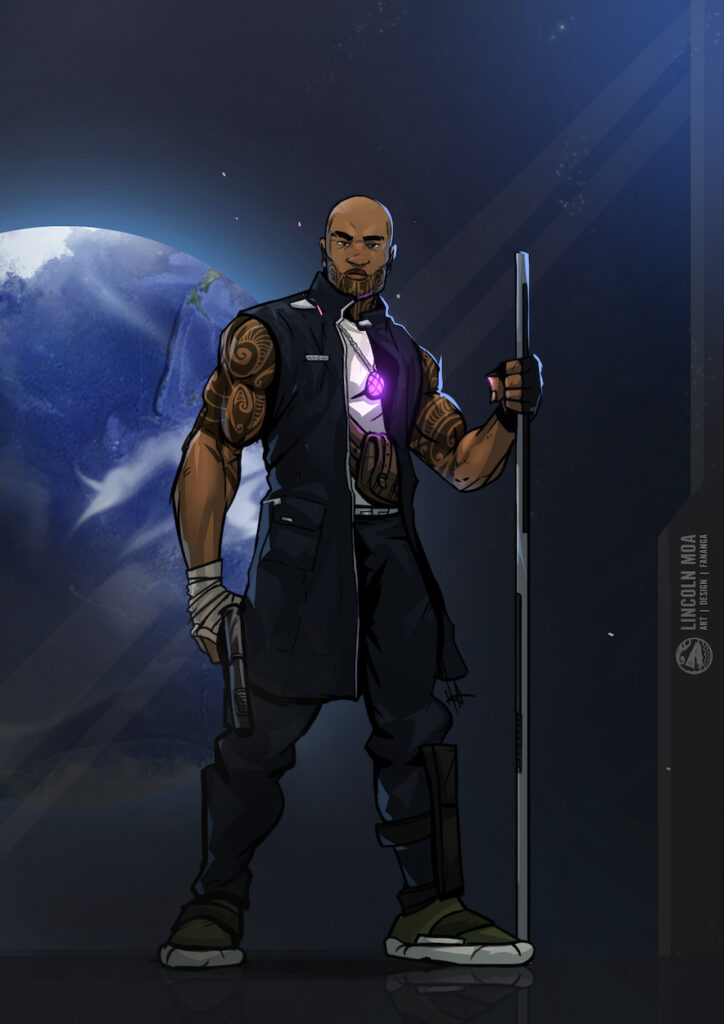 A Man of Many Talents, from the Heliopause to New Worlds
In Heliopause, Guru divides his time between bartending on Mandira Research Station and working with the plants in the conservatory. His botany background enables him to grow many items, and make distillates from them for his bar. But there's more to Guru than this.
Guru is a keen listener, and when Forster finds himself at Guru's bar, Guru calls him Thinking Man. He's figured Forster out in the brief time they've known each other. Guru has also kept an eye on the mysterious Efron. And Guru knows when things are spiraling on the station, and when to take action.
His physical prowess also becomes crucial toward the climax of Heliopause. Without Guru, things might have gone worse for everyone.
Eventually, he finds himself on a tropical world far from Earth, where he can explore, do research, and feel more at home in a place that reminds him if his Oceania roots. He calls this world Ika Nui. It is on this planet that he finally meets Galla-Deia in Accretion: The Questrison Saga®: Book Three.
Guru Meets Galla-Deia
Their interaction is fascinating. They recognize in each other strength, attraction, and mutual respect, in the space of seconds. They both decide not to pursue anything else with each other. But even though Galla is an alien woman in humanoid form, Guru can read her rather well, as he can most people. He can see what she needs when others might not be able to.
Eventually, Guru returns to Mandira Research Station in its orbit above the new world. He does not spend his time bartending anymore, as most of the staff have moved to the surface of the planet. But in Accretion, he returns once again, and behind the bar, he retrieves materials to make Galla something she's never had before: a sundae! Amused by her pure bliss over the sundae, Guru feels more comfortable around her. And as Galla's role in command grows, she recognizes that Guru would make a valuable member of her crew.
When things get dicey in Accretion, Galla's ship, the Fithich, must transform into two separate ships. Guru joins Jana to pilot the Fithich 2, alongside fellow insect-like crew member Beetle. And when all hell breaks loose, Guru does whatever he can to fight back.
About Guru's Look
Guru is magnificently illustrated by Tongan artist Lincoln Moa. Guru bears the Māori tā moko form of tattoos. He is wearing as his taonga the small diamethyst Galla-Deia gave him to protect him from the evil Paosh Tohon. It is held in place by the extraordinarily strong webbing that Beetle wove. Guru's outfit is functional, with pockets and pouches befitting his research. Note his staff and his blaster. Guru is a determined, vastly intelligent, keen member of the heroes called Questri…and a complete badass to boot.
Here are some concept sketches by Lincoln Moa: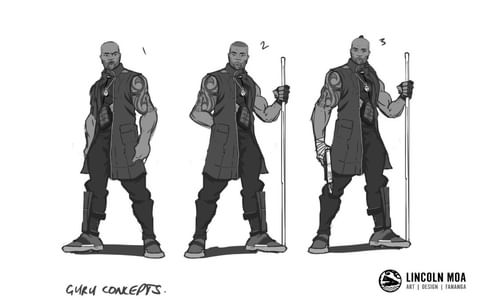 About the Artist: Lincoln Moa
From the artist Lincoln Moa:
A little about me.
My name is Lincoln Moa I am 36 and a freelance designer/illustrator.
I am a Tongan digital artist from Auckland, New Zealand. I have always enjoyed stories and art from a young age. A goal of mine to complete my personal project Osi'ania a graphic novel series based off fantastical Polynesian mythologies.
You can find more of Mr. Moa's stunning work on his website and on Instagram, and you can even buy shirts with his art at TeePublic.
Thank you, Lincoln Moa, for the absolutely perfect illustration of Guru: a Pacific Islander hero for the galaxy.