In Heliopause: The Questrison Saga®: Book One, Linden Deming Forster never meets the woman whose little stone helps him and Ariel Brant accomplish something extraordinary. He sees only a hologram of her, but his life is changed by her forever. That woman, of course, is Galla-Deia, the main character of Ephemeris: The Questrison Saga® Book Two and Accretion: The Questrison Saga® Book Three.
Other Illustrations of Galla-Deia
Galla has been represented by a number of artists, including myself, over time. You can see art by Kim Herbst, Emily Pearson, Ell Balson, Gustavo Brigante, and me.
Carter Allen's Illustrations for The Questrison Saga®
I wanted Carter Allen, comic book artist and writer in his own right, to add to the pantheon of characters he has already illustrated for me. These include Forster, Meredith Brant, Efron, Veronica, and Rob Idin. Carter has also made a comic book mockup cover for me, and I will share that in a future post.
Here is a better look at his art for Galla: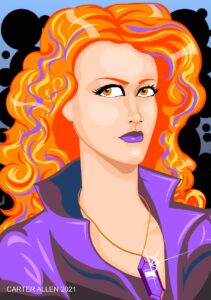 Galla's Origin
Galla-Deia, or simply Galla, is an ageless person who looks like a human, but is not. She was brought on board the star-city Demetraan by the android Oni-Odi. The android found her diamethyst geode floating in space, and after it cracked open, he retrieved her from it, fully formed. So she began life with him as her surrogate father. She was a somewhat fiery and uncivilized person at odds with the mostly emotionless androids and bots in Demetraan. But her destiny proved to be greater than she could imagine.
She was believed to be needed for a great Task, to help save the galaxy from catastrophe. As such, the ruling galactic governing body, the Associates, allowed her to train to become a Representative. Representatives appeared as ageless beings representing different species of sentient galactic peoples. Galla, it was assumed, would represent humans, based on her appearance.
Galla's Training
The Associates, meanwhile, had essentially nothing to do with humans, who they considered a backward species. But mage governor Aeriod stepped in to assume the education of Galla to fulfill her role. He, however, had his own agenda with her, for she had an effect on him he did not anticipate. As he was a member of a taller humanoid race, he was compatible enough with humans to assume a disguise among them for a mission, with his own further image manipulation. But he would never have taken on this role had he not met Galla first.
Galla learned to be more human from humans themselves, notably Kein and Rez. She eventually realized that her Task would entail rejecting the restraints of the Associates, who called her a Questri. The Questri are part of a new group of beings from several different species that would need to meet the challenge of a great enemy, Paosh Tohon.
The Leader of the Questri
Galla, being rather impetuous and brash still despite her training, instantly assumed she would be the person to lead the Questri. But Galla had led a socially and emotionally stunted life, so she lacked some of the people skills needed to be a strong leader. She did not let this stop her, however. She cared too much about the denizens of the galaxy to let her lack of experience stop her from fighting for them.
Galla would soon learn the great price of being ageless and difficult to injure, as she lived among and loved the humans she represented. Her path to wisdom and experience would be fraught with pain, guilt, and sadness, but also joy, wherever she could find it.
Read more about Galla, Forster, and their epic battles in The Questrison Saga®. The fourth and final book in the series arrives in 2021.
Image Credit: Galla Art by Carter Allen Copyright 2021. Based on the character Galla-Deia from The Questrison Saga® by J. Dianne Dotson Copyright 2021.