For over thirty years, I've drawn her, I've written her stories, and finally the day has come to introduce her to the world: Galla-Deia.
From the jacket text of Ephemeris: The Questrison Saga™: Book Two (arriving May 28, 2019):
Visions of doom. A growing evil. A new hero emerges as old alliances unravel.  
Plucked from space and raised in a star-city of androids, impetuous Galla-Deia looks human but is not. Chosen to stop the dual threats of a galactic natural disaster and a malevolent alien entity, she must grow as a commander and gain the trust of both humans and non-humans alike. Unknown to her, the entity draws zealots to its cause, destabilizing interstellar order, and threatening all life in the galaxy.
Galla-Deia (pronounced GAL-a DAY-a) is isolated, having spent her life among androids, while looking like an adult human woman who does not age. The android Oni-Odi found her in space alone, and brought her onto his star-city Demetraan. To Galla, Oni-Odi is the closest thing she has to a parent. But since Galla has never been around humans, her behaviors are somewhat feral, and she can seem childlike and volatile. She must make a choice to stay in the protection and comfort of her android home, or aid the humans she resembles.
Giving Galla to the world meant handing off a piece of me. Having someone else other than myself illustrate her felt intensely personal. I knew I had to find the right artists to capture various aspects of Galla. And I did. I found three, so far. You will see two other artists' depictions in the coming days.
For today's post, on the eve of the publication of Ephemeris, I am thrilled to present the first of my commissioned art for Galla-Deia, by the phenomenal Kim Herbst.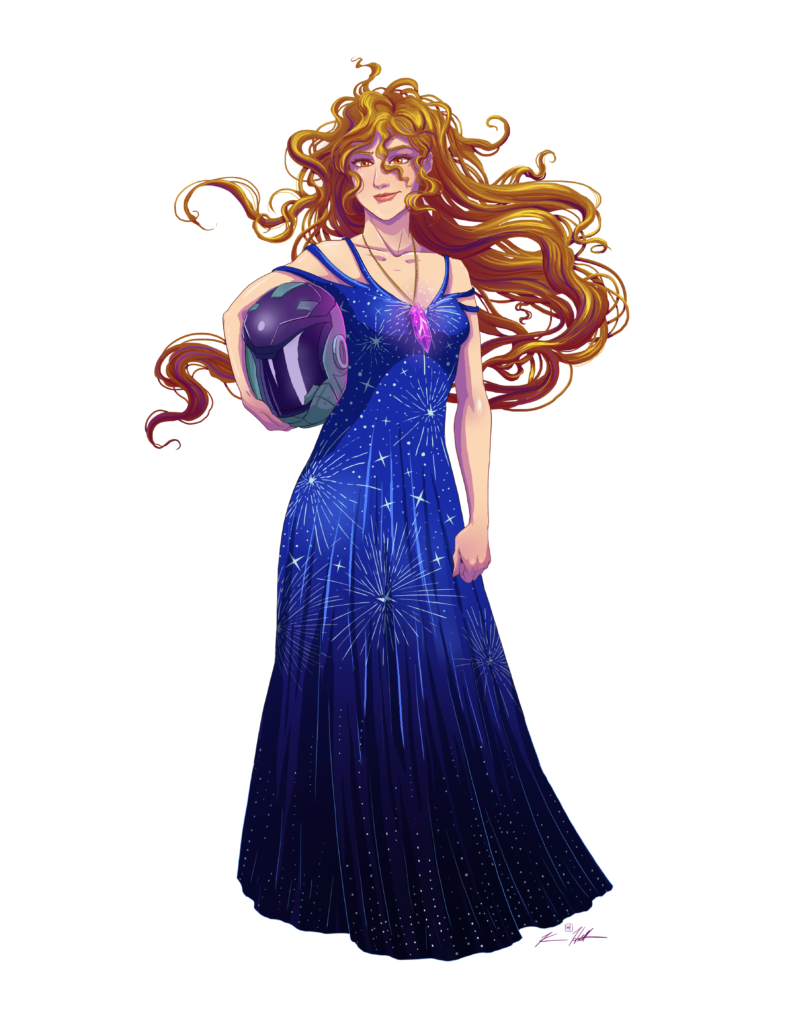 In a pivotal scene, Galla makes a decision about herself and what she wants. Ms. Herbst fabulously captured Galla's sense of mischief, sass, affection, and awakened self-confidence. Her eyes are copper-colored, and her hair moves of its own volition according to her mood, in colors of auburn, gold, purple, and copper. Thank you, Kim, for this wonderful depiction of a character so dear to me.
Tomorrow, I welcome you to read the second novel of The Questrison Saga™, and the debut of Galla-Deia in Ephemeris.
You can find more of Kim Herbst's beautiful artwork on her website, her Etsy page, Instagram, and Twitter.
Image Credit: Blog header featuring Galla-Deia art by Kim Herbst Copyright 2019.