Once upon a time, and android named Oni-Odi steered his wondrous star-city Demetraan through the vastness of space. One day, he found a diamethyst geode adrift among the stars, and brought it on board his city. This geode split open, and inside lay Galla-Deia, fully formed, looking very like an adult human woman except for her mercurial hair. Oni-Odi picked her up and brought her forth into the Universe. He became her foster father that day, and his entire life and purpose changed for all time.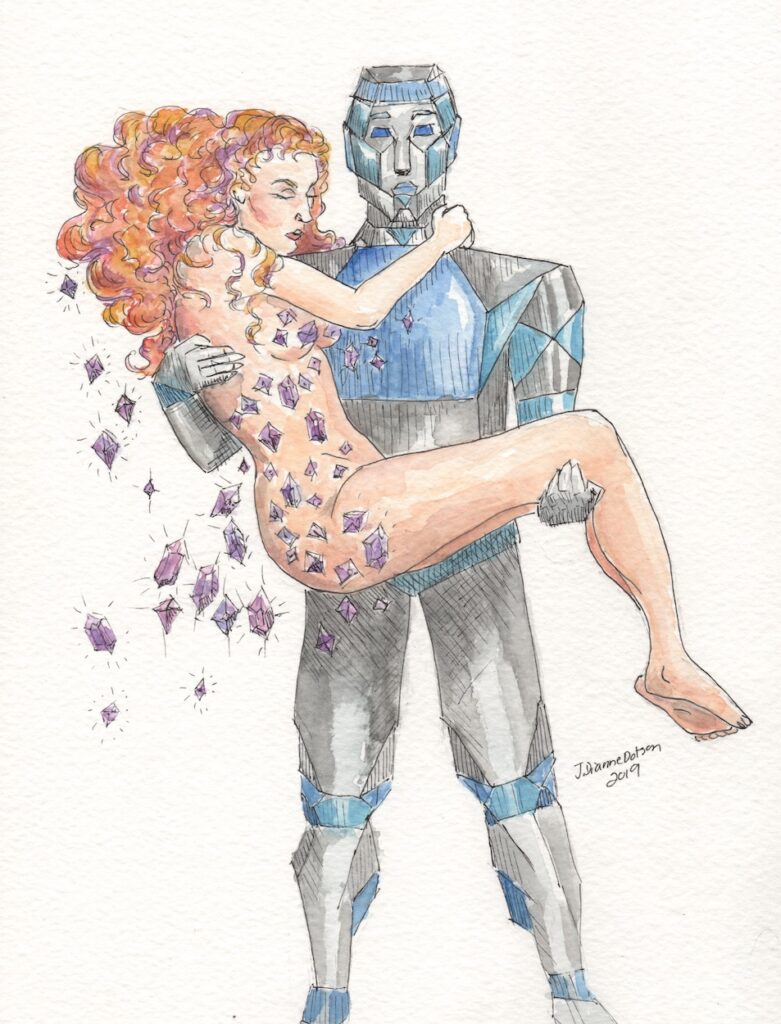 Galla-Deia was feral in every sense, and there were no humans to model her behavior after. Oni-Odi was quite patient with her, and taught her how to behave within the duties he had as shepherd of Demetraan and its many resident robots. Oni-Odi made sure to be able to track Galla should she need anything within the vast floating city, but often he could not be with her at all times. As she began to settle into a new routine, he realized Galla needed a companion. So he let her befriend whatever bots seemed willing to endure her impetuous nature. This is how she met the little bot Pliip.
In Ephemeris, Galla-Deia and Pliip are introduced in an adventure that culminates in her meeting galactic Mage Governor Aeriod for the first time. Pliip is severed from contact with Galla while the two meet. Later in the story, Pliip is separated from Galla seemingly for good, for Aeriod did not approve of bots and did not want them in his home on the planet Rikiloi.
But Pliip was a loyal companion to Galla. It followed her willingly on many adventures throughout Demetraan, and it gave her someone besides Oni-Odi to talk to. She was able, through Pliip, to get to know other robots in the city as well. This is why she feels so comfortable meeting the bots on Mandira Research Station in Accretion: The Questrison Saga®: Book Three, and even tells them stories of Demetraan.
I have previously illustrated a scene in which Galla and Pliip sit on the stellar meadow, looking out at the stars from inside the confines of Demetraan's shields. This is based on my childhood moments watching the sunrise on a dewy, grassy hill with my dachshund, Thumper, when I was a young teen.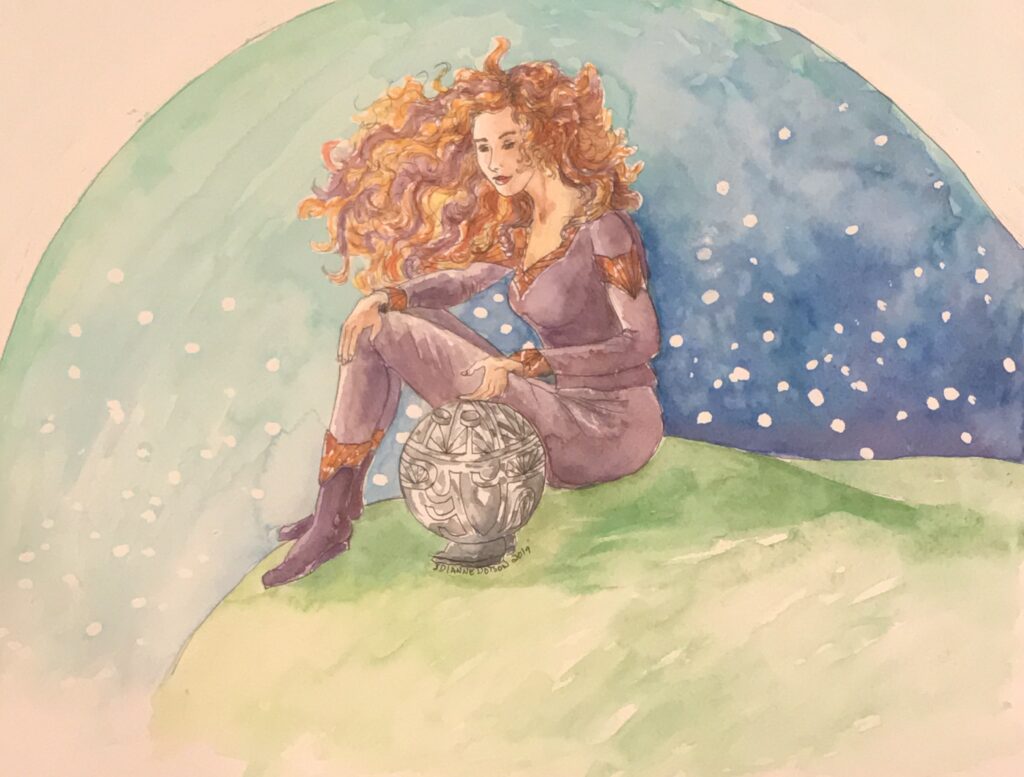 Pliip is a sort of Toto to Galla-Deia's Dorothy, if you will (I am a lifelong fan of L. Frank Baum's Oz books). Pliip is there for Galla and more savvy than it appears. Galla was rather more turbulent in her early days than Dorothy ever was; so Pliip was justified in protesting some of Galla's actions by voicing its indignance.
Here, Carter Allen illustrates Galla holding Pliip in the star-city Demetraan. I loved this earlier sketch so much that I encouraged Carter to make it a full-color piece.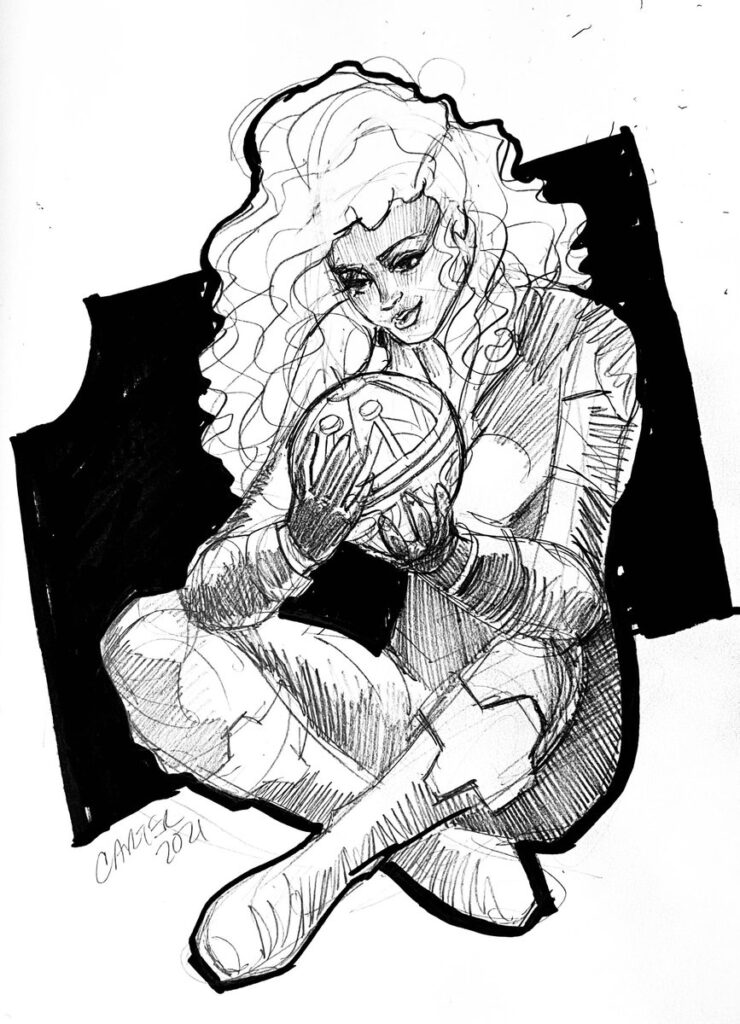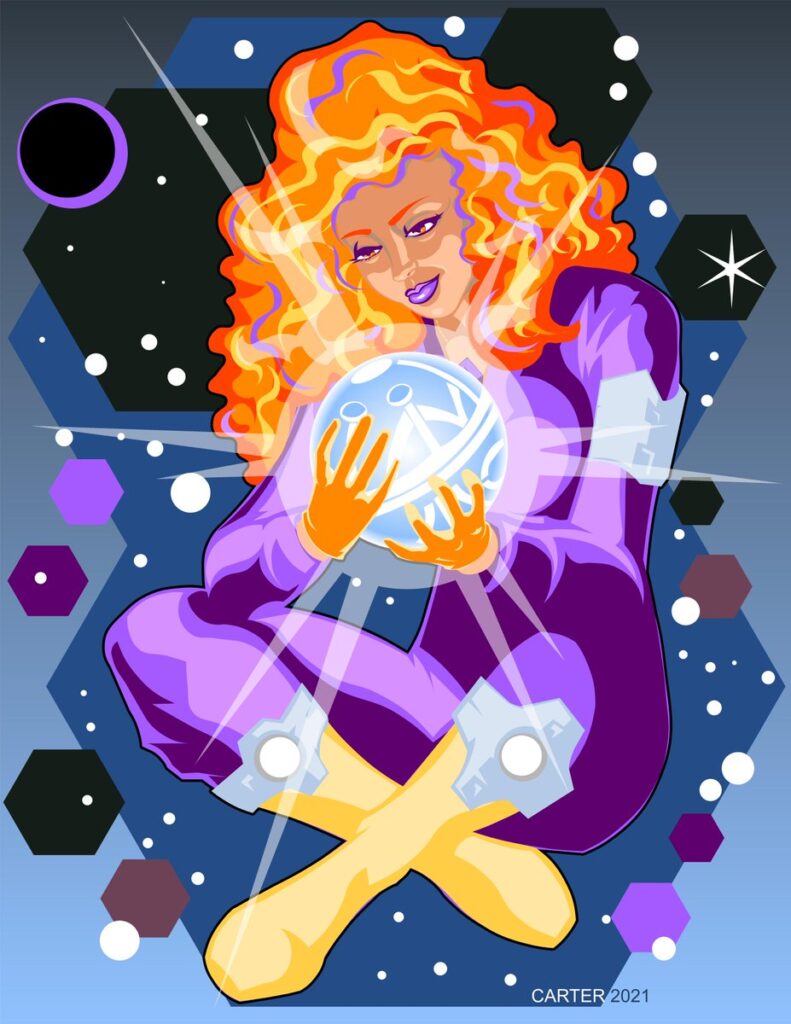 Galla, much like me as a child in Tennessee, never felt truly like she belonged anywhere in those early days. We need our companions. Whether they are animals or robots, it's good to have friends for when we are lonely, or for when we need to be fully present. Pliip filled that role perfectly for Galla.
You can learn read more about Pliip in Ephemeris: The Questrison Saga®: Book Two. This can be ordered in paperback or ebook anywhere online.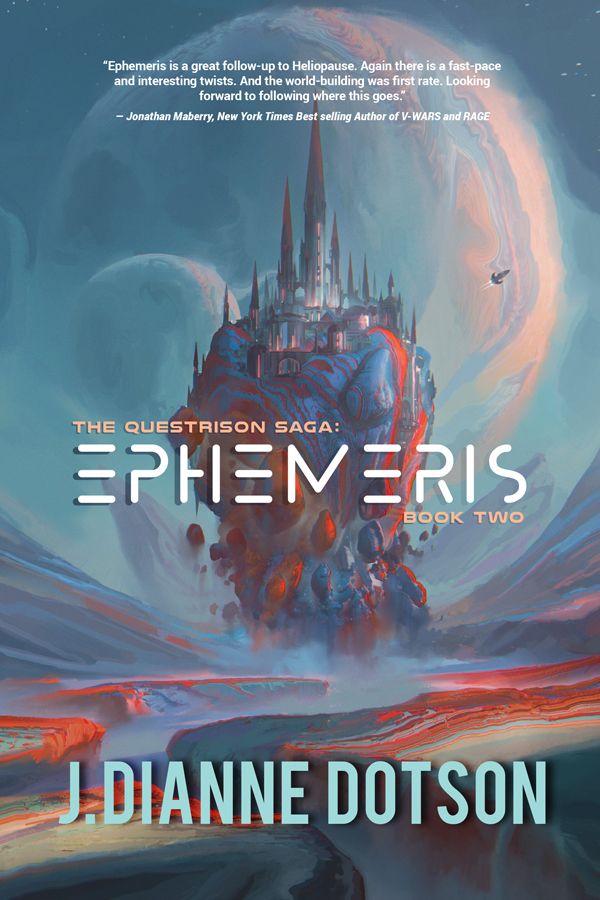 On June 1, the final book in the main series arrives. I look forward to sharing more special art with you soon!