Have you ever met someone and knew instantly your life shifted in a good way? I remember one day, the first day of 6thgrade, I saw a new girl sitting alone on the bleachers in the gym. I didn't recognize her. I thought, She is all alone. Why? I didn't want her to be alone.
So I went and introduced myself, determining then and there I would be her friend. That was Tammy. And we are still friends to this day, over 30 years later. Trust me when I tell you, going to talk to Tammy was one of the best things I've ever done in my whole life.
In Ephemeris: The Questrison Saga: Book Two, new friendships are made. And one important one is that between Galla-Deia and Ariel Brant. Connected by strange events and a stranger type of stone, Galla and Ariel immediately make a connection.
Here, Argentinian artist Gustavo Brigante has captured the most delightful scene: Galla and Ariel soaring on a sky bike on the planet Fael'Kar.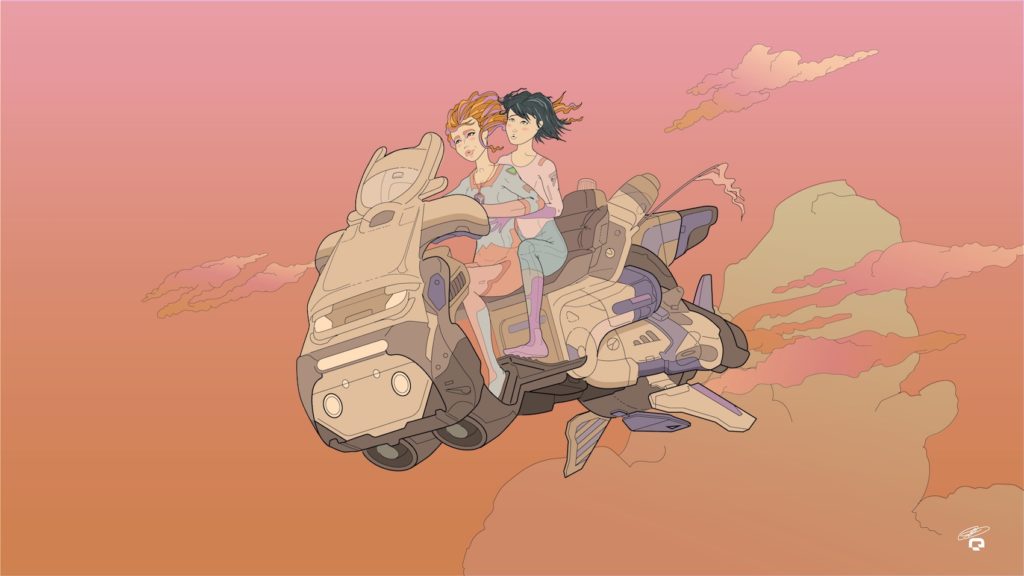 Galla loves to fly, but she is a wild pilot, skilled but somewhat a daredevil. Ariel is not entirely enthused about things…but she feels instantly more alive around Galla than ever before. They're just starting their journey. The things we do for our friends.
Gustavo's unique style is highly charming and clean. It's similar to that of Moebius, but more whimsical and fun. You can see more of Gustavo Brigante's gorgeous work on his website and follow him on Twitter. Gustavo, thank you for your beautiful illustration of Galla and Ariel!
Image Credit: Galla and Ariel illustrated by Gustavo Brigante Copyright 2019. From Ephemeris: The Questrison Saga: Book Two by J. Dianne Dotson Copyright 2019.