Today I'm sharing new Art of The Questrison Saga, by artist Ahmed Raafat. This showcases a new character in Ephemeris: The Questrison Saga: Book Two…
Planet Fael'Kar, with city-continents, is a major commerce hub where deals are made, both legal and illegal. Whispers of a new menace spread through the galaxy, weaving through the underbelly of Fael'Kar. Some pay more attention to what is happening than others…
Meet Dagovaby Ambrono. Dagovaby (pronounced da-GOV-a-bee) is a man who had a human mother and non-human father, a lone human hybrid working far from Earth. He never knew his father, and his mother died when he was young. He's made his life work based on the values his mother instilled in him: justice, fairness, determination, and above all, empathy.
For Dagovaby's non-human lineage gave him a gift: he is an empath. He can feel the emotions of most other species, with a couple of notable exceptions. He uses his innate talent to help monitor the unraveling situation in the galaxy. Ever aware of others' feelings, he still finds himself lonely.
Other indicators of Dagovaby's interesting heritage include the gold rings around his pupils. He also bears a large scar on his neck.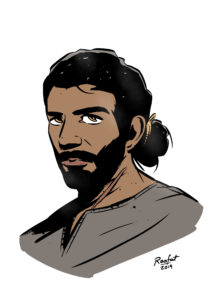 His life is about to change when he meets someone on Fael'Kar with powers as well…
Ahmed's wonderful capture of Dagovaby brings him to life. Ahmed is an Egyptian comic book artist currently based in the UK. Co-creator of El3osba or El-Osba, an Egyptian superhero series, and Gorilla My Dreams, a noir webcomic about the adventures of a detective/superhero gorilla. He is also an artist on several published shorts in the UK. You can view Ahmed's portfolio HERE. You can also find Ahmed on Twitter, Facebook, and Instagram.
Thank you, Ahmed, for sharing your many talents!
Image Credit: Dagovaby Ambrono art by Ahmed Rafaat Copyright 2019. From Ephemeris: The Questrison Saga: Book Two by J. Dianne Dotson Copyright 2019.