The galaxy harbors many interesting denizens, and Ephemeris reveals a nice selection. Some are robotic, some are mages, some are human, some may look human but are not, and some have multiple limbs.
As Galla-Deia and her team search for Devices across multiple worlds, they realize the diversity of life knows no bounds. On one world they come across, large invertebrates roam.
Meet Beetle: the large, person-sized insect guardian of a Device. Beetle's kind has guarded the Device on this world for long stretches of time. They withstood invaders and kept vigil over the now vine-covered pit of secrets.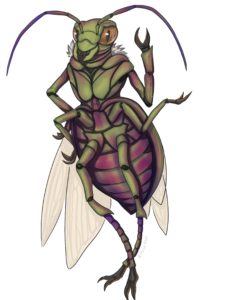 Galla's crew call this particular guardian Beetle, and it is one of many such large insects. Beetle bears wings and can spin a kind of silk. Beetle can also communicate both telepathically and verbally. While Galla and her team never expected to come across such a creature, they soon realize Beetle's value.
Beetle was beautifully illustrated by Kelly Stanford. Beetle gleams in iridescent purple and green, and its great yellow eyes miss nothing. Beetle can stand on all legs, or on two like a human. This giant insect brings more to the team than they can imagine.
Kelly is "a Manchester based artist who is focused on creating artworks that embody scientific concepts in an accessible + aesthetically pleasing manner and can be used to communicate science to the public."
You can view Kelly's art on her website. Follow her on Twitter and on Instagram.
Thank you, Kelly, for fabulously depicting Beetle. I love the whimsy and scientific accuracy of this gorgeous work. You can read more about Beetle in Ephemeris: The Questrison Saga: Book Two.
Image Credit: Beetle art by Kelly Stanford Copyright 2019. From Ephemeris: The Questrison Saga: Book Two by J. Dianne Dotson Copyright 2019.