Mercurial. Problematic. Enigmatic. Mysterious. Aeriod is all those things and more.
When you see the cover of Ephemeris: The Questrison Saga: Book Two, the first, most striking visual is that of a castle perched on an asteroid that hovers above the planet's surface. There are two moons in the sky above and behind it. This is the planet Rikiloi, home of galactic mage-governor Aeriod.
Aeriod eschews most company, preferring to manage things from his high turrets, occasionally leaving his world to check on the other planets he governs, and to meet with galactic governance officials. He oversees a farming operation on the surface of Rikiloi, and he has a soft spot for harboring refugees on his worlds.
But he is ancient compared to humans, despite his ageless appearance, and he has seen the passage of many things. He is rarely surprised by anything or anyone.
Aeriod has silver eyes, pointed ears, and is taller than most humans. He is lonely, and moody, and elusive and dour. He rejects most traditional technology, opting for his own special mix of tech and his unique abilities to serve his needs.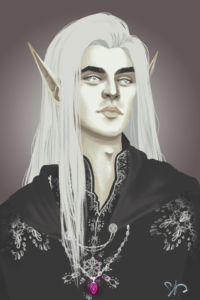 A person with few friends, Aeriod lives a cold life, and expects to continue along that course. But the Universe has different plans…
You can read more about Aeriod and his adventures in The Questrison Saga. Ephemeris arrives May 28, 2019.
Thank you to artist Samantha Darcy, who exquisitely captured Aeriod's mystique. You can learn more about her and her work at her Patreon page.
Image Credit: Aeriod Artwork by Samantha Darcy Copyright 2019.