I can barely believe it…we are one month out until Accretion: The Questrison Saga®: Book Three arrives!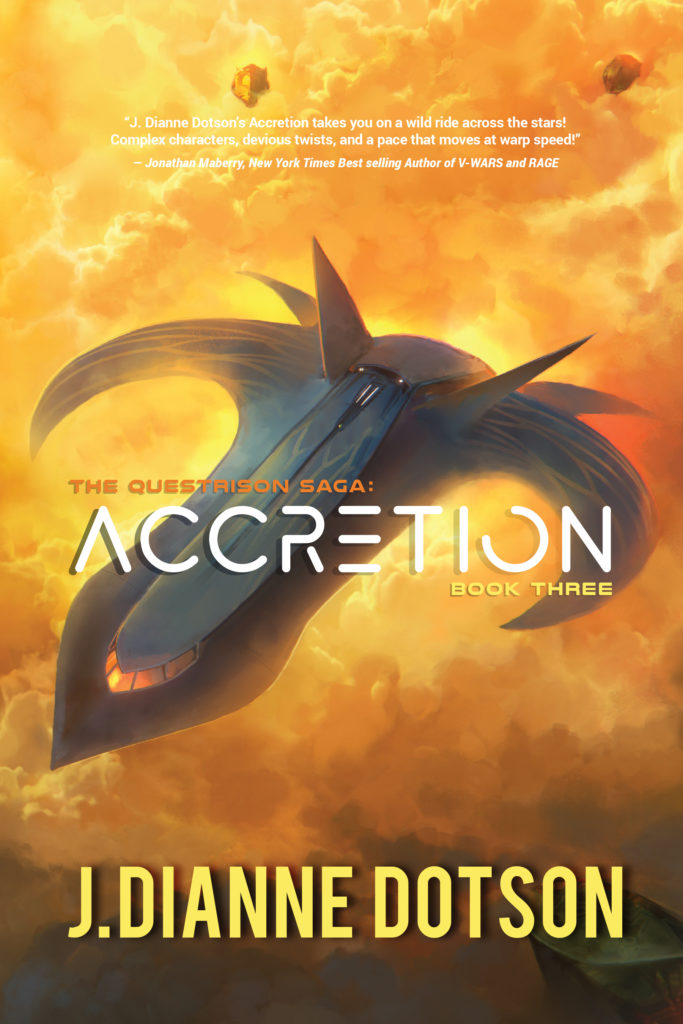 Here is the back-of-the-book summary:
Chaos in the galaxy. A gathering of forces, heroic against malevolent. A race to save or ensnare all civilizations from cataclysm and great evil. In this third installment of The Questrison Saga®, Galla-Deia and her team of humans and aliens must recruit telepaths to end the catastrophic Event.
With refugees fleeing disaster and interstellar communications disrupted, trust in the galactic government falters. Destructive Paosh Tohon feeds upon the suffering caused by the Event, ever seeking its own telepathic forces to extend its reach. The heroes called Questri must draw upon latent powers and rely on both new and familiar allies to stop a galactic apocalypse.
You will need to buckle up for what Accretion has in store for you! My beta readers and editor were shocked…
A Review Blurb from Jonathan Maberry, New York Times Bestselling Author
I'm thrilled to reveal that New York Times bestselling author Jonathan Maberry (V-WARS; RAGE; Rot and Ruin, and many more) has this to say about Accretion:
"J. Dianne Dotson's Accretion takes you on a wild ride across the stars! Complex characters, devious twists, and a pace that moves at warp speed!"
A Dedicated Page for Accretion
Accretion now has its own dedicated book page, with links to preorder the paperback. As eBook preorders become available, I will add those links as well.
Why preorder? Because my books are print-on-demand, booksellers need to know how many books to order. And I want you to have the book when it comes out! So preordering helps with this, and it also boosts the book generally. I would love if you preordered!
Fun Things Happening
Given the current situation, I no longer have in-person book events happening for the foreseeable future. BUT! I have some other really cool things to share.
First up, there will be book plates! Soon, if you show proof of purchase for any of my books (And this could also just be showing me a picture of your book–and if you have a pet, I really love having your pets in the pic, but it's not required!), I will send you a signed book plate in lieu of an in-person autograph. My design team and I are working on those right now. They're going to be cool!
Also: I will have regularly scheduled events that you can join, such as Q&A sessions, across social media. Think Facebook Live, Instagram Live, and Twitter Live (Periscope).
AND, if you sign up for my newsletter (at the bottom of this web page), Notes from the Spiral Arm, you will get exclusive insider info on my series, and other really cool tidbits coming soon.
Read the Whole Series!
Now is your chance to catch up on the first two books of The Questrison Saga®,! Start the journey with Heliopause and continue into the galaxy with Ephemeris. Accretion arrives May 26, 2020, and can be preordered now from your favorite bookseller.
I can't wait to share Accretion with you!
Ad astra!
Image Credit: Coming soon banner for Accretion: The Questrison Saga: Book Three, copyright J. Dianne Dotson 2020.