Today's the day: Accretion: The Questrison Saga®: Book Three launched into the world!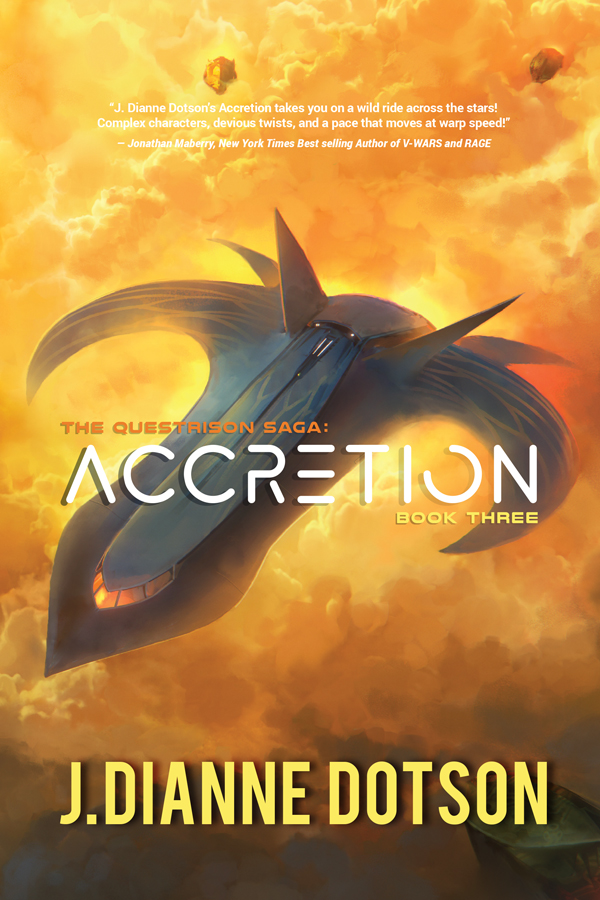 The Back of the Book
Chaos in the galaxy. A gathering of forces, heroic against malevolent. A race to save or ensnare all civilizations from cataclysm and great evil.
Galla-Deia and her team of humans and aliens must recruit telepaths to end the catastrophic Event. With refugees fleeing disaster and interstellar communications disrupted, trust in the galactic government falters. Destructive Paosh Tohon feeds upon the suffering caused by the Event, ever seeking its own telepathic forces to extend its reach. The heroes called Questri must draw upon latent powers and rely on both new and familiar allies to stop a galactic apocalypse.
The Penultimate Chapter
In the third installment of The Questrison Saga®, Galla-Deia and her team of humans and aliens face a galaxy torn apart by the Event and the opportunistic menace known as Paosh Tohon. The events in Accretion have been building since Heliopause and Ephemeris, leading to high stakes amid galactic instability. There are strange things afoot, and even stranger beings out in the galaxy…and no one is safe.
Early Reviews
"J. Dianne Dotson's Accretion takes you on a wild ride across the stars! Complex characters, devious twists, and a pace that moves at warp speed!" — Jonathan Maberry, New York Times Bestselling Author of V-WARS and RAGE
"Each built upon the last book while taking you on a new adventure that keeps you on the edge of your seat. Accretion makes you want more so honestly the fourth and final book can't come fast enough! Patiently waiting…." — Goodreads Review
What's Next?
I am now at the halfway point for the final installment in The Questrison Saga®, Book Four! It has a title, though I won't release that yet. I have been adding to the book more recently. And I have a feeling that after you read Accretion, you're going to want to know what happens next!
I can't wait for you to read Accretion! Thank you for sharing this journey with me.
Ad astra!
Image Credit: Author J. Dianne Dotson holding a copy of Accretion: The Questrison Saga®: Book Three. Photo copyright J. Dianne Dotson 2020.